DAWN OF A DESERVING CHANGE IN ONDO EAST/WEST FED CONSTITUENCY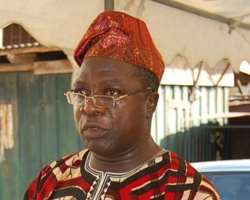 Real leaders are ordinary people with extraordinary determination. Clearly leadership is about capturing the imagination and enthusiasm of your people with crystal-clear defined goals that cut through the fog like a beacon in the light, and ultimately leadership expresses the capacity to translate vision into reality. Without mincing words these are the distinct qualities which are evidently inherent in Dr. Joseph Akinlaja, a resourceful icon from Ondo State.
Frankly speaking one can say an average politician in Nigeria has got all the qualities or characteristics that make for a good politician and therefore leadership, in large dose except principles. To pick out a leader amongst them with lasting principles, beliefs, and morals is like searching through the hay sack for the proverbial pin. The actions and utterances of most Nigerian politicians scarcely stems from their personal conviction or reasons. They are the only group that can hold a personal or divergent opinion, for as long as it is locked up within the confines of their heart or shared with just a soul, their ''wives'' so to speak.
At last the dynamic and politically conscious people of Ondo State who had been denied the purposeful representation that they deserve at the hallowed chamber of Federal House of Representatives, precisely Ondo East/West Constituency, will have reasons to smile now with the candidacy of Dr Joseph Akinlaja. We can all recall how Dr. Akinlaja's mandate was stolen by an unpopular candidate in the previous elections in 2007 and how the judiciary circumvented the course of restoring justice in this particular instance. However, this unjust situation actually informed me to openly say that change is ubiquitous in any society, particularly in that which strives to fulfill human needs and wants. And it takes a committed leadership to accomplish a propitious change in a society. Dr. Joseph Akinlaja is that figure that is meant to occupy that obvious vacancy in Ondo East/West Constituency of Federal House of Representatives under the platform of Labour Party (LP).
Over the years, before Dr Joseph Akinlaja delved into active politics he was widely recognized as a man of diligence, courage, truth, fairness and purpose, with many enviable and indelible track records as a Labour Unionist. In the oil and gas sector (his primary constituency) they call him veteran and a leader who takes care of the needs and agitations of workers in that sector of the economy, even as he rose to the position of Secretary-General of Nigerian Union of Petroleum and Gas (NUPENG), his meritorious achievements in that capacity attracted the Petroleum Tanker Drivers (PTD an affiliate union of NUPENG) to unanimously appoint him as their life Patron even when Dr Akinlaja's tenure lapsed as NUPENG Secretary-General. There is no doubt absolutely that Dr Akinlaja can be trusted with position of authority and he will effectively and efficiently represent the interest of all stakeholders that fall within his constitutional responsibilities; records don't lie. He is the best man to represent Ondo East/West Federal Constituency.
Another bold and commendable step of this veteran (Dr Joseph Akinlaja) which underscores his leadership and dogged prowess was at period when some disparaging and uncomplimentary statements were made against Labour Party, its candidates and the indefatigable Governor of Ondo State, Dr Olusegun Mimiko the by the chieftains of Action Congress of Nigeria. Dr Akinlaja in the capacity of Deputy National Chairman of (LP) described members of the ACN as "fake progressives trying to lord in over other political parties". According to him, the actions of Mimiko since he became the Governor had portrayed him as a progressive, adding that his achievements, appointments and programmes showed him as one of the leading lights in the progressive camp. His words: ''We saw the PDP when we formed the LP. I was from the UPN (Unity Party of Nigeria) to AD (Alliance for Democracy) and the LP. I am a progressive. I am on the left. If you see what Iroko (Mimiko) did, you will know he is a progressive. This is a person who had N1.4 billion, instead of using it to dredge a canal and collect 20 per cent from contractors and become a billionaire, he said no and used the money to pay pensioners. He has the largest political appointees, yet he pays their entitlements. Other governments awarded contracts with the intention of getting percentage. Progressivism is not by word of mouth, it is matter of character. Even when we did not have a councillor, people decamped from the PDP to the LP. People stood beside us during the election and waited and stand to represent our interest at all levels.''
In Nigeria, the Labour Party has dutifully set good precedent worthy of emulation, and Nigerian electorates are expected to be guided accordingly in order not to be misled by individuals who are far from representing the legacies the late sage Pa Obafemi Awolowo left behind. Labour Party is a party which sincerely parades men and women of integrity who stand to represent the will of the people. Governor Olusegun Mimiko, (Ondo State Governor), Chief Dan Nwayanwu (National Chairman of Labour Party), Dr Joseph Akinlaja, Comrade Olaiya Oni (Labour Party Chairman, Ondo Chapter) etc are shining examples that can make good things happen, with the will to make democracy more people oriented and meaningful. It should however be on record that those who hold Nigeria down and ruthlessly rape her wealth; who oppose meaningful electoral reforms in the country and dress our current civilian dictatorship in the false garb of democracy; will definitely pay for their actions, we need to effect a change in Nigeria and that time is now. Ondo State and Nigeria by extension is too sophisticated to be left in the hands of enemies of progress and enemies of the common man.
In retrospective view many of our public officers since 1960, have been discharging their ''official duties'', and have been guilty of acts which in themselves are wrongful or unlawful. Nigerian legalism is neither intense nor deterrent. As a result, evil doings have been prevalent. How can one explain the fact that after holding political office once or twice, the politician would do nothing for a living for decades! Sanctions, in, many cases, have not been biting enough. A few seizures and sequestration are later restored when the tide turns. I began to see the futility in worrying about Nigerian affairs. A spasmodic Shakespearean intervention moved me to see Nigerian politics as theatre. Some of the actors possess faint, hazy, patches of knowledge and so rely on script writers, some good, but some who write in a hurry are often propelled by increasing speed of rotation and flattening. Most of these speeches have been re-cycled with every passing regime. In these speeches, there are no lasting effects on the mind to make them propel the nation to gain acceleration in the right direction. Any doubt why we are moving in circles? According to the laws of thought, logical necessity makes it mandatory for high thinking to precede progress. Where there is mediocrity in high places, progress remains at the level of wishes.
A polity is particularly liable to discoloration and degeneracy as a result of poor leadership and a nonchalant attitude of the population. A society needs emollient intellectual category in order to plan the lives of its people beyond the realm of guesswork and good luck. We need men who can bring honesty and economy into Nigerian administration. The present culture of ripping off the Republic with impunity increases our national debt. It sounds at once impertinent and idiotic to borrow money from international institutions, misuse the funds and turn around at every international fora to ask for debt forgiveness. Anyone who has enjoyed nectar and ambrosia ought to pay back. Nigerian politicians should abandon clowning and end political instability, corruption, and various abuses. Re-directing the Nigerian polity must be an issue in the political programme of every political party in order to rescue the nation from the disastrous consequences of military ''misrule'' the most pathetic period in Nigerian history. It is expedient for us Nigerians to join in that paradigm shift so that Nigeria will be great again at least in our life time. A vote for Dr. Joseph Akinlaja of Labour Party is a vote for proper and deserving representation for the good people of Ondo State (Ondo East/West Federal constituency) at the Federal House of Representatives. God bless Nigeria!
Emmanuel Ajibulu is a social Commentator, Critic and Communication Consultant based in Abuja.
Disclaimer:

"The views/contents expressed in this article are the sole responsibility of the author(s) and do not necessarily reflect those of The Nigerian Voice. The Nigerian Voice will not be responsible or liable for any inaccurate or incorrect statements contained in this article."
Articles by thewillnigeria.com