Hassan Tukur Linked to INEC Ballot Paper Contractors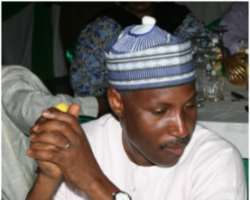 A reader labeled Mr. Asiwe, 'racist', when huhuonline.com broke the story that Prof Attahiru Jega rejected the bid from competent contractors from southern Nigeria and awarded the printing of ballot papers, result sheets and other sensitive materials for the 2011 general elections to contractors from the North.
According to documents obtained by huhuonline.com, the six firms are: VI Solutions, backed by Alhaji Yahaya Sani; SanFrano, a German/Polish firm, which had Alhaji Sanni Musa as its front; Graphic Inline (Gi), which had Alhaji Sanni Lamido as its proxy.
The others companies are: Tip3, a Spanish company represented by Alhaji Hashim Dikko, Aero-vote represented by Alhaji Yerima, and Kalamazoo, sponsored by Dick Jackson, who holds dual nationality (Nigeria/British).His wife is from Kano State.
Findings reveal that the six men, who collectively received a whopping sum of Thirteen billion naira, were proxies for Prof Attahiru Jega and Alhaji Hassan Tukur, principal Secretary to President Goodluck Jonathan.
Our checks reveal that Hassan Tukur chose and engineered the appointment Prof. Attahiru Jega as INEC chairman.   
The Man Hassan Turkur
In the words of Ambassador Jetta, President Goodluck Ebele Jonathan is a man of uncommon loyalty, impeccable integrity, and possesses an immense commitment to Nigeria. But it appears these great attributes might become an impediment, as his closest associate from the North, Hassan Tukur, who appears to have gained his absolute confidence, may be covertly working against his ambition to become President.
Hassan Tukur, who has been a friend to the President for a very long time and currently works as his principal secretary, may be a 'Frenemy' (one who pretends to be a friend but is actually an enemy).
Mr. Tukur is a diplomat and technocrat par excellence. His friendship with President Jonathan dates back to pre-Aso Villa days. He was President Yar'Adua's special assistant on Petroleum Resources. Tukur is assumed to be the president's closest associate from the North and is alleged to have single-handedly picked most of the regime's political appointees that were employed from the North by Goodluck Jonathan.
According to sources who have had contact with him, Tukur does not hesitate to inform you that 'he can get the President to do anything', and really in most cases he delivers; a source added.
However, Hassan Tukur, Huhuonline.com learnt is torn between his loyalty to his boss and his kinsmen from the North, who are vehemently opposed to the President`s 2011 presidential ambition.
To this end, Tukur is alleged to have asked the President not to contest the 2011 election. But his advice has not been heeded.
Now, Hassan Tukur has pulled another fast one on his supposed friend, as he ensured his proxies did not deliver the election materials as scheduled, after they pocketed thirteen billion naira.   
Our source at the Abuja INEC commission mentioned that the trio of Jega, Prof. Okechukwu Ibeanu Jega's chief of staff and personal consultant, and Hassan Tukur took charge of the award of the contracts for the printing of 200 million copies of the ballot papers and result sheets.   
Our source revealed that in December 2010, INEC set up four committees to traverse the United States, Canada, England, Ireland, Germany, France, Italy, Liechtenstein, Switzerland and Lithuania, South Africa, Asia and the United Arab Emirate (UAE) to search for suitable printers which made Jega, as chairman of the committee 'A', visited the United States and Canada, with Prof. Lai Olurode and U.F. Usman as members of his committee while Mr. Nuru Yukubu, chairman of committee 'B', visited England and Ireland, with Mrs. G.N. Nwafor, Dr. Oniyangi, Col. M. K Hammanga, D. I. Anumba as members of the committee.
The third committee, according to our source had Mr. Philip Umeadi, Mrs. T. Iremiren and K.N. Ukeagu as members and visited Germany, France, Poland, Italy, Liechtenstein, Switzerland and Lithuania, while the fourth committee headed by Dr. Ishmael Igbani visited South Africa, Asia and UAE. Members of the committee included Dr. Chris Iyimoga, Prince Solomon Soyebi and Mrs. Amina Yusuf.   
Findings by huhuonline.com revealed that after the overseas assessment tour of facilities of printers of security materials by the four committees another committee headed by the INEC National Commissioner in Charge of Logistics, Col. M. K Hammanga, was allegedly set up to harmonise the reports of all four committees.  
In its report, the Hammanga led committee rejected printing in US and England due to distance and high cost of printing respectively. The option of South Africa was also thrown out as a result of the 2007 general election experience which led to the delay, as some of the sensitive election papers were still on ground during the poll.     
The committee however recommended that the ballot papers, result sheets and other sensitive materials be printed in Germany, France and Poland and subsequently shortlisted 21 companies and the list was submitted to Jega.
It was discovered that to the utter surprise of the committee members, INEC dumped the shortlisted companies.  
Our source disclosed that 'Since then, the issue on the award of the contracts for the printing of the ballot papers, the result sheets and other sensitive election materials was shrouded in secrecy. The files relating to the contracts were always kept in the office of the INEC chairman'.