NO DEAL WITH TINUBU OVER ELECTIONS, SAYS DANIEL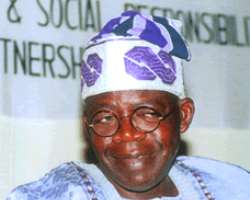 • Tinubu
Ogun State Governor, Otunba Gbenga Daniel has described as untrue, the rumour that he held a secret political meeting with the former Governor of Lagos State, Asiwaju Bola Ahmed Tinubu on how the Peoples Party of Nigeria (PPN) and the Action Congress of Nigeria (ACN) could form an alliance for the general elections.
Daniel, in a press statement released in Abeokuta yesterday said at no time did  he meet with the ACN chieftain, adding that he and Tinubu had not held any meeting in the last few years.
'Any claim that Governor Daniel met Asiwaju Tinubu to reach an accord between the Peoples Party of Nigeria (PPN) and the Action Congress of Nigeria (ACN) to work together in the forthcoming elections is false in its entirety.''
The statement added that the mock election of last Saturday showed clearly that PPN was the leading party in Ogun State.
'It stands logic on its head to claim that a winning party is stepping down for another party that is clearly trailing it far behind. This claim is propaganda at its worse form.''
The governor enjoyed members of the public to be wary of the propaganda and falsehood of desperate politicians whom, he said, were determined to deceive the people in order to steal their mandate.
Daniel urged voters in the state, who trooped out last Saturday to vote, to repeat same next Saturday in order to  ensure the continuity of good governance, progress and a better future for our children.