TENSION IN A'IBOM AS POLICE PREPARE TO ARRAIGN AKPANUDOEDEHE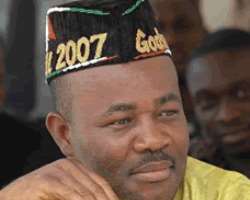 Akpabio, Akwa Ibom State Gov
Tension on Tuesday enveloped Uyo as the police prepared to arraign the Action Congress of Nigeria (ACN) gubernatorial candidate, Senator John Akpanudoedehe, in court.
Anti-riot policemen took over the town and court premises even as the police could not bring the politician, abducted on the court premises in Abuja last week, to any of the courts in Uyo by noon.
The state Commissioner of Police, Mr Felix Uyanna, admitted to Daily Sun that the gubernatorial candidate was held at the police headquarters, Ikot Akpanabia, and that they were preparing the charge against him so that he would appear in court in line with the law.
The police Public Relations Officer, Mr. Onyeka Orji, however, hinted that the case file had been forwarded to the ministry of justice for action.
But the state Attorney-General and Commissioner for Justice, Mr. Ekpenyong Ntekim, told Daily Sun that he was not aware of the case file.
'You know the file might have been forwarded to the ministry but I may not yet be aware. Give me some time; I'll call you back,' the commissioner explained. As at the time of filing this report he had not called back.
Meanwhile, the Director-General of Akpanudoedehe's Positive Change Campaign Organisation, Dr. Udoma Bob Ekarika, has accused the inspector-general of police of unlawfully detaining the ACN gubernatorial candidate for an offence the politician never committed.
'It is of public notice that our governorship candidate, Senator John James Akpanudoedehe, is falsely accused of murder and unlawfully detained by the inspector-general of police for offence he knows nothing about whereas our campaign train was ambushed by the Akpabio sponsored tugs on our way to campaign rally in Ikot Ekpene, leaving many of our members and supporters dead and injured as well ad burning many of our cars and motorcycles.
'This attempt is aimed at provoking us to react so that they will go on and again cause more damage to property and turn around to accuse us. I, therefore, appeal to all to be law abiding and be ready to cast their votes for all candidates of our great party, Action Congress of Nigeria (ACN) in the forthcoming elections.'
Ekarika appealed to ACN supporters 'not to be distracted in any way by the undemocratic antics of Akwa Ibom State Government led by Godswill Akpabio and his cohorts as a result of attack on our campaign train on March 3, 2011.'