Guber Candidate Akpanudoedehe's Life Is In Danger - ACN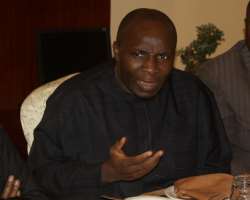 GOVERNORSHIP CANDIDATE OF THE ACN IN AKWA IBOM STATE, SENATOR JOHN JAMES AKPANUDOEDEHE.
SAN FRANCISCO, April 04, (THEWILL) - The Action Congress of Nigeria (ACN) has raised an alarm over the safety of its gubernatorial candidate in Akwa Ibom, Senator J.J. Akpanudoedehe, after he was flown, unaccompanied by any of his aides, in an helicopter to Uyo on Monday.
The Police had sought approval from a court in Abuja on Monday morning to okay the transfer of the Governorship candidate to Akwa Ibom State at the request of the state governor, Chief Godswill Akpabio.
In a statement issued in Ilorin, Kwara State, by its National Publicity Secretary, Alhaji Lai Mohammed, the party said its concern is in view of the glaring partisanship of the police in handling the Akwa Ibom case and the arrest of 41 ACN supporters in Akwa Ibom, whose only offence is that they were found with brooms, the party's symbol.
''Three of the 41 ACN supporters who were arrested and slammed into detention were reported to have died. How can we then not be worried by the safety of our governorship candidate under the circumstances?
''We hope this idea of flying Sen. Akpanudoedehe to Uyo, ostensibly to arraign him in court there after the police virtually abducted him right inside a court in Abuja, in a crude and brush manner, is not aimed at subjecting him to the final solution,'' it said.
ACN warned that nothing untoward must happen to Sen. Akpanudoedehe, and that since he is now held captive by the police, the force will be held responsible for his safety.
The party urged the Inspector-General of Police, Hafiz Ringim, to respect the law in handling this delicate issue, since he is not above the law.