I was sure my husband was going to wake up –Abimbola Olawuyi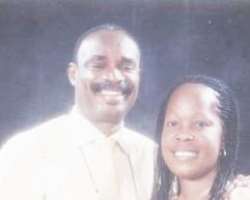 Kolawole and Abimbola Olawuyi Abimbola, widow of ace broadcaster, Kolawole Olawuyi of Nkan Mbe fame, was certainly dazed by his sudden death. "When he died, it appeared like a joke. I was sure he was going to wake up. I tried all I could, but God had His way," she told YEMISI ADENIRAN, even as she shared the pains of the last four years without her heartthrob.
Your husband has been gone for four years. One would have thought you would be back to your old glamorous look by now...
Well, like you said, it was an old look and it came naturally to suit the situation. What would you have expected of a young woman with a young husband? She is supposed to appear beautiful and appealing to her husband. But that was then. The man has left her and there is a new life entirely before her to live. She needs to stand up to that challenge and operate well within her new office. It's not easy, but she must also live to impress the soul of her departed partner. Now, she is used to it. Honestly, there is so much to do now there is no such time that I used to devote to my hair.
When you cut your hair, was it in obedience to some tradition or just by your own instinct?
He was from a Christian home and none of his parents or members of his family believe in such doctrines. They never suggested it. It came from my own volition. It was my own way of respecting him as the crown of my head that death suddenly snatched away. The new look was dedicated to him still as a way of showing my feelings. It was not easy; I did many things apart from this.
What other things did you do?
It may sound funny and crazy but I tell you that was the way I felt then. We were both young when he died and no one expected it. For instance, he died on the exact day we were supposed to travel to London. He had travelled to many other countries before, but he had not been to the United Kingdom. He even went to work the Friday before the week that he died. So, no one thought he was going to die. Besides, he had been sick sometimes before to the point that everyone thought he was going to die, but he did not die. This one just came like common malaria, complaints of general body weakness and we all just felt he needed some time off work since he was a workaholic and believed so much in his work. It didn't look like anything serious but we did not take it with levity.
We both knew he needed rest and so we opted for the hospital. We were always together; he never hid anything from me when it came to the job. He was passionate about it, it made him happy and he carried me along all of the time. I had followed him on several occasions on his investigative spree, just to tell you the level of our closeness. It went beyond husband and wife, father and mother. We were each other's friends, companions and confidants. But death came and took him away. It was unbelievable. When he died, it appeared like a joke. I was sure he was going to wake up. I tried all I could, but God had His way and I cannot but give Him all the praise because He owns him and all of us. There is nothing we can do when He decides to take one away.
It's like what the Bible says about rapture, two will be going to the farm, one will be taken to heaven and the other will be left. A husband and wife will probably be lying on the bed together and one will suddenly disappear; a driver will be driving about 16 passengers and suddenly, rapture will take place and he will be taken away, leaving his passengers to their fate. Honestly, that was how it was and so, taking all that in was one bitter pill to swallow. But since it was a pill, it had to be swallowed. So, I had to swallow it. Life is a theatre of war; we must all learn to fight our battles. One of the things I did then when I resumed at his office was to put his chair beside mine; talking to him at intervals and telling him to supervise the work so that it wouldn't crumble. I had two chairs in front of the table; I believed his presence must be all around me for the success of the job.
And where is the chair now?
We had to carry it away for repairs when it started peeling off. You know, no one was using it, it just started peeling off. Incidentally, that is what I am sitting on now. I feel sitting on his seat gives me the feeling of his presence.
But you have been able to run the office successfully. How have you been able to do this?
I owe that to God. You see when God commits one assignment to your hands, He makes available all the resources and the where withal to see you through. I have committed the job to His hands and He knew quite well that it wasn't what I chose to do. But since this is the plan of God for me right now, I am ready to gladly operate in it. The will of God most times is never palatable but doing it is always rewarding. Jesus Christ almost prayed that God readjust His will concerning salvation when he went to pray in the garden of Gethsemane, He wished that the cup of his painful death on the cross of Calvary be reversed but He was quick to caution himself when He said 'Father, not my will but your will.' God Almighty is the only all-knowing. He has all the answers to all our questions.
He knows why we are passing through whatever we may be passing through and we cannot query Him. He is unquestionable. But wonderfully, once we make ourselves available to His will, He will also make strength available to us. That was what He did for our lord Jesus Christ and salvation was made available for the whole world and that is what He is doing for me too.
So, what would you have loved to do if your husband was alive?
I could have gone into teenage and marriage counselling in a very big way. He knew I was given to it and a lot of people who are close to us also knew that I am endowed in it. They have encouraged me to delve into it and I would have, had it not been for his death. We were at the feasibility stage when he died. Apart from this, I would have loved to develop myself in the area of charity. If you look around, you would agree with me that the nation is lacking so much in this area. There are lots of destitute, street children, homeless aged ones, jobless citizens who are not catered for that need to be attended to so as to have a society free of criminals. It is idleness, loneliness and lack of finance that make young people to go into all kinds of crimes like robbery, rape, prostitution, drug addiction and trafficking.
There are many beggars on the streets, both the young and the old; even babies are today made to beg and they are being trained to beg. Old men now beg, which generally wasn't a common thing. Men, in this part of the world, attach so much pride to their masculinity, and would not want to be seen begging, but they are begging all over the place. If you ask them they will have one pathetic story or the other to tell. We are not saying there are no lazy people among them but the fact remains that the society is not doing enough.
What solution would you suggest to this?
I think Nigerians, Christians and Muslim alike should rise up to this challenge. We need to take the nation's case to God in prayers and I'm sure God will help us. We can never do it by ourselves because our weapons of war are not canal; we need God to step into our case to break the stronghold of the devil.
What are the challenges you face on this job especially since you lost your husband?
Largely, it is finance. We don't get as much help as he was getting while he was alive and this is quite painful and discouraging. Since his death, we have only been able to reach out to very limited number of widows with money. We have many more seeking for assistance even widowers and jobless parents who are unable to feed their children. This is a burden in my heart especially when I know there are many well- meaning Nigerians who can conveniently settle this case. But their doors are usually closed to these people; they are not allowed to even get close to them. We are trying to keep the flag he left flying but really, we cannot be as smart and cover as much ground as he would have if he were around. There are students whose school fees we shoulder and all of that in our own little ways and to the glory of God, but we could do more should we be more buoyant financially. In all, God has been faithful; He is indeed the husband of widows.
So many women don't have it easy with their husband's properties after his death. What is the secret behind yours?
Nothing but the way God has helped him to handle his own matter. He had involved me in the job all along, so it wasn't any big deal for me to step into his shoes, although they are quite big for me. Also, it was not any strange thing for his workers to accept me as their new boss. I think that was the secret. He never kept anything away from me and that was why his work could live even after his demise. That's my advice for any man who wants a good legacy after his departure whenever. Carry your wife along, teach and tutor her where necessary. It will help your family when you are gone.
What about his family?
They are Christians and are not the type that meddle in the affairs of their children and their families. They have been supportive and good to us. There was never a time that they gave me a problem. And thank God, He is helping me run the business to the best of my ability and this, they appreciate.
What about the children? How have they been coping?
It's been a very tough experience for them but they are improving every day. Many times they ask questions that border on him and before you know it his memory would come heavily all over. It is one of them that is most emotional and he would always remember one thing or the other to get us all in that painful mood. But we are all getting better.
How do you cope with the opposite sex?
God has been helping me. But that is when I remember him most, because I would be forced to think that if he had not died, such an episode might not have occurred, since I would have been in the background. But I see that as one of those things. I don't allow it to destabilise me.
His memorial this year was almost not marked. Was it due to financial problems?
Not really. That is how it will be until he clocks 50. Then, we will have his post-humous birthday in a very big way.
Do you have any special plan for the future?
Presently, I am passionate about orphans. There are so many children whose future is bleak because of the loss of their parents or father. I have tried to come in somehow in my little way and it is my prayer to launch into it in a bigger way in the future.