Empress Njamah vs Rihanna | Battle of the Red Heads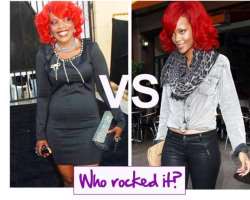 I don't no about you guys but the first time I spotted Rihanna with her red hair…I thought "What the F?…This girl doesn't surround herself with people that care about her" and that was the exact thought I had when I saw pictures of Nollywood actress Empress Njamah at the Encomium Black & White Ball, which took place last weekend in Lagos, Nigeria.
But you know what? Rihanna's hair has grown on me…she's switched up the styles and her wig seems to have settled of that big hole forehead of hers, she's pulling it off better now.
I hope the same goes for Empress…
Cos from this picture the colour doesn't look too bad with her skin tone…there's just a lot going on…with the eyeshadow…the lipstick…the hair style too doesn't help the colour.
She's a bold chick sha! She once had white hot blonde hair! (see picture after the jump)
So guys what do you say about today's hair face-off, in the battle of the red heads…who wins? Empress or RiRi?