THERE WERE NO LIVE-IN LOVERS IN THOSE DAYS - GRANDMA JOHNSTON-SMITH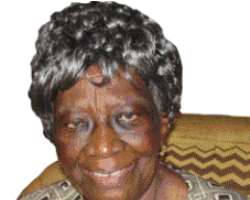 Rhoda Omosunlola Johnston-Smith has authored many books. She has seen colonial and post-colonial Nigeria. She is over 85 years and has just launched her autobiography. Johnston-Smith retired from Nigeria's civil service in 1980 as an Assistant Chief Inspector of Education.
In this exclusive interview with Sunday Sun, she reflects on her childhood, her education, her sojourn in England as a student, courtship and marriage, her career and her retirement. Excerpts:
Tell us about your background ?
I was born on August 18, 1925 in Lagos into the family of Mr Elkanah Bankole Williams and Mrs Rebecca Adekunle Williams (nee Fadipe) .Twelve years after my first husband died, I married Sir Dokun Smith. So, my full name is Rhoda Omosunlola Johnston-Smith. I was raised at 3, Obadina Street in central Lagos. It used to be a very fine part of Lagos then, but unfortunately today, it's like a slum. I hope Governor Raji Fashola overhauls that part of Lagos as he promised.
What was your childhood like?
We lived in a community of Muslims and Christians. My parents were both Christians and they inculcated in us good Christian discipline. We were friendly and brought-up to care for people, love our neighbors and to enjoy good life. I'm so happy that I can recall the many friends we had, my nuclear and extended families, the hand of fellowship and love we extended to those around us. My parents were well educated and I have five well educated siblings. We all started school quite early .
I was five years when I started the kindergarten at Lagos Baptist Academy, then I proceeded to primary school and then the secondary school. I was at school for 13 years. In 1943, I completed my secondary education, took the Cambridge School Certificate Examination, passed and was exempted from the London matriculation. Four months after, I was employed as a clerical assistant. I was a Public Relations Officer in what is now known as the Ministry of Information. It was a humble beginning but I was lucky to be assigned to an expatriate, one Miss Douglas who came from Trinidad and Tobago in the West Indies.
I worked with her from April 1944 until I traveled to England in 1947. She was a fine and highly educated woman who was a member of the British Empire. I learnt a lot from her. She was head of a children's publication called Children's Own Paper . That helped me quite much because I learned the process of editing and publishing. In 1947, I won a federal scholarship to study in England. At that time, it was a rare opportunity .
I was among at least 30 students nationwide who had the opportunity. I obtained a teachers' certificate in Home Economics at Gloucestershire Teachers' Training College of Domestic Science and I was there for three years spanning 1947 to 1950. I earned a good testimonial from the principal of the college. My days at the institution were very pleasant though I was the only black student in the college throughout my programme.
Why didn't you proceed to the university immediately after your secondary education?
At that time, home studies was not a curriculum at the existing teachers training colleges .
Did you return to the Ministry of Information after your studies?
No, I didn't .I preferred a career in teaching . A few weeks after my return, I was interviewed for a teaching position at the new Teachers' Training College in Enugu. The facility was to be commissioned in February 1951. So, between September 1950 and February 1951, when the place was officially opened , I worked for a few months at the Domestic Science Centre in Lagos. It was a good preparatory experience for me. When the school was eventually opened, I was among the pioneer teachers.
I was there till 1955, when regionalization began in Nigeria and we were then asked to choose where we wanted to work. Well, I was engaged and my fiancé was to work in Ibadan, so I chose Ibadan quite naturally . I was in Ibadan and enjoying the place when I was suddenly asked to proceed to Warri to facilitate women's education as an inspector. In that capacity, I made sure that education was conducted according to standards in Asaba, Benin and other places.
Again I was transferred to Ibadan in 1956 and I was in charge of women education. So, I had the opportunity to know the west and the east very well. In 1956 again, I was offered a position to oversee the Women's Occupational Training Centre in Abeokuta. At that time, I was married and I turned down the offer again because I wanted of course to be with my husband.
When did you get married?
I got married in 1956. So, you can understand why I didn't want to accept that offer again and that was my second time rejecting jobs that would have given me a higher position and salary. Then in 1958, a tall offer came. My husband and I decided that I would accept it because not many people had that kind of opportunity. I became the principal of Government Teachers' Occupational Training College in Abeokuta. I moved to Abeokuta in 1958 and was there for 10 years while my husband was at Ibadan.
At that time, people wondered how I could be happy in Abeokuta because Ibadan was preferable to Abeokuta, but I said if good people lived in Abeokuta and I was also good to them, there was no reason why I should not be happy. I am happy to recall that my ten years sojourn in Abeokuta was glorious. It couldn't be better than that, because it was there I had the opportunity of knowing so many people from all over the world. My students and indigenes of Abeokuta as a whole, gave me an opportunity to learn more about my own tribe , the occupation of my people and many other things.
That inspired me to write a book titled Ise Iya Ati Babanlawa, meaning the occupation of our fore parents. I deliberately omitted any occupation that had been imported into this country. My focus was indigenous occupation. What our parents were doing before and what they are still doing and I identified about 30. It was essentially pictorial and targeted children.
After 10 years in Abeokuta, where did you go?
Well, at that time I was invited by the New York State Department of Education in Albany to serve as a curriculum consultant and project the culture of the black people, and in my own case, Nigerians. But I will say, Africa south of the Sahara. I was there for one year teaching and informing them about Nigeria.
It was another interesting experience for me because I had to make an elaborate preparation and gather photographs of the things I had to talk about. They included our diet, our dressing, our education, and customs . I tried to erase from their minds all the negative things they had either read or heard about Africa. I returned to Abeokuta, but a lot had changed . For instance, additional states had been created in 1967, so I was required to relocate to my state of origin which is Lagos. I did . Then, I worked at the ministry of education, first as principal inspector of education, then deputy chief inspector of education till I retired in April 1980.
What was it like as a young girl…dating and all?
In good families, young girls are trained to use their time profitably, to respect people and respect themselves. At that time, we were given work to do on Saturdays. We felt our parents were a bit hard on us but like my mother would say, '…well I have been cooking for you from Monday to Friday, so you go to the market and you cook for the family, clean the house and even papa's cycle and get yourself ready for church tomorrow'.
On Sunday we didn't do much work but we had to go to church and Sunday school in the afternoon . My parents didn't force us to attend . On Sunday , we prepared for the rest of the new week. Of course we courted men . Our parents expected it . They expected us to introduce a suitor to them especially after completing our studies in most cases. They expected to be introduced to our suitor's family. Parents frowned at their daughter getting married without their knowledge or consent and I think it is also true today. Many parents didn't approve cohabitation. Some parents wouldn't hear of pregnancy out of wedlock.
Did you court your husband?
Oh yes, I courted him for years.
How many years?
Ah, in my own case, it was a long courtship. Long , because we were both in England and he finished years after me. Mine was a three-year course and he couldn't come to England initially because he didn't have the money. He was an orphan. He became an orphan at 16 when he was studying at Kings College. I was lucky to have a federal scholarship, so I traveled before he did. He was lucky in his own way , because he had a cousin who lent him money for his further education.
Were you dating him before you traveled to England?
Yes, for over ten years.
How did you meet ?
I find that question quite tricky to answer because I was the only girl in my school and the boys used to taunt me like 'ah Rhoda, non of us here is good enough for you, you must choose a Kings College boy'. I think we met during one of our debating competitions between his school and mine . There was a mutual friend, Dr Tolani Asuni who is now a professor. I met him through his own sister who was my classmate .
I didn't know Johnston at all. We had a harvest in our church on a Sunday and the bazaar on Monday and it was at the bazaar in my own church on breadfruit, that I saw Dr Tola Asuni with Akin Johnston. Young boys at that time would just go from one church to the other, so they came to our own church and that was the first time he talked to me and that was how the friendship started. At a time , he was ill and he was admitted at the General Hospital Lagos. He sent for me and I visited him . I would say that must be when the real friendship started.
He was happy that I visited him in the hospital and I didn't regret going to see him. Then, he turned 21 and needed to celebrate , so one of his uncles, Mr Solanke decided to organize a party for him and he invited me. I told my mother and she didn't object and I went and from there, the relationship picked up full throttle. When I was returning from England and he was still a student, we wondered whether our relationship would suffer. But then, he decided to even see me off to Liverpool.
How old were you when you got married?
I was 31 and he was 33. We got married in 1956. He was born in 1923 and I was born in 1925.
How did he propose to you?
I think we were just good friends and sort of knew we were in love.
Was he the first man in your life?
Certainly not, there were boys around but he was the only one I would say I was serious with.
You mentioned second husband, what happened to your first husband?
He died in 1970 after 13 years of marriage.
How many children did you have for the second husband?
Ah! None. I was 57 years when the second marriage was consummated . I don't think we married to raise kids because he already had five children and I had three of my own, so in all we had eight children.
What have you been doing since retirement?
I've been busy . I served in the Lagos State School Management Board. I'm part of the Save Our Soul (SOS) initiative at Isolo where abandoned children are raised. I advocated for a school for the children there. We were about three that rallied round and raised money to build the school. One Mrs Adeduwa agreed to build three classrooms for at the village.
Then we went again to Yaba College of Technology and saw one Mr Bello and told him that somebody had constructed a building for us, '….could he get some of his students to do some art work on the building to make it beautiful?' He agreed. I was also president of Home Science Association. Well, I would say I was happily busy.
I have written books especially for my students. I just started writing Richly Blessed for the general public, especially my children. This is different from those that Macmillan, Longman and Oxford University Press had published at their own expense. Richly blessed, is my autobiography. My late son reminded me of the importance of documenting my life in form of a book.
At age 86, you are still articulate and agile , what's the secret ?
I would just say that you don't write a book in a day. Just begin to put them together bit by bit anytime you have time. I don't strain myself. I dind't say this book must be started in January and finished in February or March. I believe that by putting things down, you don't forget. Few days ago on a radio programme, a participant rendered a proverb and explained what it meant and I put it down. Would you say that's tedious ?
I want to talk to some people about making money, so I just wrote a story about a money-seeking character who kept moving from one place to the other in search of money. Eventually, he got to a village full of money but there was no love and no respect. So, he got the money but he was not happy. I use walking stick though. So, I have my problems but I thank God that I can still walk about but certainly, I cannot walk as well as before neither can I do what I used to do. I thank God that I can still eat without being spoon-fed, I bathe myself without any assistance too …
You sight is sharp too…
I can read and see without glasses but I have to give glory to God that I had a successful surgery. Two of my friends sponsored the operation. They're Americans who came to Abeokuta as Peace Corp Officers, the equivalent of our National Youth Service Corps. When I was losing my sight, they arranged for the surgery and fortunately the surgery was successful. The operation was done in 1993. I need glasses to watch television , but as we talk now, I don't need glasses.
How many grand children have you ?
I have eight of them now. My first son who is now dead had three children, my daughter has two children and then my second son also has three children.
How close are you to your children and grand children?
I thank God. We are quite fond of each other. Two of my children live in America but we speak regularly on phone. At least weekly. The one I lost encouraged me to write the book. I am very close to them and very happy about that.
Did you ever live in the village?
Well, I won't say yes, but my mother and one of the Jibowus were classmates , and they remained close friends until their death. The Jibowus had a thriving farm on the way to Otta . My parents had no farm. We've been Lagos born, Lagos bred, Lagos buttered, so to say. So, they invited my cousin and I to spend a weekend at the farm and that was the first time I saw a farm. Though I was not ten then , I enjoyed it.
What was government like then ?
When I was in school, there were between 35 or 40 pupils in a class but today they talk of 120 pupils in a class. How can one teacher cope with that number? Then, every Friday, we were given essay and other assignments to write for grading on the following Monday . That's not done today .
In my time, on Saturdays the police would entertain us with music near Tinubu Square and we had a good time, but today we are talking about bombings here and there. That time, Sanitary Inspectors would go from door to door to make sure every compound was clean. Today , it's refuse all over the place including the expressway.