HOW NOLLYWOOD LOST AT AMAA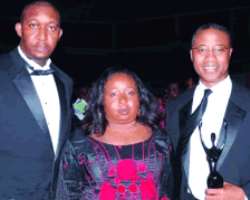 A South African lady who came to receive the award for a movie set the tone for the night of Nollywood at the African Movies Academy Awards (AMAA) that held last week Sunday. 'I told my people that we are coming to show Nollywood pepper'. And pepper they showed the industry that is rated third largest in the world.
Two years ago, it was the Ghanaians that came to Africa's equivalent of Oscar Awards (AMAA) to show Nollywood 'pepper' by carting away all the awards, leaving Nollywood (the third largest movie-making nation in the world) with nothing. Last year, Figurine rose to the occasion to salvage some points for Nollywood by winning the major awards.
But this year AMAA, which held last week Sunday, saw Congo, South Africa and Ghana combine to show Nollywood more 'pepper'. Out of 26 categories at this year's AMAA, Nollywood won just three awards with the best Nigerian film and costume going to Aramotu, an indigenous language film, and the best soundtrack going to Inale. It is worthy to note that veteran musician Bongos Ikwe did the soundtrack for Inale.
What is wrong with Nollywood? Are we falling behind or AMAA is just being funny? Is this so-called failure a one-off thing or should Nollywood expect more 'pepper' in 2012 edition of AMAA?
Ope Banwo, a movie producer whose movie, The Ghetto Dreamz (Dagrin biopic), is about to be released to the cinemas, says nothing is wrong with Nollywood because of a 'lousy year' at AMAA. 'I think you are wrong to presume we are now second best simply because Nollywood did not win major awards this year at AMAA.
Did Bollywood suddenly become number one over Hollywood because its movies, Slumdog Millionaire, won best movie at Oscar? Even Stephen Spielberg does not win Oscar every year. While I may agree that we can improve on our movies here, I cannot agree that we are second best to any other African country. Which country exactly are we second best to? Is it Congo, because they won one award? It takes much more than award-winning to determine who is who. Besides, you have also failed to take into cognizance the fact that there are also political undertones, as the AMAA organizers are aggressively trying to make it an all-Africa inclusive festival. That won't happen if they keep giving all major awards to Nollywood.
'I am sure Nollywood will be back with a vengeance next year. We should not despair simply because we have a bad year at the awards. I think it would reveal shallow thinking and research to say Nollywood is now second best because of one lousy year at AMAA. Things that rational commentators look at to make rating or value of an industry goes beyond awards, these include economic impact, depth of talents, volume of movies, depth and diversity of repertoire, contribution to GDP, etc.
'In all these, no other country in Africa even comes a close second to us. So, stop this doomsday nonsense, saying Nigeria is now second best because we didn't win at AMAA this year is like saying P-Square or Tuface is now second best to Mocheddah or Olamide, if they didn't win awards this year at Soundcity, and those new comers do,' Banwo said.
Another major movie-maker, who doesn't want his name in print, said AMAA did wrong not to have given Nollywood priority over other movies. 'I am disappointed. What happened to Inale, Champions of our Time, which won Fespaco best video; Tango with Me, Aramotu and even Tunde Kelani's Maami? Are you telling me South Africa and Ghana have better actors?'
According to him, AMAA should have played some kind of politics. 'The Oscar has political undertone, the rest of the world fight for best film from around the world, but all Hollywood films win the Oscar award because Hollywood supports, hosts and funds the Oscar. Check the history, the best cinematographers in the world are from countries like Slovakia, Iran, Russia, yet they only win in one category. After Slumdog Millionaire, no foreign film in history had cleared the Oscar. Are you also saying there is a decline in quality after Figurine?'
Still on the chances of Nollywood, the producer who is known for top hit movies said, 'The result of the award did not reflect the quality of talents and contents in Nigeria. We couldn't even win in the actor and actress category. I think the awards are a reflection of the mindset of the jury. Champions of our Time won Fespaco Grand Prize for video, but had no nomination at AMAA. I see a situation where, if you have won somewhere, you can't win here and it's unfortunate. I see AMAA destroying its essence. Apart from promoting African cinema, it is to promote Nollywood because the Oscar is doing that. Let AMAA not create the erroneous impression that Nollywood is not growing, because quality has improved in the last two years.'
Mr. Patrick Lee of Ozone Cinema (the highest selling cinema in Africa), however, disagrees, saying Nollywood still has a lot of catching up to do. 'I think Nollywood needs to address the following issues: do our movies have international standard? How appealing and imaginative are our scriptwriters? Are we reproducing the same storyline? Do we spend enough on our productions in the following areas - scriptwriting, locations, post-production, etc. And are we shooting movies for cinema or DVD market? We have not built on the success of Figurine a couple of years ago.
Have we gone backward or has the rest of Africa moved on? I don't know the answer, but clearly we have a lot of catching up to do. It is also noteworthy that Ije, the most commercially successful Nigerian film in cinemas, was not entered for the awards. Surely, Nollywood must take some responsibility for its omission. Would Ije have won Nigeria some awards? We don't know and it is a sad reflection on Nollywood that we will never know,' he said.
A foremost writer, who edits entertainment section of a national newspaper, came out smoking and lambasting the industry, saying Nollywood needs fresh hands and ideas as the old hands seem tired and lazy to learn. 'You must tell an African story in the way it would interest foreigners. Our people place commercial values over art. Don't forget arts pay better in the long run. If a film is made mainly for commercial purpose, it may not likely win award because the filmmakers would likely cut corners. But, if you are not bothered about immediate gain, then you will do a film that makes cinema runs and if possible festivals before thinking of the general market.'
According to him, another thing is the issue of budget. This, again, is where you see the difference between the old crops and the new. Tango With Me may have a budget as huge as Figurine, but why didn't it win anything at the AMAA? These old filmmakers are tired. The only way is for young men with hot bloods to step into the arena. If these guys are not discouraged by whatever factor, they will do exploits.
Another movie-maker who got a nomination said AMAA's flop should not be used as yardstick. 'Look at the Oscar, you have about 5,000 people voting, but AMAA has less than 30 voters. It is easier to convince 30 people than 5,000. If 5,000 people say your movie is top-notch, the victory is more significant than 30.' But a movie critic made nonsense of the argument, saying the Oscar didn't start with 5,000-member academy. 'This is AMAA, just the way you can't compare our roads or infrastructure to America's, the same way you can't compare AMAA to the Oscar.'
A writer and fan of Nollywood movies said the industry is full of mediocre. 'First, they should sit down and think. Why would a movie be written, produced and shot under two weeks or less? That is a joke. How the hell do they want to compete with others? Apparently, being third in the world has got into their head.
'They now feel they can churn out nonsense for people to watch. Oh, I am so angry! I am so angry at the industry that cannot harness their potential; they make many mistakes in production. For example, you are using somebody's house for a movie and the owner's real picture is still hanging on the wall for all to see, and why would a lead actress playing a village girl not remove her artificial nails or hair? Why would an actress carry the same hairstyle in a movie that supposedly have flashbacks, or meant to have been some past years? She is a girl this year with one hairstyle and next thing they show us five years later with the same hairstyle. Stupid!'
Chidi Nwokobia, producer of Champions of our Time that won Fespaco Grand Prize, said Nollywood was yet to grasp the concept of filmmaking; instead we are doing home videos. What is Nollywood doing wrong?
'My answer is nothing. Nollywood has blankly refused to do films; Nollywood is satisfied with doing 'Home video'. In terms of quality, we were never the best and therefore could not have been relegated to second best. 'Recall that when AMAA started in 2005 100 per cent of the entries were Nollywood home videos, not films. Most of the entries until 2007 had promos, while some were parts 1,2,3 retrieved from the shelves and submitted. Now, the game has changed. Other countries who were used to festival films have come into the fray and Nigeria, noted for commercial home videos only, is complaining.
'You heard the producer of Viva Riva. The production has been in progress for five years and one is not surprised that it swept almost all the AMAA awards. Tell me the sponsor in Nigeria that would give you money and allow you to go to festivals around the world for even one year before recouping his money. Here, we always want the quick fix.
'Look at our records. Through The Glass, Figurine, Ije, Anchor Baby, Champion of Our Time, Tango With Me. These were productions made for festivals and therefore not in a hurry for release. Sam, instead of seeing Nigeria as a country that started making films 20 years ago, why not judge us from when we started making film for festivals and for cinemas, which is about two years ago. Please, leave our home videos alone. No home video can ever go to the cinema or festival to challenge what we saw last week at the AMAA.
Winners at a glance
2011 African Movie Academy Awards - Winners
Best Film
Viva Riva! - Djo Tunda Wa Munga (DRC - Congo)
Best Director
Viva Riva! - Djo Tunda Wa Munga (DRC - Congo)
Best Actress In Leading Role
Ama K Abebrese - Sinking Sands (Ghana)
Best Actor In Leading Role
Themba Ndaba - Hopeville (South Africa)
Best Actress In Supporting Role
Marlene Longage - Viva Riva! (DRC - Congo)
Best Actor In Supporting Role
Hoji Fortuna - Viva Riva! (DRC - Congo)
Best Young Actor
Edward Kagutuzi - Mirror Boy (Nigeria)
Best Child Actor
Sobahle Mkhabase (Thembi)
Tschepang Mohlomi (Chili-Bite)
Sibonelo Malinga (Khwezi)
All from the movie - Izulu Lami (South Africa)
Best Film (Performed) In African Language
Izulu Lami - Madoda Ncayiyana (South Africa)
Best Nigerian Film
Aramotu - Niji Akanni
Best Screenplay
Sinking Sands (Ghana)
Best Editing
Soul Boy (Kenya)
Best Cinematography
Viva Riva! (DRC - Congo)
Best Achievement In Sound
Shirley Adams (South Africa)
Best Visual Effects
A Small Town Called Descent (South Africa)
Best Soundtrack
Inale (Nigeria)
Best Make Up
Sinking Sands (Ghana)
Best Costume Design
Aramotu (Nigeria)
Best Production Design
Viva Riva! (DRC - Congo)
Best Film (by an) African Abroad
In America: The Story Of The Soul Sisters - Rahman Oladigbolu (Nigeria/USA)
Best Diaspora Short Film
Precipice - Julius Amedume (UK)
Best Diaspora Documentary
Stuborn As A Mule - Miller Bargeron Jr & Arcelous Deiels (USA)
Best Diaspora Feature
Suicide Dolls - Keith Shaw (USA)
Best Documentary
Kondi Et Le Jeudi Nationale - Ariana Astrid Atodji (Cameroun)
Best Short Documentary
After The Mine - Diendo Hamadi & Dinta Wa Lusula (DRC - Congo)
Best Short Film
Dina - Mickey Fonseca (Mozambique