LIFE WAY: CELEBRATION OF LIFE AT 10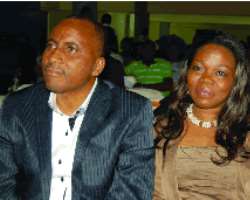 Ten years ago, he ventured into the challenging world of publishing a Christian magazine. It was a decision seen by many as a suicide mission because of the rather short life span of such publications in the past.
Indeed, many could not understand why he chose to leave his well paying job in the bank to take such a gamble.
But nothing could dissuade Mr. Jackson Ekwugum from pursuing his dream.
With a clear vision and mission, he dared the odds and embarked on a journey into publishing. Today, his self-belief and efforts have paid off. He is singing a victory song having made a mark with Life Way, 'a general consumer magazine set up to proclaim the knowledge of Jesus Christ through the power of the printed word in a professional, uncomplicated and reader-friendly format that will appeal to both the believer and unbeliever.'
On March 27, Life Way celebrated its 10 years with a thanksgiving service. Venue was the LCCI Conference and Exhibition Centre, behind MKO Garden, Ikeja, Lagos. The event, which kicked off at about 4.15pm, attracted a crowd of 'God's Generals' among other dignitaries. They came to identify with a publishing ministry they recognise as a tremendous blessing to the Body of Christ. Those who graced the occasion include Pastor Sam and Nike Adeyemi, Pastor Bekky Unoarhumi, Evangelist Elishama Ideh, Pastor Ladi Thopmpson, Pastor (Capt) Essien and Elder Segun Olusanya.
Jackson's joy was so infectious. He sang and danced in appreciation of the goodness and faithfulness of God to the Life Way family in the last decade. Indeed, the publisher has every reason to celebrate. He started small but blossomed over the years.
The event witnessed songs ministration. The band played melodious songs that lifted hearts and got many shuffling their feet in ecstasy. One particular song, God is able, electrified the hall. It was like a Kirk Franklin performance.
Evangelist Damola Adesina of The Praises of Jesus International Ministry brought tears to many eyes with her distinct delivery. She recited the Bible copiously and exalted the sovereignty of Almighty God before the beginning began and even after the end had ended. Indeed, her performance was the icing on the cake.
It was praises galore for Jackson. Speakers showered encomiums on him. They spoke about his dogged spirit and uncanny ability to run with his vision despite the challenges.
Jake Pela said: 'The first time I saw Life Way magazine, I was captivated. I never knew there is a publication like that in Nigeria. It is straight to the point, courageous and bold.
Life Way touched and made me a better person. It will continue to grow beyond the shores of Nigeria.'
One of Jackson's former colleagues in the bank said, 'when he left the bank to start the magazine, it looked foolish. There was no distress in the banking sector at the time and his job was not under threat. I subscribed just to help a brother even though I did not entirely believe in the project. I have read every article since the magazine started and they are good.'
He added: 'What we are celebrating today has gone through tough times. It is a testimony of what God can do in the life of a man with vision. God will take Life Way further. Some of the reports are so graphic, an expose on many things. I wonder how he walks freely on the streets of Lagos. Let's subscribe and support the magazine.'
The special comment segment was interrupted with the message of the day. It was the fort of Pastor Ruth Essien, who spoke on the essence of thanksgiving. Maintaining that Life Way will be better in the years to come, she enthused: 'when you give thanks, you are telling God that you cannot do it alone. You are telling the flesh to give way. I believe that this celebration is Life Way's way of telling God to cut through the flesh. Even if there seems to be nothing to give thanks for, give thanks.'
According to her, 'during praise and worship, your heaven is open. When you give thanks, whatever you have will multiply.
Dr. Francis Akin John noted that publishing is fundamental in the propagation of the gospel. Arguing that ministry is not restricted to opening churches and collecting offerings, he said: 'Christian magazines die easily, especially if they are non-denominational. Gospel is not only about preaching, it is also in publishing.'
Pastor Ladi Thompson argued that: 'It is easier to start a church and have it prosper than starting a Christian magazine that will thrive. For us to get the Bible we read today, men died, blood was shed. Society magazines sell better than Christian magazines because people resist 'It is written'. Life Way is one of the tools God is using to fight in this generation.'
Pastor Sam Adeyemi of Daystar Christian Centre spoke in his characteristic manner. He offered insightful perspectives into the role of the media in the dissemination of information.
In his view, 'it is certain that God called Jackson and Yinka to this assignment. This is an apostolic ministry, it is a powerful ministry. There is more to ministry than what we see in the physical.'
He bemoaned the high mortality rate of Christian magazines, saying that Life Way's staying power is predicated on God's support. He admitted that there is no Christian magazine in Nigeria like Life Way.
Jackson was effusive in his expression of gratitude to those who had stood by him all these years. He recalled the frustrations of the early days and how he almost doubted if he had taken the right decision.