NSC DISBURSES JONATHAN'S N193M TO ATHLETES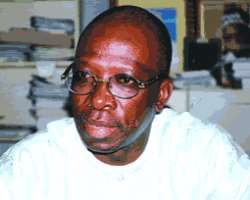 •Ekeji
The National Sports Commission (NSC) has started disbursement of the President Goodluck Jonathan's goodies to athletes and players who won laurels for the country since 2009. Director General of the sports apex body, Dr Patrick Ekeji, said that the list of the beneficiaries had been sent to the Ministry of Finance with details of bank accounts of the athletes.
We have done our part by sending the list to the Ministry of Finance, Dr Ekeji said. The accounts of the athletes are there and I'm sure that the money will hit individual's account in due course.
Describing the President's gesture as a turning point in Nigeria's reward system for the athletes, the DG expressed hope that the athletes would grab the challenge and ensure that Nigeria wins the forthcoming All Africa Games in Maputo, Mozambique.
Giving the breakdown of the President's largesse, Ekeji disclosed that the Under-17 Golden Eaglets with the coaching crew received N13,350,000 (N450,000 for each player) while the Under-20 Falconets that got to the final of the FIFA Under-20 Championship in Germany last years got the same amount. Youth Olympic team at the Singapore Games got N6,350,000, while the India Commonwealth Games medalists shared N76,750,000 as Super Falcons' feat at the 2010 African Women Championship in South Africa fetched N21,150,000. World Junior Athletes Championship in Canada had N9,600,000 just as the African Athletics Championship in Kenya in 2010 got N17,350,000.
Badminton received N9,100,000; Russia 2010 senior wrestlers got N2,550,000 and junior N1,750,000. The wrestlers also bagged N3,600,000 for their efforts in Cairo, Egypt in 2010 with weightlifting and scrabble receiving N6,000,000 and N11,600,000 respectively.