N1.5BN SCAM: COURT GIVES OJO-OBA CONDITIONS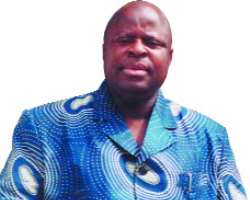 •Ojo-Oba
Former Secretary-General of the Nigerian Football Federation, NFF, Dr Bolaji Ojo -Oba and three others are to each produce a N10million bond and two sureties in like sum as conditions for the release of their travel documents, a Fedral High Court, sitting at Maitama, Abuja ordered yesterday.
Ojo-Oba who is being prosecuted by the Economic and Financial Crimes Commission, EFCC, alongside three others on a seven-count charge of using their offices to confer unfair advantages on themselves, had approached the court for the release of his travel documents to be able to attend an international engagement with the Federation of International Football Association, FIFA.
The trial judge delivering his ruling on the application yesterday, ordered that the accused must return his travel document to the court on May 4, while he warned that failure to turn up for trial would mean that his surety will be arrested and docked to face trial.
Before the ruling of Thursday, granting the accused a conditional release of his passport, Justice Donatus Okorowa had on Friday, February 25th, 2011, turned down an earlier application filed by Ojo Oba, seeking a temporary release of his travel documents. Ojo-Oba, together with Sani Lulu Abdulahi; Amanze Uchegbulam and Taiwo Ogunjobi, all former officials of NFF, are specifically standing trial for defrauding the Federal Government of more than N1.3 billion and $2 million among others. Besides, the accused persons were also alleged to have booked the Hampshire Hotel in South Africa, being a cheap, substandard, unbefitting and an unlisted hotel by the FIFA, for lodging by participating teams and caused the Federal Government to pay a fine of $125,000 for a breach of contract. The travel documents of all the accused persons were ordered seized on September 7, 2010, by the court as part of the bail conditions when they were arraigned. Other bail conditions was the provision of a N100million bond by each of the accused with two sureties each.
Justice Okorowa had earlier turned down an application for the release of Ojo-Oba's traveling documents, warning the accused to desist from bringing frivolous applications aimed at delaying the trial. Ojo-Oba's Counsel, Enahoro Ebah, had also filed an application before the court seeking the quashing of the charges against him. The three other accused persons aligned with the application and also challenged the jurisdiction of the court to entertain the suit.
But the EFCC counsel, Olasupo Ashaolu, SAN, went ahead to present a 17-paragraph affidavit opposing the application. Ojo-oba, Lulu, Uchegbulam, and Ogunjobi were arrested by EFCC on June 7th, 2010 but granted administrative bail. They were, however, re-arrested by the commission's operatives on Monday September 6, 2010. They are being tried on a 7-count charge. The substantive suit comes up on May 9, 2011.