AMAA night of awards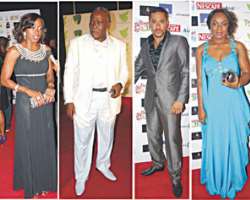 It was sassy, classy and yet another night of awards last Sunday as movie stars across Africa and other parts of the world invaded Yenoghoa, Bayelsa State capital, to be part of this year's edition of the prestigious African Movie Academy Awards(AMAA).
The awards night was explicit as it was glamorous. It was also a celebration of colour, style and movies from Africa.
Apart from recording an impressive outing of notable movie stars from across the world in attendance, one unique thing about this year's AMAA was the fact that it was a week-long event.
Unlike the previous editions where guests came and left without learning anything about the host state, this year's AMAA was different. Guests were entertained elaborately with the state's cultural troupe performance.
The red-carpet graced by movie stars from all walks of life; Hollywood, Ghallywood, Nollywood, South Africa, Kenya and other countries, started as early as 4 pm, at the Glory Land Cultural Centre. The stars, in their unbeatable fashion styles, met with the aggressive paparazzi who were busy feasting on their appearances.
Nollywood actor, Jim Iyke and Ghanaian actor, Majid Michel stole the show. Their adorning the red-carpet was greeted with thunderous ovation and hailing from the crowd. Jim Iyke later anchored the awards night alongside actress Nse Ikpe Etim- they both gave a good account of themselves on stage.
AMAA founder, Ms Peace Anyiam-Osigwe, while speaking at the well attended event re-emphasized the primary aim of setting up the AMAA, noting that the Academy was set up to encourage and reward creativity in the business of film making in Africa.
" The AMAA have been an enduring platform to eulogize our heroes past in Africa cinema and shower encomiums on the present crop of film makers who are still proudly flying the flag."
Continuing, she said, " while we celebrate ourselves as film makers, AMAA seeks to inspire a new generation of African film makers who will use a perfect blend of creativity and technology to tell our stories. We must be able to fuse our rich oral traditions and history with the latest in high definition equipment."
She described this year's AMAA as being unique, adding that the guest were made to experience the host state in a new way for one week, with series of activities that positively impacted on the local economy and people of Bayelsa state.