Comedian Alibaba Sets The Records Straight On Ex Wife Brouhaha.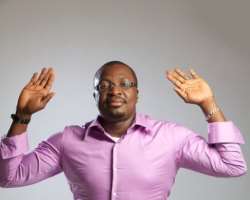 For years the comedian tagged king of them all has had to live with the rumour that his career got a boost when he met his ex wife patricia leon and that he lived off spending her money....for years he kept quiet and tried to swallow the talks but i guess the 'enough is enough' slogan caught up with him and the comedian has cleared the air via his faceook profile in a note he tagged me on tittled ''My Point is....''.
Be patient and read.
Alibaba says..
''First things first, i know some of u will say this is uncalled for. Some will even say, we already know. But for those who know, its important u also know that so many dont know. So pls if u have the time, read it. Its really not a piece i shld be writing, but in the face of thousands of lies being told in the name of justifying their false convictions, some people just believe the wrong things and pass on same as truth. Which is then circulated. And when u keep quiet, its often taken to mean the truth.
Every so often I am forced to explain myself or rebut some issues that bother on my integrity and dignity. I have worked hard for my FAME and with God, I still manage to remain relevant. Until now, or to be sincere, recently, people did not know that Comedians earned as much as they did. Mohammed DANJUMA, YIBO KOKO, TeeA, Basorge Tariah Jnr and a whole lot of the first generation comics, tried to keep our new found goldmine under the radar. Not until the second generation came. And started the laau laau spending and blew our covers. Till now I still try to advise my younger colleagues on the gains of prudence.
This explained why, initially people thought comedians were paid peanuts. But clients who had paid for our services, were quick to correct you anytime u tried to cheapen our services. Some clients call me and offer some amount and are shocked when I refer them to younger collected who charge within their budget. But to be fair, those who use our services these days know TALK IS NOT CHEAP!
Anyway, if you know me by now, u wld already have guessed that this piece is not going to be about what we charge per se. But I had to mention it to give u a background to what the write up is about.
Back in the mid 90s, I earned my first million as a comedian, at that time, as a young graduate, u only can run into such wealth through the corridors of 419. But I got mine, through the help of Satzenbrau. So by the end of the 90s I was coasting home with between 100 and 200k per show. I already was living in a 5 bedroom duplex, that used to be Regina Askia's residence, in Ilupeju.
Then I moved to Lekki phase 1, in 99. In 2000, I was introduced to the presidency and I moved into the 1million per show bracket. No be GOD?
I married Patricia Leon about that time. She was at the time working in Multichoice and lived in a 2 Studio apartment on Opebi, behind Niteshift. Without being specific with figures, let's just say her monthly take home was below 100k monthly. Now this was at the time when I had started charging between 500k and 800k (depending on negotiating skills) Don't also forget that besides Mohammed DANJUMA and maybe 2 others, I was the first call for events. I WAS BUSY.
I was therefore able to give my wife, without breaking a sweat, a monthly salary the same with what she got as a staff of Multichoice. She cashed her cheques at the UBA on Aboyade Cole. That was besides other bills at home and her wardrobe. THAT IS WHAT A HUSBAND IS SUPPOSED TO DO. And I did it well. I must add that even after we parted ways, I still provided for her... Up till a point. Now that point was when I read an interview that painted me like a gigolo. And I stopped being a nice guy.
I know some of you are going, "who cares whether you took care of her or not?", apparently some people do. Those who undermine my hardwork and prefer to believe I lived off Patricia Leon. Usually when I try to set the records straight, friends will say, let them say what they want to say. Sadly, the lies are taking on true colours. Some now say it was Pat that made me. You are better not give God's glory to no man. Or else you will answer for it.
If I may ask, if Ay, TeeA, Baskethmouth, Julius, Basorge and Gbenga had married SOCIALITES wld they have been considered as living off their wives? Am very sure if any of them had married a banker, lawyer, business woman or Socialite, none of the affluence they exhibit now wld have been from their hardwork. It wld have been because they married their spouses.
As much as I agree that it's nobody's business how I live my life, I also believ that when that life I am living is now given a reputation of someone who lives off women, I also owe myself the right to state it clearly that it is not true.
Don't go thinking Pat and I are not friends. Far from it. This piece is not about making her look bad or me looking good, but it is to put it on record that I stated the facts and in these days of FOI law, to have it documented, because, anyone who writes anything to discredit my hard earned reputation and professional integrity wld pay for painting me in bad light.
But like I was told by one of my big brosses, some spread the false tales because it justifies their present states. "I heard u and Alibaba graduated the same year" and am sure u can predict the next line... "Yes o! The guy don hammer. Na Patricia Leon money he dey spend!" That way its easy to discount my hustles and imply that if it were not for Pat, he and I wld have still been on the same level. Guess what? Pat is still alive, go and let her spend on you too.
This was the point I tried to make in my note THE HILARY FACTOR. And my point then and now, was and is, that when Obama decided not to pick Hilary Clinton as VP, I knew why. People wld have said he rode on her wings to win. He didn't pick her and he won. In my case, there was nothing wrong in riding on my wife's wings or financial edge to succeed. If there was. There wasn't. And in truth, my marrying her cost me my Multichoice account. Because I stopped doing events for them once we were married. U can clear that with JSP Communications.
After saying all these, my point is... Give GOD credit when he deserves it. Or else u wld be bearing false witness against your neighbour and offending GOD. Plus the small fact that u also are robbing me of some applause.
That's my point... Now let the arrows fly!''