AZUH ARINZE QUITS ENCOMIUM MAGAZINE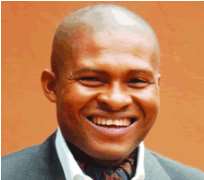 The cerebral editor of Encomium Weekly, Nigeria's most respected soft sell journal, Mr. Azuh Arinze, has resigned his appointment. The humble and hard working journalist communicated his disengagement plans to the company since Monday, January 3, 2011. His resignation, however, took effect on Thursday, March 24, to co-incide with his 39th birthday.
Explaining why he was leaving Encomiums Ventures Limited, the publishers of Encomium Weekly, E-Lifestyle and Encomium Special, after about 15 years of meritorious service, Azuh said it was to pursue new challenges and prospects.
Admitting that it was a painful decision for him to take, Azuh added that he would forever be grateful to Mr Kunle Bakare, his mentor, role model and boss, for touching and changing his life.
'There is no form of bitterness whatsoever between us.As a matter of fact, all I have for him is appreciation and gratitude. I thank him for showing me unprecedented love and will forever do that.'
On his next line of action, Azuh who became an editor at 26 and only months back had a successful public presentation of his maiden book, Tested and Trusted Success Secrets of the Rich and Famous, stated that everything was in God's hands for now.
Meanwhile, the O'Jez Entertainment Forum (OEF), over the weekend hosted Azuh to a lavish reception, for his immense contributions to the growth and development of entertainment and soft sell journalism in Nigeria. The memorable evening of fun, interactions, networking and relaxation, was well-attended by his colleagues, associates and entertainment stars and celebrities.