Jonathan's Campaign Suspends Omeri Over Statement On Buhari, Ribadu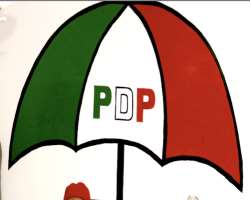 SAN FRANCISCO, March 23, (THEWILL) – The Presidential Campaign Council (PCC) of the Peoples Democratic Party (PDP) today issued an indefinite suspension order to its Director of Research and Strategy, Mr. Mike Omeri for engaging the Presidential candidates of the Congress for Progressive Change (CPC), General Muhammadu Buhari and the Action Congress of Nigeria (ACN), Mallam Nuhu Ribadu in what the campaign organization viewed as a smear campaign.
The Director General of the PCC, Dr. Dalhatu Tafida, signed the suspension letter dated March 22, 2011.
Part of the letter reads: "In spite of repeated warnings to you to desist from pronouncements on the campaign without clearance from either the Director of Publicity or Deputy Director-General, or Director-General, you have persisted in this direction and thereby embarrassed the campaign with unauthorized statements that are at variance with the values and principles of our presidential candidate.
"You are accordingly suspended from your duties as Director of Research and Strategy until further notice while you are required to respond within 24 hours as to why stronger sanctions should not be applied to you."
Omeri in his March 19, 2011 statement that earned him the indefinite suspension had dismissed the anti-corruption posturing of General Muhammadu Buhari and Mallam Nuhu Ribadu as "hypocritical, fake and self- serving", adding that "the antecedents of these self-acclaimed anti-corruption 'stars' prove to be the contrary."
The statement noted that "in 1984 General Buhari exhibited double standard in public administration by allowing in 52 suit cases suspected to be filled with hard currency through his ADC without passing through the customs check point for the mandatory custom clearance…This was a clear case of money laundering and we wonder what moral right such a candidate has to talk about anti- corruption."
…. "The case of Nuhu Ribadu the erstwhile Chairman of the Economic and Financial Crimes Commission (EFCC) is more shocking. In 2007 while answering questions from the Senate on the alleged corruption of some governors, Ribadu pointedly said that the corruption of the former governor of Lagos state, Senator Bola Tinubu was "of international dimension.""
"Is it not curious that the same person with such a tag is now the political godfather of Ribadu and sole financier of his political campaigns?
"To also show Ribadu's lack of faith in the anti-corruption fight, he recently said and we quote: "I won't bother myself with the integrity of politicians that will fund my campaign. I will take corrupt politicians money for my campaign as far as the money is not put in my pocket."
"What kind of role model is Ribadu and how can Nigerians believe him if he says that he will jail corrupt politicians if he emerges as the country's president?
"Ribadu by such posturing has given Tinubu a clean bill of health, which is not only hypocritical but evidence that given the same opportunity, he (Ribadu), would not have done better than the governors whom he had indicted," Omeri added in the statement.