Alec Godwin in new romance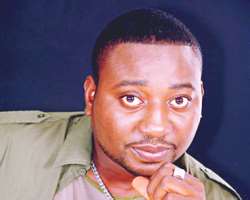 Alec Godwin, the estranged hubby of Branama crooner, Kefee, has got his groove back after the messy divorce that had the couple saying nasty things about each other.
On his Facebook wall, the music producer changed his marital status from 'single' to 'in a relationship.'
This attracted a lot of comments from friends and fans who wished him well and advised him to ensure this new relationship worked out well.
When Life and Beat called him on the phone to inquire about his latest relationship, he chose to be evasive.
However, Godwin, who said the matter was 'undercover,' added he wasn't ready to reveal anything till the right time.
When asked if the new babe was a singer, Godwin said, "She sings though. I didn't want that, but that is the way love goes." But will the wedding bells ring soon? "By the grace of God. That is the idea. I just have to take my time for the right person," he says.
Apart from the new joy in his heart, Godwin is feeling good about the new artiste signed under his label.