2011, AKUNYILI AND QUALITY REPRESENTATION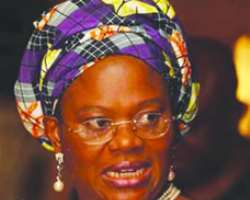 Akunyili
When the former Minister of Information and Communications, Prof. Dora Nkem Akunyili, left President Goodluck Jonathan's cabinet to take part in partisan politics, it took many people by surprise. The surprise came in different forms. What surprised many most was her change of platform, from the formidable Peoples Democratic Party (PDP) to a lesser but more organized party, the All Progressive Grand Alliance (APGA).
But the infighting and intrigues that characterized the PDP primaries in Anambra and practically all the states in Nigeria may possibly explain why Dora pitched her tent with APGA. Though she explained that her going to APGA was to complement the good works of Governor Peter Obi in Anambra State, there might probably be other reasons for jettisoning the ubiquitous PDP; many consider a veritable vehicle for easy ride to power.
Akunyili's explanation on the surface might be one of her reasons for choosing APGA. On a deeper level, her intention might transcend that. Governor Obi, had himself acted as Akunyili's John the Baptist, when some days before her eventual defection to APGA, he remarked that the state is in dire need of quality representation at the centre. By centre here, one can ably conclude that the governor meant the National Assembly.
Beyond the politics of Obi's statement, Anambra State and, indeed, Igbo land of the South-East have lacked quality representation at the centre. The zone had had the misfortune of being represented by selfish politicians who convert constituency allowance and other perks of office to personal property. They are there for their pockets and not for attracting projects to their constituencies. The situation is so bad hence the need for a change.
Since Obi's administration is gender sensitive, it is not therefore a surprise that he will be rooting for adequate gender representation. Obi believes much in gender equity and female representation in politics. The composition of his cabinet is illustrative of this fact. This can explain why Emordi, Ekwunife and other females are using the APGA platform to realize their political ambitions for this year's polls.
One thing going for Akunyili is her strong will. She is overtly intelligent and at the same time humble, caring and accommodating. All the traits she strategically put to good use upon being appointed the Director-General of the National Agency for Food, Drug Administration and Control (NAFDAC).
Akunyili, Ngozi Okonjo-Iweala, Oby Ezekwesili and others were part of Chief Olusegun Obasanjo's discovery in 1999 political dispensation. The then president put to good use the sterling qualities of these women and achieved a lot for the country.
Dora came to NAFDAC with iron resolve to change it for the better not minding whose ox is gored or not. She was not afraid of the daunting task of overseeing a beleaguered food and drug regulatory agency, especially against the backdrop that it is a territory that men have not fared any better.
Akunyili did not only clean the Augean stable, she proved that what a man can't do, a woman can do it and do it better. She discharged her NAFDAC duty with great finesse that she won the admiration of all Nigerians. Her stay at NAFDAC was so historic and meritorious that no NAFDAC DG can ever surpass her records. Like a star, Dora shone brightly at her duty post and was ably noticed not only in her home country, Nigeria, but in Africa and globally.
As a result of her exemplary performance at NAFDAC, many honours and awards came her way. The story of Dora's rise from a university teacher at the University of Nigeria, Nsukka (UNN) to national prominence is very much well known that there is no need to recount them in this article.
It was her ascendancy into our national consciousness that earned her a ministerial appointment in the government of late president, Umaru Musa Yar'Adua as the Minister of Information and Communications, a post she maintained in President Jonathan's administration until her recent resignation to take part in elective politics.
Since Dora's political ambition became public, her detractors have been interrogating her mission. Some have asked why she left a federal cabinet for a senatorial seat she is not yet sure and many other needless questions. Why I say that some of the questions are needless is that any Nigerian is at liberty to vie for any political office in the land at any time. If Akunyili does so, it is not a crime. People raising questions on her motive are just raising dust.
And without sounding like her spokesperson, let me hazard some guesses why Akunyili is running for Anambra Central senatorial seat. Dora is an accomplished academician. She has been in government and knows what under-representation means. She is also aware of the disadvantages of not having quality representation at the Upper Legislative House. Dora knows quite well that her gender-female- is under-represented in Nigerian politics.
Akunyili is equally versed in gender issues and feminist thoughts and ideologies. While at NAFDAC and her last political post, she ensured that women are empowered as well as men. She is aware that women are economically, politically, socially and religiously oppressed by patriarchal institutions.
I think that these are some of the issues she wants to address as a senator. She wants to boost the number and quality of female representation in Nigerian politics. As a senator, I am quite convinced that Akunyili will deliver on her constituency projects. She will not sleep at sittings or absent herself unduly from House business. She will be part of the law-making body decision process, especially on gender and feminine issues.
Akunyili is naturally, intellectually and spiritually prepared to discharge well the functions of a senator of the Federal Republic of Nigeria. She is eminently qualified for the job. She needs our support and votes to actualize the dream. What the people of Anambra Central senatorial zone can do for her is to cast their votes en masse for her. She deserves their votes. Akunyili has represented her people well in NAFDAC as well as in the Federal cabinet. She will still do the same at the senate. If it were other climes, Akunyili would have been elected unopposed. Rival candidates would have stepped down for her. I do not completely rule out such happening in Anambra State.
Dora is our distinguished sister and daughter. Let us give her the necessary support that will make her victorious in the April polls. Her going to the senate to represent us is not asking for too much. It is even modest on her part. There is nothing she asked for that we cannot do for her.
It is because of all of us, our interest and general safety that Akunyili nearly lost her life in the course of seeing that our shores are free of counterfeit and fake drugs and other unwholesome food products. Because of all of us, she took many far-reaching decisions, at the risk of her personal safety-that ushered in the present political dispensation. She spoke out the truth when many were afraid. While some dish out lies to the masses, others maintained studied silence, as if nothing was at stake. But she patriotically rose to the challenge, daring all odds.
Dora is a big lesson in courage, honesty and steadfastness. A vote for her is a vote for honest and quality representation at the federal level, an area we have been short-changed due to visionless and greedy representation. There is no other way we can honour Akunyili for all that she has done for our sake than by massively voting her into the senate.