PLIGHT OF NIGERIA PENSIONERS WILL SOON BE OVER-MAINA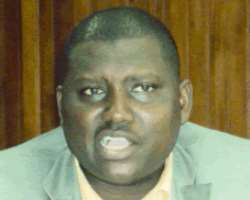 Abdulrasheed Maina
Efforts by the Federal Government to restore sanity into the Pension scheme has opened more can of worms, as the head of the Task Force Team put together by the government to look into the crises and rot in the systems has revealed that the exercise has uncovered over N10 billion paid to non-existing pensioners by the former federal pension management.
Speaking in an interview in Abuja with Daily Sun, Alhaji Abdulrasheed Maina, head of the Task Force Team and Director of Customs, Immigration and Prisons Pensions Office (CIPPO) said the plight of the Nigerian pensioners from all services would soon be a thing of the past.
Excerpts:
You were brought in by the former head of service to take charge of the pension reform of the federal civil service, what were your clear responsibilities? 
I am really humbled because the then head of service (HOS), Stephen Oronsaye, invited all the pension offices, CIPPO, Police, Customs, Military, Defence and State Security Service and asked them to come for the quarterly meeting with the HOS.
He asked the Director General, National Pension Commission, to go round the pension offices and look at their work and ensure it follows due process, and also ensure that all these offices run on a common platform. It was as a result of the meeting that he (HOS) then appointed me to serve as the chairman of the task force team on pension reforms.
He asked me to come to his office and restructure the pension office of the HOS based on the model that I operated in CIPPO in June 2010. The model I developed in CIPPO is such that pensioners are paid between 20th and 25th of every month, and as soon as government approves any increment, we immediately reflect it. We don't have a single fake pensioner on our list in CIPPO because when we go out on payment, I involve EFCC, ICP, office of Accountant General of the Federation to monitor the payments and the verification, so that there will be transparency. Based on that model, Mr Orosanye thought I was the best person to restructure the pension office.
The pension office of the HOS is alleged to be very corrupt, what has been your experience as the head of the task force team?
When I came on board with the task force team, I realized that the job was enormous because here I am with 20,000 pensioners in CIPPO, now I am faced with 160,000 pensioners in the HOS. Then I looked at the process of payment and felt that it was not in conformity with the laid down rules and regulations. So I devised a method. The first thing I did was to ask that we embark on a biometric enrolment exercise because I wanted to ensure that each pensioner that is genuine is captured on a work flow process.
We went round the 36 states plus FCT and in doing that, I had to invite the EFCC, ICP, auditor general, some staff from HOS and also staff of CIPPO for us to go round the country and do it. We captured 165,000 pensioners last year. But when we came back, I set up a team to validate and authenticate each pensioners record. We all slept in the office working 24 hours. After the committee reviewed the document, and ensured that it was okay, we then sent it to EFCC and ICPC, they would in turn look at it and validate it before it was sent to the computer room. In so doing, we realized that only 115,000 were qualified.
The reasons are, when we were going back for the biometrics exercise, we tried to get an authenticated list of pensioners from the HOS, and we couldn't get any genuine list. But we were able to have a list of 141,790. Out of this number, by the time we came back, only 70,658 out of the 115, 000 that were validated were among the 141,000. Those were being paid by the HOS. That is to tell you that over 70,000 were ghost pensioners. We also brought on board additional 34,000 pensioners that had never received pension in their life.
How much was lost in monetary terms to those considered as ghost pensioners?
I would leave that for the office of the HOS to tell you. But I can tell you that before now, the monthly pension was N23 billion a month, but now we pay N13 billion a month.
What were the main challenges in the exercise?
I had a lot of challenges. People have threatened me several times to get me out of this job. But I said, am committed to this job and am forced to this job. People have done everything humanly possible to distract me with all kinds of threat. All am trying to do is ensure that the pension system is sanitized. That was the reason I was appointed to restructure it just like I did in CIPPO.
Since you took this appointment with the HOS, how much have you saved for the FG?
The credit goes to the formal Head of Service, Stephen Orosanye and the new head of service, Prof. Oladapo Afolabi. Prof. Afolabi has been macro-managing this thing. He would leave HOS office early in the morning and come to my office, sit down and say call all stakeholders for a meeting. He honestly wants to get to the root of this problem because of the numerous complaints.
We were sending these complaints to the consultants that were paying but the money was not reaching the pensioners. So we had issues. You know when you talk about how much has been saved, you have to look at how did you save the money? Like I said earlier, the pension bill was about N23 billion and now has come down to N13 billion and we had complaints by people who were saying that they were left out or they are part of the 115,000 pensioners but they have not been paid from June to date. And we do our own work and forward to the consultants to pay. So whether they pay or they don't we don't know. We don't get these reports from them.
So what we were able to do is when I reported the issue to the HOS, he took it up quickly. I must give him a lot of credit because it was through him that I was able to come out of the mess. He gave me full authority to ensure that everybody is paid. That is why you can now see that people are being paid and it's based on the authority he gave me. And he has told me to ensure that everybody is paid, that is all he wants. Before then, they were wondering if you are paying arrears of pension, why you must have been paying every month. But we don't have those things anymore.
My task team right now is trying to ensure that by God grace by March, everybody is on. We will now go back to history because there are many people who are owed pension between 2001 to when I took over in May 2010. There are also many death cases that have not been paid their gratuity. My task teams by March will go back in history to visit all these complaints and try to address them one by one. We have only been able to address the issues of monthly pension, which is what we are paying. If someone is not captured, we advice the person to come and get captured. There have been several complaints from pensioners in Diaspora, but we say you cannot pay if we don't have your biometrics because you have to be in the system.
What still needs to be done to consolidate on the success so far achieved in the civil service pension administration?
There are still so many things to be done. The Nigerian Civil Service, because of the bureaucratic bottlenecks, things take time before they are done. I am in the service but sometimes, we need to come out of our shell and try to be pro-active. That is what the new HOS is asking us to do. He say's come out of those bottlenecks and be pro-active. We are not here to restructure an office and then leave them to manage their office. We are here forever. So we are not taking over anybody's job. If the office had been running, fine, they would not have asked us to come. There was a system failure and we came to rectify that.
What needs to be done is that after the biometrics in the Diaspora, we will sit down and do the work flow process which we have already done, we are just going to redo it-from which department to what department. In CIPPO, I reduced the work flow process from 26 to five process because all these 26 process were manmade in other to pinch some money from the pensioners. Now these things are done online, in other countries, you don't even have to be there. You just send in your request and it is done and that is where am heading to.
I am trying to do what is called an ID with a clip where pensioners do not have to be subjected to the verification exercise they go through every quarter. So that every six month, you go in to your zonal office in the state and slot in you ID card and the system will ask for your finger prints, then you are verified. If you don't go a text message will be sent to your phone reminding you that if you don't go in the next two weeks, your pension will be stopped because you have not been verified.
Pensioners have always lamented the poor and disorganized ways of getting their entitlements, what could account for this?
Pension and gratuity are intended to cushion post-service life and provide substances to people who are the growth of an institution, be it public or private. It is not in doubt that Nigeria polices over the years have remained almost jinxed due to certain flaws in the system. Very often when you hear pensioners agitating, that may be as a result of the process they have to go through before they get paid.