ABUJA HOSTS EAGLES, ARGENTINA JUNE 1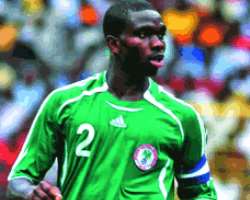 Yobo
Football fans will once again have a privilege of watching a high-profile duel when Nigeria's Super Eagles take on the dreaded South American side, Argentina, on June 1 in Abuja.
The proposed duel put together by Eagles official sponsor, Guinness, is expected to give football fans value of their support to the national team.
Nigeria would be playing Argentina for the first time after the last FIFA World Cup in South Africa and both countries have confirmed their readiness for the match. According to the Guinness Chairman, Mr Babatunde Savage, at a briefing in Lagos, his company decided to sponsor the grade A duel because most Eagles' fans are also ardent fans Guinness Stout consumers.
'Nigeria is a great nation of good people, many of whom are ardent football followers. Not just our local talent and national team but any game, anywhere in the world, particular, the English Premier League, Champions League, La Liga and, of course, the Africa Cup of Nations and the World Cup tournaments.
'Guinness is the first choice beer of football fans and it recognises that football unites and inspires like no other sport. For some years, it has brought great football experiences to the fans in Nigeria and our new coach, Samson Siasia, shoulders a heavy responsibility with the hopes and dreams of the nation pinned on him.
But the recent criticism that even a small country such as Guatemala was reluctant to come to Nigeria to play a friendly has led to a rising swell of voices among fans on the street to the NFF and Siasia himself demanding that the country be given a credible and fair chance to show that she has what it takes. So, we at Guinness have decided to take positive action and reiterate our support for the nation's fans and our national team,' Savage said.
The proposed duel is a rematch of 2010 World Cup group game between the two countries in Johannesburg. Argentina won 1-0 courtesy of an early Gabriel Heinze powerful header, but goalkeeper Vincent Enyeama was in inspired form to deny Messi on, at least, two occasions.
The South Americans also beat the Eagles 1-0 in a 2002 World Cup group clash.
Both teams have twice clashed in the final of the Olympic football event.
Nigeria beat Argentina 3-2 to win an historic Olympic Gold at Atlanta '96, while the South Americans got their revenge at the 2008 Beijing Olympics. Argentina inspired by Messi also denied Nigeria the 2005 FIFA Under-20 World Cup. Messi and company won 2-1. The June friendly will be a good tune-up match for the Eagles prior their Nations Cup qualifier away to Ethiopia.