2011: WE MAY NOT HAVE CREDIBLE ELECTIONS -SENATOR KAKA YALE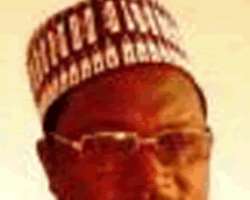 Senator Kaka Mala Yale, who represents Borno Central in the Senate, has advised Nigerians who are expecting credible general elections next month to forget it, arguing that the electorate process would be undermined by politicians who have always used money to frustrate the wish of the electorate.
In an interview with Daily Sun, Kaka who is the vice chairman of the Senate Committee on Establishment and Public Service noted that candidates would be elected on the basis of the quantity of money they could dole out to the electorate and not because of their credibility or suitability.
'From what I have seen now, we may not have credible election in 2011.
You need to know that credible contestants in an election also help to give credibility to the exercise and again, election will be more credible if people freely choose their leaders and not influenced with money. So, from all indication, we may not have credible poll and credible leaders in this country next month,' he declared.
Kaka is one of the senators who did not get their parties' tickets to return to the red chamber. He spoke on other issues including the increasing wave of insecurity, attitude of Nigerian politicians and his purported plan to dump his party, the All Nigerian Peoples Party (ANPP) among others.
Excerpts:
You were said to be planning to dump the ANPP. Why?
That is not true. It was a rumour like you've said earlier and I don't known what informed such rumour because I did not come out to contest. In most cases, those who do not get a platform for their political aspiration usually leave but my case isn't like that. I have been a foundation member of ANPP in Borno State and I have served the party in various capacities in the state.
By the grace of Almighty Allah, I was elected into the Senate in 2007. I think those peddling the rumour were insinuated that maybe because people have not been seeing me in election activities of recent but I can say I have been working behind the scene. Whether you are working silently or openly, what is important to me is success and I think I am succeeding. Why speculation that I want to leave?
Was there any stage or time you contemplated leaving the party particularly when the Governor, Modu Sheriff decided to contest the Borno Central senatorial seat you are currently occupying?
Not at all. I have never contemplated leaving the party at any time. In any case, there is no big deal in being in the Senate in the first instance. I have never been desperate for anything in my life and up till now, I am not also desperate. I'm not even looking for any appointment for several reasons mostly personal. I'm not also interested in contesting. If I am interested, I would have sought for another platform but I have never been too ambitious about anything in life. As far as I am concerned, I am not the one that put myself in office.
But it is also true that politics is about interest and many politicians defect to other parties when they believe the interest of their people is in jeopardy.
Well, I agree with you but I also think those who are leaving their parties to others may be right but I don't think along that line. I have a different approach to what I do even in politics; there is some degree of morality. Yes, there is difficult moment, very challenging that you feel you should leave but I have come to understand that life itself is full of challenges and politics carries its own burden and sacrifices which you have to make if you want to succeed politically.
However, I don't get completely frustrated as a person and in any way, I hold strongly to some virtues: honesty, fairness, justice and integrity. Politicians should strive to attain these virtues because they are hallmark of a good, credible leader.
Is this possible in Nigeria?
Why not? It is very possible. I believe we shall get to that level one day and things will be better.
So how do you intend to continue to empower your people and sustain their loyalty  when you are out of  Senate and government?
One doesn't necessarily have to occupy political office before one makes meaningful impact on the party or the people. What is important to me is to affect the lives of my people positively and this could also be done outside government.
It is not about giving money or contract because if it is money, I don't even have or if they need contract I can't provide, after all, Aminu Kano did not have the money to give to the people but they loved him because he was determined to better the lives of his people.
Likewise people that are supporting General  Mohammadu Buhari do it not because he gives out money, but because they believe in the man's idea. Therefore, if my people believe in what I am doing, they will continue to support me even out of government. I know I can't satisfy the need of my people even government can't meet all the aspirations of the people and that is why we need to lay emphasis on good governance and strive to attain ideal society so that our people could have a better life.
Nigerians will go to the poll next month. Do you think the exercise will change the course of this nation for better?
Well, we may not actually get our desire with this election because money will determine who wins and loses. The leaders that will emerge may not necessarily be those that ought to lead, who could transform the nation or change the course for better as you've said.
The issue of money in politics is sad. I believe it will affect the credibility of the election seriously. I mean it is very difficult to have a credible poll as long as people are not elected on the basis of merit or suitability of candidates, not because they are capable of leading the nation to the promise land as people do say or they have understanding of the problems and prospect of their people but because they have the money to dole out.
The election will be on the basis of how much money a candidate can give to the electorate. Our people seem not to be interested in the ability of the candidate to perform but the quantity of money and materials things he/she can give. It is unfortunate that election in this country has got to the level where money is used to influence peoples' decision. Invariably, this will also affect the quality of leader we get and political behavior. In a nutshell, we may not have credible election not because the election will be rigged but for the reason which I have adduced earlier. Election is supposed to change the destiny of any society for good but I doubt if the forthcoming exercise will do that for us.
There are fears that the election may be marred by violence given the spate of insecurity in the country?
That is also another angle to it. The insecurity in the country is a big problem now. It is very unfortunate and it doesn't augur well for us. The only way to address the problem is to be fair and just. I believe all these problems are caused by injustice. Our people will not be engaged in such violent acts if there have been fairness in the country. So when people are angry and disenchanted about the system, you begin to witness all these crises. However, I must say this is condemnable and the governments; federal and state should do something quickly.