WHY WE FLY CORPSES IN HELICOPTER - CHUKWUMAOBI, MD APAMS FUNERAL HOME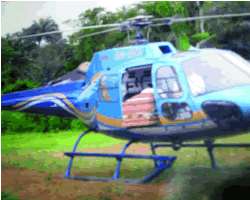 Sir Kelvin Chukwumaobi KSJ, 41, Director of APAMS Funeral Services Ltd., can rightly be described as the king of funeral undertakers, South East Nigeria. Starting with a single panel-beaten ambulance 19 years ago, he has taken the business of funeral undertaking to a higher dimension, making his office a one-stop funeral shop.
With an array of exotic vehicles, ranging from Hummer Jeep, Armada Jeep, New Model Cadillac Limousines, etc., he recently upped the ante when he introduced helicopter services to his fleet for conveying corpses to desired locations across Nigeria.
During the burial of the late transport mogul, Chief James Mama, founder of Ifesinachi Transport Company, APAMS funeral undertakers mesmerized Enugu indigenes with helicopter and other flamboyant burial paraphernalia, to the extent that one woman beside this reporter exclaimed in awe in her local dialect, 'afusholeem oso onyee nke uwam,' meaning: 'I've never witnessed this level of funeral before in my life.
A very busy man with branches all over the South East states and now making inroad into the South-South region, Chukwumaobi said the business of funeral undertaking is just like any other business, and people should not look at those engaged in it with suspicion. He also said that his dream is to take the company to greater heights in Nigeria.
After a hot chase and cancelled appointments that spanned a period of eight months owing to his tight schedules, Sunday Sun reporter finally tracked him down in his Onitsha office for a chat. Surrounded by foreign caskets and other funeral accessories, he spoke of funeral services, challenges and the myth behind the business, among other issues. Excerpts:
How it all began
Actually, I did not start out as a funeral undertaker, I was into the business of selling medicines, I was engaged in pharmaceutical distribution and my company then was known as Amauche Pharmaceutical Medical Services Ltd., that is even where the name APAMS came from. APAMS is just an abbreviation that came from this pharmaceutical company that was my first business enterprise. I finally left that one and started this undertaker business. It's been 19 years of steady rise.
When I started, I had only an ambulance, a panel-beaten 504 ambulance and I was even the driver. But at a time I had the vision to concentrate and launch fully into the business. I started reading funeral catalogues, attending seminars and sharing knowledge with people who are bereaved. I got more information from bereaved ones on the services they required and I moved in to solve their needs.
That was when I added casket-making; organizing boys as pallbearers, band group and wreath bearers. It was about six or seven services then before I made contacts with the western world in London and America, and through exchange of catalogues I added more services and today we can comfortably boast of about 26 different funeral services. We are now into A to Z of funeral services, and today, if a client pays the right amount, we would organize everything for the client without any hassles.
I had my mind on the top
When we started, people looked down on me and even made jest of the kind of thing I had ventured into, but I knew what I was doing and I knew I would reach the pinnacle of the job.
Today, I've not even exhausted 70 per cent of what I have in mind in funeral services. Just two years ago I added helicopter services to our range of services. My package is full, only that I'm bidding my time and every year we keep adding more and seeking finance to improve our services.
Why we added helicopter services
The addition of helicopter service was to fulfill various needs. Firstly, you know that the South East has bad network of roads. Some people would book us only for us to get to a dead end in the process of conveying the dead. Because of bad roads you might be forced to stop your exotic vehicle and transfer the casket on a canoe, or carry it on the head to the final resting place, thereby messing up everything.
So, with our helicopter we can easily tell the family to relax in their homes, we would pick up the corpse from the morgue and fly it straight to the home of the concerned family. Besides, our helicopter service also came handy during the time of incessant kidnappings in the South East. Some people were scared of traveling all the way from Lagos and Abuja to the East by road because of the fear of kidnappers.
There were cases whereby kidnappers waylaid people on convoy for burial and kidnapped both the corpse and some other important dignitaries, but with our helicopter one could be rest assured, because kidnappers at least, cannot get us when we are sky-bound.
Then lastly, the helicopter is to fulfill a class-consciousness gap; it is for those who want flamboyance, those who want to tell the world that they've arrived. They will tell you 'Do you know that I buried my mother with a helicopter?' (prolonged laughter).
It is also for the convenience of the high class for quick service. Maybe they want to convey corpses from different parts of Nigeria to the East at a specified short time.
Justification for conveying the dead on exotic automobiles
Some people rightly asked whether it is rational to convey the dead in helicopter, Cardillac limousines, etc. while the person may not have rode a Volkswagen beetle car when he/she was alive, but I tell people that it's never a written rule that one must be buried in the same means he/she was used to when alive.
Somebody may have a Hummer jeep when alive, but when the person dies the family may decide to convey him to the grave in a Volvo ambulance, while on the other hand, one may not have rode any vehicle at all while alive, but would be conveyed to one's grave in the latest automobile in town. You might be riding a bicycle, but your family may decide on a Hummer when you die, so it all depends on the family concerned or on the decision of who is footing the bill for the funeral.
Why we engage in fanfare during burial
Yes, it's true that our pallbearers dance with corpses, do some acrobatic shows and make people happy during burial ceremonies that are supposed to be moments of mourning. The fact is, considering the statistics of people who die in Nigeria today, if one continues to cry in all the instances, it means more people would die as a result of excess crying. So, we added the glamour aspect to the funeral to remove people's mind from perpetual agony. It is to divert people's mind from the sorrowful aspect to the joyful side of people's demise because there are so much deaths these days, unlike what it used to be.
In the days past, it takes interval of two to three months before a burial takes place, but I tell you, these days, hundreds die in one week. But on a serious note, we normally come out in our full costumes for the burial of aged people. We call it celebration of life for those who lived long, and not for the 'gone too soon' category. That's why we wrote on our billboard - 'celebrate a life well spent with us'.
For people that died young or prematurely, we have another package for them. Why I say this is because if you check our records, we don't bury anything less than 30 in a week, only our company, you can then think of how many die weekly. We can comfortably handle 15 burial ceremonies per day. For example, last Friday, 4th March, 2011, we handled 21 burial ceremonies; Thursday, 3rd March, we buried 11, Wednesday was nine, so in that week alone, we handled more than 50 burials.
We can cry for you at a fee
We have a place where we train people everyday, we employ on daily basis and also sack people depending on the output. We also have contract staff and ad-hoc. We have criers as we have pallbearers and wreath bearers, etc. So, if a family doesn't want to cry, we can help cry for them once they pay the right fee, but mind you, we are unique criers. Once we start crying, it becomes unstoppable, to the extent that people would begin to beg us not to cry again (roaring laughter).
How we handle troublesome corpses
I've heard so many stories and myths surrounding dead bodies and even what the dead do in the mortuary. But in our own case, we have so many departments in our company. All the same, to say the truth, since 19 years we started this business, any stubborn corpse becomes calm once APAMS handles it. We've not experienced such unusual situations before, because even the spirit of the dead knows they cannot be stubborn once our company is handling it. That's all I can say about that one. It is not a question of fortification with charms or whatever, ours is a Christian funeral home and God gives us the wisdom to handle every situation.
I have my wife's 100 per cent support.
I started this business as a bachelor and I married my wife in the line of business. Actually, I met my wife during the burial ceremony of her father, which I handled. The father was a former chairman of NITEL and it was in the process of his burial that I met her and later proposed.
Really, there was serious controversy over my proposal, because some of her sisters were opposed to our union, but the one in Lagos supported her and because she really loves me, we succeeded after prayers. Since 2002 we wedded, it has been blissful with children surrounding our table. My wife is a lovely woman and is solidly behind me in the business.
I would like my children to take over from me.
I would like my children to take over from me because, with the level I'm taking our services, I don't think I would be able to complete it before I pass on, so I would like to impart some of the things I do to them so that they would take over from me, but I cannot force them.
We employ competent hands
People commend me that our office is well-structured and organized, but the secret is innate. Though, I read Mass Communication, I like things to be properly done. I started with two workers, but today we have over 282 staff. When we moved over to our present spacious head office, I employed more competent hands and professionals to take charge of administration, accounts and marketing departments, but I have a natural managerial ability.
I'm not threatened by competitors
Some would ask me whether I'm perturbed that more people are coming into the business and establishing offices beside us, but the truth is that competitors made me what I am today, so I'm not threatened. Without competitors I don't think I would be on this level today, that's why I would attack anybody that prays against my competitors. When I started newly, I was practically alone, doing nothing, I visited several hospitals, begging them to employ drivers and bring out their ambulances. When some of them complied, we formed a union and I became their pioneer chairman. I financed the union from my purse at the onset and even used my office as our headquarters. The competition created awareness, unlike when I was alone; it was then that people noticed me, and our services began to boom.
I pray for my competitors to remain, because they are blessings to me in disguise. It is when they are there that clients would have opportunity to compare and come back to me, which confirms that we are the best.
Challenges in the business
Our major challenge lies in the dearth of competent manpower. People work for you, but to transfer or inspire your vision into them is such a Herculean task. I've employed graduates, but the result is almost the same. How I wish they could just mirror my heart and see the burning zeal and vision I have for this funeral services and replicate such immediately.
Dream for APAMS in the next 10 years
We have taken over the South East, we are now making in-road into other geo-political zones in the country, so in the next 10 years we shall not only take over Nigeria but establish offices abroad.