WOMAN STABS PASTOR FOR ANOINTING HER HEAD WITH OIL, HOLY WATER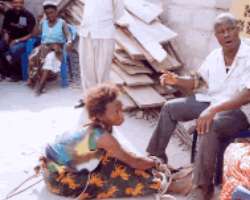 Residents of Alaba Oro, in Ajeromi Ifelodun Local Government Area of Lagos State, were recently treated to a theatre of the absurd at a Pentecostal church. Where they expected holiness and decorum, they witnessed a spectacle, where a woman pulled out a knife and attempted to kill the pastor.
Saturday Sun gathered that 34-year-old woman, identified as Favour, had gone to church with excreta wrapped in a bag and a knife. She disrupted counseling session, spat at the pastor and physically attacked him. The time was 8am.
According to eyewitnesses, the woman inflicted injuries on the general overseer of Christ Faith Tabernacle, Pastor Festus Ejete, in the melee. It took the efforts of residents and passersby to rescue the pastor from the woman.
Pastor Ejete narrates his ordeal: 'It was yesterday (Wednesday) when we were holding our weekly miracle service, and the crowd was large, I watched from the altar and observed that something was going on at the back, when I enquired, one of the ushers told me that a woman at the back said that the prayer was disturbing her. She came in with two wrappers and while the prayer was on, she went outside and removed one and returned.
'So, I looked at her and noticed that she had a problem. Then, I asked my ushers to bring water and anointing oil. I anointed her with the oil and sprinkled the water on her and she immediately screamed and confronted me on why I poured water on her. She took two of her female children and wanted to go and I asked the ushers to bring her back for more deliverance. She bit some of those that brought her back.
'I asked to know where she came from and she told me that she came from Obalende. I also asked her about her husband and she told me that her husband died in Asaba before she took her children to Lagos. In fact , I was not satisfied with the answer she gave me, because I saw strange things in her. However, I allowed her to go.
The following day, Thursday, I went to church for our normal weekly counseling. After attending to about three persons, I saw the woman entering the church with a black cellophane bag and another, which she folded. I felt that she came for counseling. Therefore, I did not suspect her. Then, I was attending to the last person. She came directly to where I sat and dropped the cellophane bag. Looking at the bag, I found out that it was excreta. I was mad over that and asked her what was going on. She spat thrice on my face and queried why I sprinkled water and oil on her body the previous day. It was then I knew that it had become a serious issue.
'I stood up and tried to push her out of the church. She held my hand and tore my shirt. I was busy trying to drag her out, not knowing that what she was holding was a knife. She brought it out and stabbed me. The only woman with me in the church then ran outside to call people for rescue. Some neighbours gathered and tried to collect the knife from her, but they could not, until more people came. Later, she pleaded that I should deliver her and that she did not know why she acted in that way.
The pastor had alerted the police, revealing that when the cops came, 'they saw her as an abnormal person, but I see her as someone that is sent to do the job she did, and she has been unleashing spiritual terrors on so many pastors and churches and succeeded, but found it very tough with me; that was why she came physically.'
Saturday Sun gathered that N52, N200, in N20 and N10 denominations were recovered from the woman.
Stating her own case, Favour stated that she has an accommodation problem and came to seek refuge in church. She also stated that she sees alms with her two female children, Abigail and Faith.
On how she identified the church, she said: 'I came from Asaba; my husband, Josiah, died some years ago and I brought some of my children to Lagos. I have lived in so many places in Lagos, and the last place I lived was Igando. My house was demolished and I became homeless. My business stopped and there was no support. As a result, I picked my children to the open space at Tafawa Balewa Square, where we are now living.
'I decided to beg to raise some money for another accommodation. I go churches. But somebody directed me to this church, and the pastor has been helping me. But what made me spit on his face and stab him was that he sprinkled water and oil on me. I did not like that. If I knew he would do that, I would not have come here.'
She admitted purchasing the knife at the nearby Alaba market, but claimed that it was not her intention to bring the excreta to the church.
'I bought the knife yesterday to fight the pastor for the oil and water he sprinkled on me during the church service. Concerning the excreta, I did not intend to bring it to the church. What happened was that I was going to throw it into the canal, but when I saw that the church was open, I decided to enter there with it.'
As at the time of filing this report, the police at Layeni/Alaba division were not available to respond on the matter. Meanwhile, the pastor is currently, receiving treatment in an undisclosed hospital.