BREAKING NEWS: EXCLUSIVE! NADIA BUARI DROPPED FROM US BASED PR FIRM - JMG MEDIA RELATIONS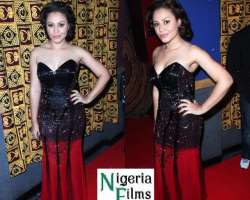 According to information that has just reached www.Nollywoodgists.com, Ghanaian actress, Nadia Buari has been dropped by her US based PR firm, JMG MEDIA RELATIONS.
A few weeks ago, new stories emerged online claiming that the Actress, Nadia Buari lied about the gown she wore to the Pan African Film Festival in February. The Press release issued by the PR Firm credited Oscar De La Renta as the designer. It turned out that Oscar De La Renta denied ever making the Dress.
Why did Nadia Buari have to tell a lie to her her PR? Why do African Celebrities feel the need to credit International designers to boost their image? What happened to wearing the native Kente or Ankara Prints?
Even though the Letter from JMG MEDIA RELATIONS does not state a reason why they are withdrawing their Media Representation for the sexy screen goddess, for anyone has followed stories about Nadia Buari recently, the answer will not be far-fetched.This is very shameful and we hope other Celebrities are taking note.