WHY I WILL VOTE FOR IKEDI OHAKIM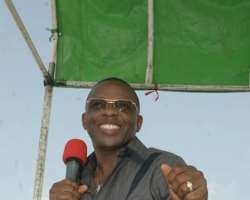 IMO STATE GOVERNOR IKEDI OHAKIM DURING A CAMPAIGN STOMP IN ORLU ZONE OF THE STATE ON MARCH 15, 2011.
The Nigerian governorship election is to be held in April. Imo State is abuzz these days with political activities and discussions over who wins the Imo governorship election. The state is divided into several political camps, each rallying supporters for their preferred candidate. The three major contenders, Chief Ikedi Ohakim (PDP), Owelle Rochas Okorocha (APGA) and Senator Ifeanyi Ararume (ACN), are on with their campaign and making promises to the people of Imo State. The outcome of the Imo governorship poll will determine the path the state will follow for the next four years.
I have been watching, listening and studying the top three Imo government house contenders and I have made my cool assessment, unencumbered and come up with the conclusion that Chief Ikedi Ohakim is my choice and I will vote for him in the Aprill poll. I have never met Ohakim or spoken to him. But I have observed him closely and come to like him. He knows where the shoe pinches Imo people and is putting smiles on the faces of the people. He is also calm, calculative, meticulous and altruistic. Even in the face of scores of litigations and smear campaign against him, he was neither deterred nor derailed from pursuing the vision of A NEW FACE OF IMO. His party, PDP is the ruling party in Imo State and has well-established structures and machinery to win election. What is called opposition party in Imo State is made up of PDP members who for one reason or another have decamped to other parties to seek political office.
For Senator Ifeanyi Ararume selling him to Imo masses is like fetching water with a basket and I remember expressing the same feeling to the late Maximus Uba when he (Uba) was hitting his head against a brick wall for the Senator. Ararume attempted to seek nomination as candidate of the PDP for the position of governor of the state in the April poll but was not able to find a foothold in the party so he decamped to ACN. The Action Congress of Nigeria does not even have a functional campaign office at the Local Government Areas and its flag bearer in Imo State lacks the transparency that befits such a high calling. If I may ask, what will anyone say is the contribution of Senator Ararume to the development of his zone, Okigwe zone, throughout his 8 years as a Senator.
I will never forget what I read about Ararume on the front page of Nigerian Horn, a weekly publication in Owerri. According to the publication, Araraume, who represented Okigwe zone at the senate between 1999 and 2007, could only initiate two bills, which did not go past the first reading, in an eight-year cycle. The publication further made reference to Araraume as a bench warmer who never participated in any major debate while in the senate.

Within his eight-year cycle in Senate, a senator is expected to have sat in the upper chamber for a total of 1,665 days. But Araraume according to the Horn, sat for only 650 days and was absent for a total of 1,140 days. For now, the electorate in Imo state sees him as one who is not capable of leading the state. Is it not the same Ararume that Achike Udenwa and former President Olusegun Obasanjo in 2007 famously declared that his candidature had 'a k-leg' and that Imo people should not vote for him? Today Udenwa is campaigning for Ararume the same man with a K-leg. What happened to the K-leg?
I will not vote for Owelle Rochas Okorocha for I look at him as an unserious politician. In 1999, Rochas Okorocha contested for the governorship of Imo State under PDP .He was popular then but as we inched towards the decisive moment, he chickened out and the position was handed over to Achike Udenwa.Rochas was rewarded with the position of Board Chairman of the Nigerian Airspace Management Agency (NAMA) . That is why i maintain that he does not have the strength of character to lead. To me he is a political showman, someone who only comes around to make noise during election so as to be recommended for a political appointment. In 2003 Rochas did his usual showmanship by contesting for President on the platform of All Nigeria Peoples Party (ANPP). He later withdrew from the Presidential race and abandoned all the people who followed him into his then party ANPP. In 2007 he still contested for the high office of the president. I believe Rochas is at his usual game of political showmanship for his party APGA is not on ground in Imo State and does not even have campaign offices at the Local Government Areas .He is not even considering the factor that it is not the turn of his zone, Orlu zone to produce the governor of Imo State.

I also don't look at Rochas as a corrupt- free politician or the messiah who is to come. When in a speech on May 29, 1999, Olusegun Obasanjo assured Nigerians of the preparedness of his government to frontally fight corruption, that endemic cankerworm which has consistently bedevilled the Nigerian nation-state, not a few Nigerians received the assurance with pessimism. Their pessimistic stance found expression in the total failure of successive previous regimes' similar assurances on the same issue. OBJ did not stop at that. He drummed it into the ears of all who cared to listen that his administration would not harbour sacred cows. The unceremonious and ignominious termination of the short-lived tenure of Chief Rochas Okorocha as the Board Chairman of the Nigerian Airspace Management Agency (NAMA) over allegation of inflation of a radar contract was seen and interpreted as a confirmation of OBJ's promise to brook no nonsense from anybody, no matter how highly placed. To me we are not about to see the end of Rochas political losing streak.
With all modesty, Governor Ohakim deserves a second term and I strongly believe that like me, Imo people will vote for him. He has demonstrated unparallel zeal and commitment in the development of Imo State. He has demonstrated that he is courageous, sober, competent, and concerned with the welfare of Imo State. He is also a compassionate Christian. Though solid in his faith and standing for traditional family values, he's not an uncaring extremist. He lives what he believes and respects others' beliefs even when they disagree with him. According to Senator Francis Arthur Nzeribe " Only the blind cannot see what Ohakim has done, and will continue to do. Only the deaf cannot hear what Ohakim is doing presently and only the dumb cannot pray to God for Ohakim to win a second term mandate. Ohakim is simply phenomenal, irresistible and insurmountable" Nzeribe also said "I know the political strength of all my colleagues, Rochas Okorocha, Achike Udenwa, Ifeanyi Ararume and Chief Alex Obi, very well. I know their consolidated political capacity as well as their individual capabilities. I am therefore, in a good position to say that they cannot beat Ohakim!"
Kenneth Uwadi writes from Mmahu-Egbema, Imo State, Nigeria.
Disclaimer:

"The views/contents expressed in this article are the sole responsibility of the author(s) and do not necessarily reflect those of The Nigerian Voice. The Nigerian Voice will not be responsible or liable for any inaccurate or incorrect statements contained in this article."
Articles by thewillnigeria.com