2010 NB'S BIGGEST CUSTOMER CLINCHES IVECO TRUCK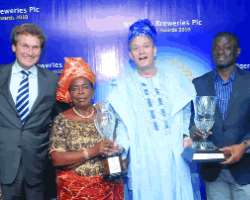 L-R, Chief Godspower Agbonifo, husband of 2010 highest distributor, Mr Robbert Mooij, Head of Logistics NB, Chief (Mrs) Mary Agbonifo,Managing Director, Magulf Entreprises, Mr Nicolaas Vervelde, MD/CEO Nigerian Breweries, Mr Onuoha Nnabuogwu, MD E.O Nnabuogwu and Sons, NB Best Transporter for 2010 and Mr Hubert Eze, Sales Director Nigerian Breweries Plc at the award ceremony in Lagos.
For selling more than three million carton units of Nigerian Breweries (NB) products in 2010, Magulf Global Enterprises was penultimate Friday rewarded with a brand new Iveco Truck. At the company's annual customers award night held at the Expo Hall of Eko Hotel in Victoria Island Lagos, Magulf Global which also won the same award for selling the highest volume of the company's products in 2009 was honoured along side several other distributors and transporters.
Magulf from Mid- West Business Unit was picked above others like Tasho Nig. Ltd from Lagos Business Unit; J. Ogungbola & Sons Ltd also from West Business Unit and Ifeoma Chukwuka Nig. Ltd from South Business Unit. Others were C.N Anyoha & Sons Ltd from the East Business Unit; Dan Development Co. Ltd from Central Business Unit and Eze Libra Ltd from North Business Unit who were declared regional champions. Except for C.N Anyoha who was rewarded with a brand new Forklift all other regional champions each went home with brand new Mitsubishi Canter trucks.
No fewer than 19 customers including the national and regional champions who sold the highest volume in their districts were rewarded with several prizes. Two of them bagged brand new Mitsubishi L 200, Eight were rewarded with 1000 cartons of Legend while nine others went home with 500 cartons of Legend.
The award category also includes that of customers who sold one million carton units and above, 2 million carton units and above as well as those who achieved minimum Super Key Distributors volume of 520,000 carton units in 2009 and 2010.
Also, 21 customers who sold more than one million carton units got N1million,4 customers who sold more than 2million carton units were rewarded with N2million cash while Magulf Global, Ifeoma Chukwukah and C.N Anyoha who sold more than 3million carton units went home with N3million cash awards.
Prizes carted home by lucky customers also included Generating Sets; cash awards and several free cartons of Nigerian Breweries products etc.
As it was in 2009, the company's best Key Transporter for 2010 was E.O Nnabugwu and Sons Limited. The company was rewarded with 33,000 litres of Diesel. Mr Onuoha Nnabugwu, Managing Director of the company said he was delighted to have won again. According to him, he was particularly happy about his company's association with a world class company like Nigerian Breweries. On her part, Chief (Mrs) Mary Agbonifo, Managing Director of Magulf Global said she was grateful to God for the award. Chief (Mrs) Agbonifo, who was accompanied to the ceremony by her husband Chief Godspower Agbonifo who is also a key Transporter of Nigerian Breweries, thanked Nigerian Breweries for recognizing her company's efforts.
Mr. Nicolaas Vervelde Managing Director NB Plc said the ceremony was a celebration of partnership between brewery giant and her key partners. He thanked all the distributors and transporters for standing by the company at all times and urged them to continue doing their best to push the company's products to the final consumer. Mr. Hubert Eze, Nigerian Breweries.