THERE IS NO GOING BACK ON IGBO PRESIDENT IN 2015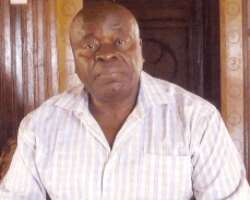 • Atamuo
Before Chief (Dr.) Philip Atamuo became the Ohanaeze Ndigbo chairman in Anambra State he had held sway at Alaja Steel Company in Delta State as the general manager and later Ajaokuta Steel Company as the chief executive.
He also later went into politics and at a stage became one of the gubernatorial aspirants in Anambra State. And today, the Ogidi-born engineering guru is combining the rulership of Ohaneze Ndigbo in Anambra State with a routine lecturing work at the Anambra State University, Uli.
In this interview with Daily Sun, Dr Atamuo spoke on the state of Ohanaeze Ndigbo, Igbo presidency in 2015 and the disappearing Igbo language. Excerpts:
Being Ohanaeze Ndigbo chairman in Anambra State
I feel honoured that the Igbo in Anambra State elected me to pilot the affairs of Ohaneze Ndigbo for this period. There are many good Igbo who are capable and probably better, but they gave me this opportunity. I believe it is an honour for somebody to have this opportunity to lead the Igbo, but perhaps more like trying to bring the Igbo together, so that we can foster a direction in their lives. As you are aware, Ohaneze Ndigbo is a socio-cultural organization set up principally to cater for the welfare of the Igbo in Nigeria, to ensure that we get our rights which have been denied us for so long, to help the Igbo to see ourselves as brothers.
State of Ohanaeze Ndigbo
I do not know what you mean by peace, but I know we do not have parallel leadership in the organization now, but I believe that even in the past when we had two, it was a question of understanding. Everybody was concerned about seeing that the interest of the Igbo was protected and they were doing so their own way. I am glad that we have been able to merge the two oppositions together. We have been able to tell the Igbo, please let's work together so that we can have one single direction instead of two, so that we can have one single opinion in whatever we are doing, so that we can stop internal squabbles which had in the past torn the Igbo nation apart.
My tenure of office
Originally, the tenure used to last for two years, but even before we came in, there were constitutional reviews that were on, to elongate the period and this has been done in our time so that the tenure now is four years.
My vision
You see, as I said earlier, the Ohanaeze Ndigbo had serious setback because of the squabbles within and even without. There were people inside who were busy fighting for supremacy, people outside the Igbo land, who did not want to see the Igbo land together, who were helping to fan the flame that would keep the Igbo apart. We are very interested in seeing that this kind of situation is eliminated for good within Ndigbo society. The next thing is how far have we fared in the Nigeria project since independence, what is keeping us down, can we start doing something about it, not necessarily accomplishing it within our tenure, but at least get started. Before now, you know that there was Igbo union that catered for the interest of the Igbo, but for example, we in Anambra State, I believe it is the same in all the other states, it is our job to see that the Ohanaeze understanding goes all the way to the grassroots and we are working on that.
We will like to see Ohanaeze starting from town union to local governments down to states and from the states to the national level. Our concern right now is to see that the local government Ohaneze is set up properly and that the town union Ohanaeze is set up properly. You know if we don't have a good foundation, you cannot start. That has been the focus of our activities in the last two years.
Now, we are looking at the issue of the rights of the Igbo in this country, what is happening to them and how can we get our rights.
The Igbo and 2015
I will answer this question this way. We gained independence since 1960, that is some 50 years ago. During this period, yes we had military rule and we had civilian rule and we have had rulers who came from different parts of the country to be at the helm of affairs now known as the president. You can ask yourself, how many Igbo presidents have we had during this period. We say that Nigeria sits on three legs - the Igbo, the Hausa/Fulani and the Yoruba. There are a number of many other very important tribes who all of us make up Nigeria, but these three groups have been involved in the struggle for independence, in the struggle for the development of this country. In all aspects, in finance, education, agriculture etc, but you see that only the Yorubas and the Fulani/Hausas have had the opportunity to be at the helm of affairs in this country and we know in this country that who you are and where you come from are very important. So, if you consider what has happened in 50 years, you will discover that there has been the North leadership or the West. Nobody has really come from the East.
We in Ohaneze believe in the six geo-political zones that were created to help to administer and develop this country and we believe that leadership and being at the helm of affairs in this country, should follow that set up. You and I know that that has not been the case. If you go through the 50 years, you will see that one part has been there for 18 years. They have produced leadership at the top position of this country for 18 years, some others 12 years plus, some five years plus. If you come to the South-east which is where the Igbos come from, you see that South-east has only produced the president for six months, that was Ironsi's period. Then the other part of the Igbos which is Anioma which is from the South-South, has not produced anybody at all until President Goodluck Jonathan came in to fill up for the late President Yar'Adua. You can see, if we are talking about equity and justice in Nigeria then it is right and proper that President Jonathan who is currently on seat should be allowed and supported to give the South-south their own opportunity and at the end of that the South-east should have their own opportunity to produce the President.
If you are talking about equity and justice, it is fair it is not the other way round. You cannot pretend to be a democracy, to be promoting equity and somebody is telling you who has been there for 18 years to wait for another eight years, when I finish you can come in. Somebody has not given you breakfast, he has eaten his breakfast, he has not given you a chance to eat your lunch, he has eaten his lunch then he tells you to wait, I will give you a very sumptuous dinner, when I have finished eaten my own breakfast, lunch and dinner, then you can have your own. I think that is not fair and that is not what we understand as equity and that is why Ohaneze said that we will support President Jonathan who is there now and when he finishes, the South-east will take that opportunity in 2015.
Our concern over disappearing Igbo language
It is not a question of whether it is true or not. It is a fact that we are losing our language and if you don't have a language, you practically don't exist. English language makes Britain very popular. Everywhere around the world, people speak English. Within Nigeria, you find out that Hausa language is very much promoted even in the universities and on television. It is right for the Igbo to have plays and movies on television. Some 60 per cent of the plays and movies you see are produced by the Igbo, but they are in English, we will like to see some of them produced in Igbo language. We are meeting with film editors and producers to let them understand this. We have also discussed with the universities to see that Igbo language is taught in the universities and people should be proud to say that I am majoring in Igbo language.
As you are aware, our present Governor in Anambra State has been very cooperative on this. We now have what you call Subakwa Igbo. On Wednesday in Anambra State, all transactions are done in Igbo language. When Subakwa Igbo was launched, the government was very much involved and we are grateful to the government on this and grateful to Prof. Pita Ejiofor who has been a promoter of the programme.
I don't know whether you are aware that in Anambra State University, one must pass Igbo language before one graduates. There is encouragement for people to study the language and become proficient and promoters of the language. I am afraid Ohaneze does not have the means now to award scholarship because nobody is sponsoring Ohaneze even the governments are not sponsoring us. When we make the people realize that this is your organization by right, by birth and your responsibility to promote it, then people will begin to donate to help run the organization, then we will be able to give scholarship and a lot more.
Our stand on new states creation
I don't see it as a problem. I was at the Abacha Constitutional Conference in 1995 where it could really be said that this idea of six zones was given acceptance and we believed in equity of the zones. Unfortunately, the beautiful constitution we put together was discarded by the military when they came out with the 1999 constitution and created imbalance in the six geo-political zones. How can you leave one zone with five state and others with six. You took away one state from the South-east and gave it to another zone, so that zone now has seven states. Is that equity? That is unfairness and if you are looking for justice, you cannot create such situations that cause problems. We in Ohaneze supported moves.
Kidnapped woman escapes from booth of her car
…Says she was rescued by angels of God
From DOM EKPUNOBI, Onitsha
For the Ogonna Mogbo family of Nibo in Awka South Local Government Area of Anambra State, February 9 would be difficult to be erased from their memory.
That morning the family had started their day with their usual morning devotion.
And soon after the devotion, they dashed out to do their morning chores after which they would be set for the day's business outside their home.
Thus on that fateful day, everything was going well until about 5:20 p.m. when Mr Mogbo and his wife, who work at Nnamdi Azikiwe University , Awka, came back from work.
Mogbo was the first to return home and in less than 10 minutes, his wife, Grace also came back and sounded the horn of her Toyota Corona car without any premonition that a team of kidnappers had laid ambush in a bush around their house.
As Mrs Mogbo was waiting for their gate to be opened for her to drive in, three armed fierce-looking men dashed out of the bush and ordered her at gun-point to surrender the car key.
As the doors of the car were locked and could not be opened from the outside, Mrs Mogbo refused to open the door even when the kidnappers had pointed their gun directly at her.
She ignored the intruders and almost simultaneously, the gate was flung open by one of her kids who had no knowledge of what was going on outside the gate.
As soon as the gate was opened, she drove into the compound and the three kidnappers followed her.
Her husband, Mr Mogbo looked out from the veranda and saw three men with guns standing by the side of his wife.
'I thought that they were Nibo Village vigilante and that my wife must possibly have had a problem with them,' he said.
Thus Mr. Mogbo who was not suspecting anything decided to talk to the three men from where he was in the house and they fired a gunshot at him, but the shot could not get at him. That was when he knew that all was not well and that his wife was in real danger.
'I then shouted to my wife that she should surrender the car key immediately to them and come in,' he said. But as soon as the kidnappers got the car key, they took Mrs. Mogbo away in her car.
Soon after, an alarm was raised and the Nibo Vigilante Group and the Anambra State Commissioner of Police, Mr Muktari Ibrahim, were contacted and they swung into action in the search for the kidnapped Mrs Mogbo.
But at about 8 p.m. on the same day, the kidnapped Mrs Mogbo escaped from the hands of the kidnappers whose number had increased to six persons.
She narrated her ordeal and how the angels of God rescued her from the hands of the kidnappers. Excerpts:
'When we left here (the family compound) they ordered me to face down so that I could not know where they were going. They said initially that they were to head to Enugu in Enugu State. All through the way, I was praying fervently and reminding God of his words part of which says that 'surely, He will deliver me from the snare of the fowler (Ps. 91:3).'
'I prayed to God to put confusion among them, so that they will disagree among themselves and for their disagreement to provide a situation for my escape. I told God that I do pay my tithe and make my offering and therefore that I will not gather for the kidnappers to eat.
'As they attempted to head towards Enugu, they discovered that some policemen mounted road-block on the way and turned back. At that point, confusion has already set in among them as to what other line of action to take.
'Later, they stopped somewhere and ordered me out of the vehicle. We entered into one bush and remained there until it became very dark. When it was dark, they brought me to where the car was parked and forced me to enter the booth of my car and I did. All along, I was confident that the living God whom I serve would save me from their hand and He did.
'On the way, I discovered that each time the person driving the vehicle matched the break, a light would lit in the car booth where I lay and with that, I saw what I could pull to get the booth open.
'As soon as I felt that the speed of the vehicle was low enough, I opened the booth, and dashed out. Gladly enough, they did not know when I came out of the vehicle,' she said.
However her escape was not without some injuries as she sustained some bruises, especially on her knees.
When she came out from the booth of her car, she ran into the bush and stayed there, watching them as they went down the road, unknown to them that their victim had been rescued by the angels of God who would not allow his faithful child to suffer unduly in the hands of evil men.
Mrs Mogbo told Daily Sun that it was only God that sent his angels to rescue her. Accordingly to her, there was no way she could have escaped from the hands of the kidnappers if not for God who dispatched His angels to go and work out her escape, without their knowing it.
Her husband, Mr Mogbo commended the Anambra State Commissioner of Police Mr Ibrahim, who he said on receiving the information about the presence of the kidnappers dispatched seven Hilux vehicles fully loaded with policemen to battle the kidnappers.
Mr Mogbo said that the policemen had immediately cordoned off all the roads, thereby preventing the kidnappers from leaving the state capital until his wife escaped from their captivity.
He was also full of commendation to the Nibo Vigilante Group for their prompt response when they were called upon.xXX