APRIL POLLS: AKUNYILI DIVIDES ANAMBRA MONARCHS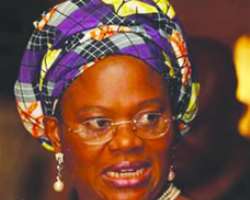 Former Governor of Anambra State and senatorial candidate of the Action Congress of Nigeria (ACN) for Anambra Central Senatorial Zone, Dr. Chris Ngige has urged the people of the zone to discountenance the alleged directive to them to vote for the All Progressives Grand Alliance (APGA) candidate, Prof. Dora Akunyili as President Goodluck Jonathan's candidate.
Already, the alleged directive to the traditional rulers in the zone by the state governor to ensure their wards vote for Akunyili has been raising serious agitations in the state. Obi, according to the allegation making-the-rounds in the state, had given the monarchs a standing order to ensure that their communities vote for Akunyili in next month's election, claiming she was President Jonathan's candidate.
But Ngige who was reacting to the alleged directive described it as a calculated attempt by the Governor and his party, APGA to deceive the people into voting for them. He however urged the people to be wise and reject such as it was not true. He noted that President Jonathan never said so but had rather declared support for all PDP candidates in the forthcoming elections.
He said, 'Mr. President never said so. In fact, in Bayesla, he made it clear that he would support all PDP candidates. He never said APGA or ACN or ANPP. This is yet another play to deceive Anambra people by some desperate people who know that they cannot win.
'I also wish to advise the INEC Chairman to ensure that his good record in the country is not soiled by enemies of democracy within the political class and INEC. This is a breach of the electoral process and Anambra people would resist it.
'Whoever that is doing that knows that they are not popular among Anambra people and they have been doing a disservice to the people and he or she now hides under the cover of their style in the 2010 governorship election, now they want to introduce another dimension. We the Anambra people are watching.'