SCANIA LUXURY BUSES UNVEILED IN LAGOS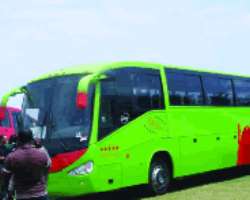 •Scania K 380 6×2 luxury bus. Inset: Chief G.U. Okeke (right) chatting with some guests after inspecting the engine of the bus
Photo:Sun News Publishing
More Stories on this Section
Friday, March 11, 2011
•Scania K 380 6×2 luxury bus. Inset: Chief G.U. Okeke (right) chatting with some guests after inspecting the engine of the bus
Photo:Sun News Publishing
More Stories on this Section
Luxury buses built on Scania's K 380 6×2 engine/chassis model were last week unveiled in Lagos, where the firm behind the brand in Nigeria assured transporters that it is investing heavily on after-sales support, including workshops, replacement parts and training.
The K 380 6×2 series which is the equivalent of Mercedes-Benz 0 500 series, was introduced as a vehicle with high power out-put (but miserly on fuel consumption), besides other advantages such as reinforced suspension that prepares it for the daily trips on roads, and better production lead time for those who want to place quick orders.
At the launch, the General Manager of COPAM Nigeria Limited, Nathaniel Okekeocha, explained that customers are at liberty to opt for any of the popular Brazilian (bus) body builders collaborating with his firm on the project. They include: Irizar, Marcopolo, Comil, Mascarello and Neobus. The representative of MCV, a respected Egyptian bus-building company, was also cited at the event held at the Oceanview Restaurant, Victoria Island.
'The K 380 6×2 comes with a rugged structure, extra heavy duty suspension system able to handle up to three tons more than main competitor; durable and reliable engine/gearbox systems which provide less maintenance services needed, and therefore, less cost to the bus operators. The Scania engine equipping the K 380 has 380 horsepower …and it is five to 10 percent more economic in fuel consumption, all when compared to the main existing competitor, Mercedes-Benz', the General Manager disclosed.
Well ahead of their arrival and formal launch, the first batch of buses built on the new Scania chassis model had sold 50 units, an encouraging start which Okekeocha, whose experience as a marketer of Mercedes-Benz in Lagos and Emene-Enugu on ANAMMCO platform, spans about 30 years, attributed to 'the demand in the market for a stronger and more reliable bus to cope with the current challenges in the business'.
He disclosed that COPAM had already invested huge sums on after-sales, especially large stocks of replacement parts, a workshop in Lagos, a mobile workshop to provide relief for buses that might break down on the road, overseas training for the service team leaders, expatriates in charge of the workshop and courses for the mechanics of customers (transport operators).
Earlier while giving insight into the global operations of the manufacturer, the Product Manager (Buses and Coaches ), Scania Latin America Ltda, Tiago Mondon, cited production of top quality trucks and buses, driver training, emphasis on customer's interest and after-sales service, as 'the core values' that drive the auto maker.
With head office in Sweden, Scania operates in about 100 countries, including Brazil, and has more than 32,000 employees. Mondon added: 'Scania concentrates on buses and coaches with high passenger capacity for use as tourist coaches and in scheduled inter-city and urban traffic service. Bus and coach operations focus on delivering fully-built vehicles based on Scania components to customers …through its own bodybuilding operations and through collaboration with selected manufacturers of bus and coach bodies'.
Some of the transporters present, like the Managing Director of ABC Transport, Mr, Frank Nneji; his counterpart in Ekwos Associates (WA) Limited, Chief Anthony Ekwosimba; and other guests, took turns to urge COPAM to protect the interest of those who would be buying the buses, especially in the areas of maintenance, unencumbered parts availability and cost of replacing the parts. They recalled the experience with Volvo buses whose owners were forced to auction them away following their inability to maintain the vehicles as the parts became scarce and costly - a direct result of the dealer's monopoly of supply.
However, Okekeocha, once again, assured that COPAM and Scania were taking the issue of maintenance serious, disclosing that a range of special tools had been acquired for precise diagnosis of the vehicles when they have problems. Saying 'we are here to stay', he assured that the buses would give the users return on their investments, because they are durable and have residual value.
Chairman of MB-ANAMMCO, Chief Godwin U. Okeke, echoed the flowery sentiments expressed about the new luxury buses by Okekeocha and Mondon, adding 'nobody should doubt the integrity of Scania'. The renowned business man and transporter argued that as the core investor in the Enugu Mercedes-Benz plant, he would have been opposed to the coming of the rival Scania, but remarked that he would rather vote for the breaking of the existing monopoly, because there is the need for 'transporters to decide whether to choose this or that brand'.
In a chat with Daily Sun Motoring, another luxury bus transporter and General Manager of C.N. Okoli Investments Co. Ltd, Chief Damian Onyeka, welcomed the entry of Scania into the Nigerian market. He argued that as the major users of the buses, luxury bus operators are in a better position to know which brand is the best for their operations. Others from the luxury bus transport business present at the launch were Obinna Vincent Obianodo and Buchi Okeke (management staff of COPAM); as well as Arthur Lobo, also from COPAM and Obinna Anyaegbu, Business Development Manager of Chisco Group of Companies.
Some of the guests from COPAM's overseas associates in attendance were Axier Etxezarreta, Managing Director, Irizar, Brazil; Daniel S. Castro, Export Market Manager; and Mina Rezk, Sales Manager (Nigeria/Angola), MCV, an Egypt-based firm of commercial vehicles makers with office in Abuja.