KADUNA 2011 AND NAMADI'S BLUNDERS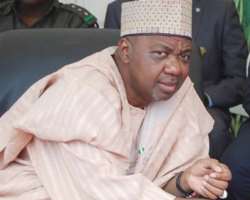 KADUNA BORN VICE PRESIDENT NAMADI SAMBO.
For many historians, the political dynamics of Kaduna can best be appreciated by a closer look at political actors who know how to play the game. Perhaps since independence, no politician of the state has made waves in policy formulation, implementation and political strategy than former governor Ahmed Makarfi, now a senator. His sojourn as Kaduna State governor between 1999 and 2007 set the tone for political future of Kaduna State.
The truism that Makarfi became the most popular and performing Governor across the country was suddenly cut short by the emergence of Architect Mohammed Namadi Sambo as Makarfi's successor. All of a sudden, the goodwill Makarfi built for the government of Kaduna State collapsed like a pack of cards. It started with a wide communication gap between the new governor Mohammed Namadi Sambo and electorate of Kaduna State. Then came to serious blow on development projects and the machinery of government went into a slide. Maladministration soon became the second name of Kaduna State under the Sambo administration. A cabal of six 'politicians' cage governor Sambo, making the people too angry with the governor and the government. Hanging between the scales, a confused governor Sambo continued to mark time on polices and projects until time ran out for him. A fall back option, (or is it an escape route?) suddenly flung open the search for president Jonathan's deputy. Before the people of Kaduna State could realize it, a desperate Namadi blindly jumped into the struggle for Vice President's seat. It was said that the architect made ample use of Kaduna State's treasury to emerge as Vice President. It was sweet relief for him because prior to becoming Vice President, he could not go beyond Government House, for fear of public anger.
The Vice President seat did not stop him from imposing his stooge the Deputy Governor, thereby making governance even more difficult. The result? There is now a serious loss of confidence in the Deputy Governor, Alhaji Ramallan Yero, especially among the majority Muslim populace of the state. This ugly scenario now threatens PDP's electoral victory in the forthcoming 2011 elections.
Added to the excess baggage created by the Deputy Governor's imposition is the Vice President's undue interference in Governor Patrick Yakowa's government. Today; the price of this interference has created the impression that Yakowa's government is nothing but a re-incarnation of Namadi Sambo's once, failed government. This is now sending danger signals for the chances of governor Yakowa in 2011. Making things more difficult is a Deputy Governor in Ramallan who has no single, viable political structure even in his immediate constituency of Zaria, where the P.D.P has failed woefully to capture any political space.
At the level of party leadership, the crisis caused by the Vice President and the Deputy Governor has taken the form of suspicion, which is now slowly giving way to disaffection and internecine wars. The P.D.P primaries have now opened sores of political anger, as candidates with massive support were said to have lost out in the struggle for Senatorial, House of Reps and State House of Assembly tickets. Rigged primaries, attributed to the last minute maneuvers of the Vice President and his foot soldiers portend ominous political danger for a party that has won elections in the state since 1999.
No last scary in the decidedly cool political relationship between the state legislature and the executive arm. This is more so, when one tries to imagine what would happen in the final analysis. Clearly, stalemate could be recurring in this kind of relationship between two important realms of democratic governance.
Cooling down the embers of anger caused by the Vice President's manipulation of Kaduna PDP's politics is never a day's job, as the anger grows bigger by the hour. An imposed Deputy Governor, with no political base even in his home base is another baggage. The erroneous impression that Yakowa's government is an extension of former Namadi's government is one cross that would be too hard for Yakowa to bear. There is also the political dilemma that it will not just be easy to convince a skeptical Kaduna populace that Vice President Sambo's shadow is not looming behind the policies and programmes of the government of Kaduna State should Yakowa wins in 2011.
The only saving grace is that Governor Yakowa has demonstrated serious about breaking away from the inglorious Namadi era, by the appropriate use of state resources for common good. Council chairmen had total control over their allocations and they no longer have excuse to under-perform. Yakowa takes all politicians along, with all humility, making him one of the must humble in the state's political history. He attends all public functions and interacts openly with people at the lowest rung of the society. He donates generously to even Islamic Qur'anic recitation competitions, introduced subsidy on Hajj fares and allows prudent management of state resources. The culture of political arrogance appears to have been buried once and for all by a humble politician of Yakowa's caliber. Access to Government House, which, before Yakowa became governor was restricted to 'contractors', is now open to politicians as well. This allows for a harmonious, cross-fertilization of political opinions, which creates progressive ideas. An open door policy, which was last heard of when Makarfi was handing over in 2007 is now back.
All said and done, the spectacular style and policies of Yakowa are capable of making him a record breaker on performance but the Vice President's undue interference in Kaduna P.D.P government needs to be tackled for what it is. This means that, if in the forthcoming 2011 elections, P.D.P loses Kaduna, Vice President Namadi Sambo should be held responsible.
Disclaimer:

"The views/contents expressed in this article are the sole responsibility of the author(s) and do not necessarily reflect those of The Nigerian Voice. The Nigerian Voice will not be responsible or liable for any inaccurate or incorrect statements contained in this article."
Articles by thewillnigeria.com