LAGOS, NO-GO AREA FOR PDP, SAYS NIGER GOV BABANGIDA ALIYU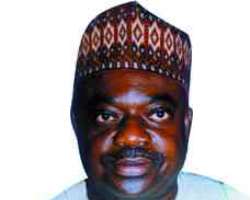 Niger Gov Babangida Aliyu
Governor Muazu Babangida Aliyu of Niger State yesterday threw party sentiments aside, describing Lagos State under Governor Raji Fashola as a no-go area for the Peoples Democratic Party (PDP) or any other party apart from the Action Congress of Nigeria (ACN)
Aliyu poured encomiums on Fashola, saying he had distinguished himself with his performance.
The governor, who spoke while declaring open the 47th Annual International Conference of the Nigerian Mining and Geosciences Society in Minna, said the giant strides of Fashola in Lagos had made the Action Congress of Nigeria popular in the state.
He described Fashola as a dedicated and committed public servant,
Aliyu, who is seeking re-election on the platform of the Peoples Democratic Party said the performance of his counterpart in Lagos had 'become a nightmare for the PDP in Lagos State.'
He openly confessed that the PDP waited patiently for ACN to deny Fashola a second-term ticket to grab him as a basis of capturing Lagos. Specifically, he said while everybody had thought that Lagos would not work, Fashola had proved critics wrong by transforming the city.
'I am speaking from the bottom of my heart. Fashola has performed, forget about partisan politics. Here is one person that has performed. People had given up on Lagos that it would not work, but he has made it work,' he said. The governor decried bad leadership as the bane of development in the country, observing that despite the efforts of leaders in the Arab world, the masses had risen up against them demanding a better bargain. While asking leaders to learn from the wind of change, blowing in Tunisia, Egypt and Libya, he said: 'Let us give the people better bargains before we begin to run helter-skelter.'
He asked the people to remove sentiments while casting their votes in April, urging them to vote for equity, tolerance and unity of Nigeria.
Aliyu urged members of professional associations to join active politics and take it away from charlatans, adding that participation of professionals would enrich the system.
He observed that many candidates were not talking about issues in their campaigns ahead of the elections, noting that political desperation led to the bomb blast that rocked a rally organised by the PDP in Suleja. He regretted that those who died from the blasts were common people, who were not at the venue for political reasons. He described those who committed the dastardly act as cowards but said their motives were yet to be known.