Images: Libya: More Nigerians Evacuated As Two Women Deliver Babies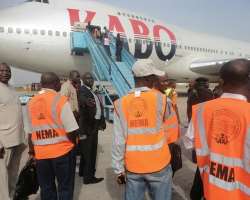 A CHARTERED KABO AIRCRAFT USED IN THE EVACUATION OF NIGERIANS FROM LIBYA ARRIVES AT THE NNAMDI AZIKIWE INTERNATIONAL AIRPORT TODAY, MARCH 06, 2011.
SAN FRANCISCO, March 06, (THEWILL) – Following reports that more Nigerians stranded in Libya are anxiously waiting to be evacuated to Nigeria, three aircrafts carrying evacuees arrived at the Nnamdi Azikiwe International Airport, Abuja today with 1242 Nigerians on board.
Protesters backed by rebels and anti-government forces have continued to clash following the refusal of Libyan Dictator, Colonel Muammar Gadhafi to step down from power.
The Director General of National Emergency Management Agency (NEMA), the coordinating agency for the operation, Muhammad Sani-Sidi told journalists at the airport while receiving the returnees that President Goodluck Jonathan has directed that all Nigerians who are distressed and willing to return to Nigeria should be evacuated as soon as possible.
He said the operation has witnessed the deployment of four chartered planes with capacity to accommodate 500 passengers each as well as a commercial aircraft that could accommodate around 200 passengers.
He said that so far the total number of Nigerians that have been evacuated is 2278.
The agency which initially targeted 2000 Nigerians has discovered that more stranded Nigerians have continued to troop out from remote areas of Libya to the Tripoli Airport, seeking to be evacuated to the country.
Mr Timloh B. Nkem, Director North and Horn of Africa Division, who represented the Minister of Foreign Affairs, Mr. Odein Ajumogobia said that about 3000 additional Nigerians have registered with the Embassy Official In Libya indicating their desire to be evacuated.
Most of the returnees who looked exhausted and tired from the stress in Libya, commended President Goodluck Jonathan for initiating the move for their evacuation. Two of them delivered babies at Tripoli Airport while awaiting the arrival of chartered aircrafts from Nigeria.
Another pregnant woman among the returnees who simply gave her name as Mary said "if not for the evacuation I wonder how I could deliver in that hard condition in crowded open camp. I am happy that the government provide food and medications to us including on our arrival here in Nigeria."
NEMA and Civil Defence Ambulance with medic were on hand to provide urgent medical service at the Abuja International Airport and the designated camps for the returnees. Most of the returnees have since gone to their states of origin through transportation provided by the government after their documentations.