MY WIFE IS GOD'S GIFT TO ME - REV (DR) EZEKIEL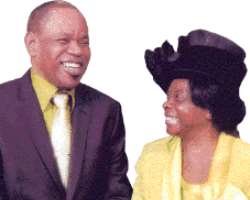 In an age when marriages are under increasing stress from infidelity, marital indifference and other challenges that ultimately lead to divorce or separation on the one hand, and all forms of corruption buffeting society like a ship in a stormy sea, General Overseer of Christian Pentecostal Mission (CPM), Rev (Dr.) Obiorah Ezekiel, says the only remedy is that people must retrace their steps back to God.
He says they must go back to the Bible and understand the mind of God concerning marriage and other issues that affect life. 'It is a must. If humanity wants to progress, they must go back to the Bible,' the man of God known for his fiery messages, says.
In line with his conviction that this is the way to go, the church will hold a three-day conference on the theme, 'Divine Nature, Part 2', from March 16-18, to teach people the mind of God on a variety of issues pertaining to life so that the country can witness a moral turnaround that would greatly stabilize marriages. In this interview, he and his wife, Rev (Mrs.) Mercy Ezekiel, National and International Coordinator of CPM, talk about the beautiful romantic relationship they have enjoyed for the 37 years of their marriage. Excerpts:
If you look at our country today, divorce cases are increasing. Why is it so?
That is a million dollar question. Do you know why? If I say this thing, don't be surprised. Marriage is bigger than anybody; it is older than the church. The Bible says, 'What God has joined together', so you should direct your question to God (laughs).
You know, during wedding, the minister would preach a very fine message and after the service he would go home to his house. The new couple will also go home and open up their marital parcel. Whatever they see, they have to take. So, marriage is bigger than anybody. It is only God who joins, and only Him can handle it.
Is it possible that the people don't understand the mind of God or they don't seek His guidance as they relate with each other in marriage?
You are trying to pull me back to the same thing another way. I will not shift from my position (laughter).
But I see that your own marriage is working perfectly and you are devoted to each other. What is the secret?
Oh! Thank you for that compliment. We are now 37 years in marriage.
Very beautiful! Then I can learn a lot from your experience. Please, how did you do it? How have you been able to keep it going for 37 years?
Marriage is a mystery. It is like the relationship between the Lord Jesus Christ and the Church. If anybody tells you that he fully understands marriage, I would say that might not be absolutely true. Let me tell you, there is no marriage without a storm.
So, don't lose hope. But after the storm comes peace. It doesn't mean that the marriage should break up. Marriage is so deep that only God can fully understand it. And the couple can only understand it and make it work if only they focus on the word of God concerning marriage. I have been on this journey for 37 years. It is a very serious subject. It is the only university you never graduate from until you die.
What do you find most interesting about your wife?
She is my gift from God. She is a God-given wife. God gave her to me. I did not go into marriage with an outburst of emotion. I was not even thinking I would marry. I was determined to just serve God. People don't understand this. For somebody who had suffered in the hand of the devil and sin, when I gave my life to Christ, I turned over to God wholeheartedly.
The reason I say that my wife is a special gift from God to me is that I devoted my time to pray for seven good years to God to give me a wife, to lead me to a special wife that would stay with me, who will understand the ministry I am in. At that time I said, 'God I don't know tomorrow, so give me a special wife.
Before, I used my eyes to see clearly, but something happened. If it was some women, they would have ran away. But she has been standing with me. God knows all these things. And there is no gap between us. Only God knows the end from the beginning. But human beings always start from the beginning. We don't know the end. So, that's why I say she is God's gift to me and I thank the Lord God for this gift. I say by the Spirit of God that your own marriage will not disappoint you, in Jesus name. Amen.
What is your advice to Nigerian youths?
Let them remember God their creator in the time of their youth. It is the foundation they lay in their youth that will carry them in their old age. I will give you an example: my mother laid a good foundation for my life. She always took me to the Bible and studied it with me. And always taught me from the Book of Proverbs, the book of wisdom; I call it pounding wisdom. I didn't understand it well then. But I took her advice and grew with it.
My mother died at the age of 90-something. The day I buried her it was celebration of life. So, the youths I offer this advice: if you want a good life and longevity of days, be very careful how you live through your youth age. If you spoil it, you will pay the price at the end of the day. If you preserve it, you will enjoy it and reap bountiful blessings and benefits. The Bible says, whatever a man sows, he shall also reap. So, advice Nigerian youths and say to them you are not deceiving anybody but yourself. The kind of life you live will affect your children. You cannot cheat God.
You said you prayed for seven years for God's direction in making a choice of wife for you. So, when you met your wife, how did you know she was God's answer to your prayer?
I will not expose it. Since you are already married, you will not follow my confidential report (laughs).
Okay, what kind of advice do you give members of your church who are thinking about marrying?
First of all they must be mature. A boy should not marry a girl. It is a man that can take care of a wife. Women mature faster than men. There are two things you may not understand in your whole life. The first is that you cannot fully understand the whole Bible. Secondly, you cannot fully understand a woman.
They have so many chapters - you study and study, but everyday there is something new. That's why you should follow them according to the knowledge of God. Everyday they will teach you something new from one of their chapters. For example, if they have about three or four children, each pregnancy will be different. In the same way, a woman shows different sides. That's why a man must follow the wife with understanding. No man can say that he understands his wife from A-Z. They have so many chapters and no conclusion. So, young men must pray everyday for knowledge and understanding; they must also exercise patience.
What could you say about marriage?
God is the architect of marriage; it is not something anyone can boast about. In marriage you need understanding, if you don't have understanding, you cannot stay together. I mean, these are two different individuals coming together to form a union. You must understand and give yourselves peace. Communication is very important in marriage; you should be able to talk; sometimes you yell at each other, but you still come together. If anybody comes and says, 'since I married my wife, I have never had a quarrel with my wife (or husband as the case may be), that is a lie - because they are two different individuals. The way you reason may not be the way the other person reasons, but they have to come to a compromise. It is like the play between two dogs - I fall for you and you fall for me - that is marriage.
Your husband told me earlier that you have been married for 37 years. What are your sweetest memories - I am talking about the things you remember while doing something and a warm smile comes to your face, goose pimples appear on your skin?
Recently, I spoke at the biennial conference of the Pentecostal Fellowship of Nigeria. I was to preach on the topic, 'Thy will be done.' I told the audience that we all have our will, but in marriage, you notice that you have to give in your will, and accept your husband's will. For instance, when I got married, we wedded on a Saturday and on Wednesday my husband went out for a crusade. So, there was nothing like honeymoon; there was nothing like getting to understand one another.
And while he was doing that I was becoming bitter because I thought marriage was honey-honey, I have children and I enjoy his wealth - whatever he has - after all, my name is 'Obiageli' - (the one that has come to enjoy). So, I came into the union with that notion. Somehow, he called my attention and said, 'I must train you to do the will of God.' That training he gave me is what really helped me to be able to stand on my feet. If he did not train me, I would not be able to stand.
It is one of the memories I recall and I lift up my hands to'- for allowing him to make me to stand on my feet because many times, like a chicken would run under the mother hen, I would run under my husband, seeking to hide myself, but he would push me out, saying that I should go and face the situation squarely. Sometimes, I tell him that I don't want to do it, but he would say, 'no way, you have the calling of God on your life, so you must fight against the devil's attempt to discourage you; it is not easy to stand there, but you must stand. So, when I remember this, I just thank the Lord God. Marriage is broad. But our people believe that if it doesn't work, you get out.
Is it supposed to be that way?
No! They don't know the meaning of tolerance and patience. They don't have it. They don't believe that a man can tell them what to do. It is not in their dictionary.
Would you say that this is contributing to the rising divorce rate, particularly among the young and in Christendom too?
Well, it is part of it. The same thing that goes for men also goes for the women. The Bible says, 'for this purpose a man shall leave…' but the sad reality is that nowadays a lot of men don't want to leave: they don't leave their families and see the wife as somebody that was brought to them. So, they treat her as somebody they brought and not as 'the bone of his bone, the flesh of his flesh.' And this is making the women rebellious.
Everybody needs attention; everybody needs love - even a madman. If you want to gain a madman, show him love and he would fall for you. So, when women see that the love is not forthcoming, they rebel and want to go out. They are looking for somebody that will show them love, somebody that will care for them, so they get out of the marriage and look for another man. But many times it does not work like that.
What do you find most exciting about your husband?
He is a man of understanding; he is a man of the people; in fact, his name is 'Obiorah' - he has a heart for everybody. He is a father; he is very loving; he is kind and tolerant. Many times, I blow up. And when I blow up, he would gather and put me together again. Then he would lovingly and patiently educate me, telling me 'this is what you should have done, you shouldn't have done it that way.' That is one thing I enjoy about him.