It's Sad To See Nollywood Celebrities Dancing Behind Politicians - Yemi Solade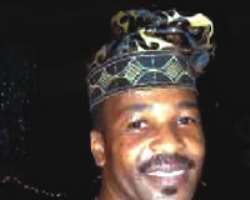 Popular Yoruba actor, Yemi Solade, spoke with TOPE OLUKOLE on issues concerning the movie industry and many more.
OF late, you have been missing from the home movie scene, what is happening?
I am not really missing, my jobs are everywhere. The thing is that for me to come back, I have to watch the sort of movies I get involved in. Anything I want to do, if it does not have any meaning, I do not go into it. It's not because I want to appear on the scene or for the money. It must be a movie people can talk about.
Are you not worried you may lose your hold and relevance when you want to act again?
My energy can never fail me, I'm an eagle. I'm a Christian, my wife and my kids are too. I get my strength from God. I'm a member of the Winners' Chapel. If my bishop is still very strong, why must I lose strength? I must be bouncing.
Since the cinemas are back after many years of absence, what should the people be expecting from Nollywood?
I only think they need to tidy up and bring out movies that preach morality. We are neglecting morality for glamour and that is not right. And we have been destroying the fabric of homes and the society.
Do your children see you as a good dad on TV?
My six-year-old daughter told me that I have many wives. This is because whenever she watches my works, she finds me with so many women and she asked me some time ago, 'how many wives do you have apart from my mummy?'
Then, I told her that I have many, but now she has come to understand that this is just movie. My family is my number one fan. And that further boosts my performance. I think I'm lucky to have my wife and my children as my family.
What is your view on the rancour in the industry?
Well, you cannot take rancour from any society. When people fight for power, you will find it. When people move together, it will get to a point where segregation will start to come up just like the body of the artistes.
Some people wanted to graduate from being the normal actors to wanting to administer. This is where the problems starts. When people begin to forget about ego, then we can begin to fashion out the ideal association that will move and drive Nollywood to its Eldorado.
What's your take on artistes' involvement in politics, following politicians here and there?
Poverty is the issue here. And when I hear people say that we are stars, we do not have stars here in Nigeria, otherwise they would not be dancing behind the politicians. I'm more relevant than the politicians and better known and if the immunity is removed, they end up in the gulag. I cannot celebrate any of them because I have been there before they came.
I do not think there is any reason for the celebrities, in quote, to dance on the streets behind a politician. You will not see me behind any of them for any amount of money.
Though, I'm not a rich man, I still have my integrity. Putting together, it has taken us years to get to where we are today. In a country of 150 million or so, I think we have up to five million potential actors.
The word celebration is apt here. I cannot bring all that celebration to the dustbin because so, so and so politicians are dolling out ill-gotten wealth, or that because I want to grab my own share of the money, I will then lose my moral and senses. No, I will not do that. I have every right to register and vote for a candidate but I will not sing anybody's praise.
What do you have up your sleeves now?
I want to shoot the biggest movie with the help of one of the telecommunications companies. I have not done any for now and I want my first to be a landmark. I am not compelled. I am a consummate actor. It is not written anywhere that I must produce a movie.
What inspires you to want to produce the biggest movie in Nigeria?
It is because I want to make a mark that Yemi Solade is around
What do you think is responsible for the divide between the Yoruba and the Igbo-speaking actors, even at occasions, they sit far from each other?
The problem is that there is a complex issue. I think most of the Yoruba actors and actresses have complex syndrome towards the Igbo-speaking actors and actresses. There are no English or Yoruba actors in Nigeria, we are all Nigerian actors. The press should help to educate us to reduce the existing dichotomy. It is because of the inadequate attitude of the Yoruba actors and actresses that makes them suffer this complex thing when they come across their counterparts in the Igbo-speaking section of the industry.
Do you feel the complex?
Why? As a man with three masters degrees, I'm one of the most-educated actors in Nigeria regardless of the language I use in plying my trade.
How can you inspire other actors and the upcoming ones that they need education to prosper in the industry?
I will tell them to jump over the Third Mainland Bridge into the Lagoon if they do not acquire education. I have three masters degrees, in International Relations, Business Administration and in Anthropology. And as a born-again Christian, I have a diploma in Christology, the study of Christ and a Bachelor of Arts in Dramatic Arts from the University of Ife, now Obafemi Awolowo University, Ile-Ife.