FOI BILL: JONATHAN DISOWNS ABBA-AJI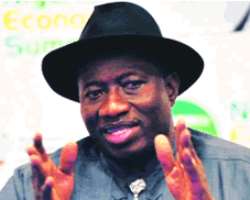 President Goodluck Jonathan
President Goodlouck Jonathan yesterday distanced itself from comments made his Special Adviser on National Assembly Matters, Senator Mohammed Abba-Aji, on the recently passed Freedom of Information (FoI) Bill, saying that it was the senator's personal opinion.
Abba-Aji had said in Maiduguri while addressing newsmen that the FoI Bill passed into law by the House of Representatives might be abused because most journalists were not well trained, adding that he was disappointed with the House of Representatives for passing the Bill into law.
Speaking to newsman at the Presidential Wing of the Murtala Muhammed Airport, Special Adviser to the president on Media, Imma Niboro stated that the statement could not have come from the Presidency, noting that the senator could not speak on behalf of the president or government.
Niboro, who came with the president on board the Boeing Business Jet (BBJ) 001 to flag off the Peoples Democratic Party (PDP) presidential campaign in Lagos said only the minister of information, attorney general of the federation and the office of the special adviser to president could speak on behalf of the president.
He said: 'He (Abba-Aji) was speaking as an individual. He was not speaking for the Federal Government. I speak for the president, the information minister speaks for the government and in the matter of laws; the attorney general of the federation who is the chief law officer speaks for the government. If the speech doesn't come from any of the three of us then he is purely speaking for himself.'
Niboro further pointed out that Abba-Aji was one of those who opposed the passage of the Bill on the floor of the Senate during the Obasanjo's regime.
Meanwhile, President Goodluck Jonathan arrived Lagos about 11:05 dressed in cream native attire carrying the traditional eyo stick.
Also on ground to welcome the president was vice president, Namadi Sabo who had arrived earlier.
Other dignitaries include the Speaker of the House of Representatives, Dimeji Bankole, former speaker, Ghali Na'Abba, Governor Bukola Saraki, Lagos State governorship aspirant, Ade Dosunmu, Minister of Petroleum, Diezani Alison-Madueke and the Finance Minister, Olusegun Aganga and other PDP chieftains.