LAGOS BOY RETURNS FROM PRISON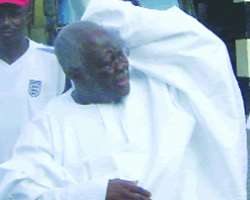 •Bode George
Former Deputy National Chairman of the Peoples Democratic Party (PDP), Chief Olabode George, yesterday breathed the air of freedom 16 months after he was thrown into Kirikiri Maximum Prisons over charges of financial impropriety.
On hand to welcome him back to society and normal life were former President Olusegun Obasanjo, who led other eminent Nigerians and leaders of the Peoples Democratic Party (PDP) to welcome him from prison.
Justice Olubunmi Oyewole of Lagos High Court convicted him for conspiracy, disobedience to lawful order, inflating contracts and contracts splitting while he was chairman of the Nigerian Ports Authority (NPA).
He was found guilty of 47 out of the 63-count charges preferred against him by the Economic and Financial Crimes Commission (EFCC) and was handed 28 years in prison, but served them concurrently. But yesterday, despite the monthly environmental sanitation, which held in Lagos, hundreds of PDP supporters mostly from Lagos and Oyo states had arrived the Kirikiri Maximum Prisons before 7 a.m. to welcome him from incarceration.
Clad in ankara attires, T-shirts and carrying banners with various inscriptions, the supporters greeted George with a loud ovation on sighting him, even as they joined a long convoy including the deputy Governor of Oyo State, Mr. Taofik Arapaja. The former chairman, Board of the Nigerian Ports Authority (NPA), left Kirirkiri with his wife, Roli, in a black jeep led by a motorcade of PDP chieftains and supporters for the Cathedral Church of Christ, Marina, for a thanksgiving service.
In his sermon entitled 'A minister and a witness', the Canon Residentiary, Ven. Tayo Aduloju, admonished George to forget about vengeance. He said that embarking on such would mean the famous politician was ungrateful to God. According to him, having just left prison, he should ask God to show him direction, stressing that there had been divergent opinions regarding the thanksgiving service for George. He said some had even alleged that the church priest might have been bribed for the event to hold.
The clergy reasoned that though George might have gone to prison, it would be uncharitable to reject him, saying it was better for politicians to come to God rather than Satan. Ex-President Olusegun Obasanjo had shortly before the end of service left the church. But speaking with journalists, George said he regarded his prison experience as attending the University of Life.
According to him, this was in view of the fact that the experience had further expanded his worldview.
Apparently referring to the coming election, George said he would be very busy with the project.
Meanwhile, a PDP Lagos West senatorial district candidate, Hon. Moshood Salvador, has called on President Goodluck Jonathan to grant George pardon.
He hinged his call on the fact that George's incarceration was politically motivated. Distinguished Nigerians at the church service included Minister of Defence, Adetokunbo Kayode; Minister of Environment, John Odey; Governor Gbenga Daniel, ex-Govs Raji Rasaki of Lagos State, Ayo Fayose of Ekiti, and Dr. Segun Agagu of Ondo.
Others are Alhaji Taju Oladipupo, Senator Florence Ita-Giwa, former administrator of Ekiti State, Col. Tunji Olurin (rtd); and former Director-General of IBB Campaign Organization, Chief Raymon Dokpesi.
The Kirikiri odyssey of the retired naval officer-turned politician began when EFCC under the new leadership of Mrs. Farida Waziri revisited his case (he had previously been indicted by the Mallam Nuhu Ribadu-led EFCC, but was not convicted due to his perceived closeness to Chief Olusegun Obasanjo, president at the time).
Earlier on Thursday, a football match was organized in his honour inside the prison yard.
A reliable source, who pleaded anonymity, disclosed that there was a cat and dog relationship between him and Abdullahi Aminu Tafida, who claimed that he knew nothing of the charges preferred against him. Asked about his relationship with Aminu Dabo, Olusegun Abidoye, Zanna Maidaribe and Sule Aliyu, the source said their relationships were cordial.
'They have been maintaining a good relationship except for Abdullahi Aminu, who almost spent all his days crying in prison, he claimed that he was innocent,' the source said.
George and five others - Aminu Dabo, a former Managing Director of NPA; Olusegun Abidoye, Abdullahi Tafida, Zanna Meidaribe, and Sule Aliu, were jailed on October 26, 2009.