OSHIOMHOLE, AJIBOLA, BANK CEOS, OTHERS GRACE AWARD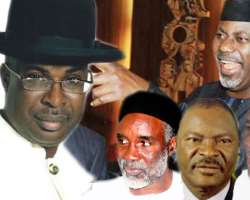 Oshiomhole
Amid glitz and razzmatazz, The Sun Publishing Limited, publishers of Daily Sun, Saturday Sun, Sunday Sun and Soccer Star yesterday presented The Sun Man of the Year 2010 award to business tycoon, Alhaji Aliko Dangote and Governor of Gombe State, Alhaji Danjuma Goje, who are joint winners.
The event, which took place at the Eko Expo Hall, Eko Hotel and Suites, Victoria Island, Lagos was witnessed by top politicians, musicians, Nollywood stars and chief executives of companies. They include Alhaji Dangote, Governor Goje, the winners, Governor Adams Oshiomhole of Edo State, Deputy Governor of Rivers State, Hon. Tele Ikuru, who represented Governor Rotimi Amaechi; Lady Uchenna Ucheoma Chukwudum, who represented Governor Peter Obi of Anambra State, Princess Denrele Ogunsanya, who represented Governor Babatunde Fashola, Chief Segun Osoba, former Governor of Ogun State, and Alhaji Ibrahim Dankwambo, former Accountant General of the federation.
Others are Prince Bola Ajibola, chairman of the occasion, Mr. Mike Awoyinfa, former Managing Director of The Sun, Mr. Dimgba Igwe, former Deputy Managing Director of The Sun among other eminent Nigerians.
Speaking on the occasion, Prince Ajibola said he was happy to be at the event. He said that he accepted to be the chairman of the occasion because of the respect he has for the award recipients.
Prince Ajibola said: 'Recognising our men who have distinguished themselves in the country is, to me, the best way of branding and re-branding. It is the best thing to do presenting people who are excellent. When I was told of the two people who are being honoured today, I said I must be here, even though I was ill. Dongote and Goje are men to be proud of anywhere in the world. The two people we have come to honour are people we should appreciate because they have distinguished themselves in their endeavours.
'There are Nigerians doing so well all over the world. All we hear are about a few Nigerians who are involved in one thing or another. Of course, we have the good, the bad and the ugly. It is not peculiar to Nigerian. There are Nigerians who are holding good positions in the world, including United States. We should be ashamed of ourselves if we don't recognise Dangote's philanthropy and piety.'
The chairman said that Dangote has employed many Nigerian and therefore, deserves the award. To show his endorsement of the award, he sang, 'for he is a jolly good fellow' for the award recipients.
The Sun Board of Editors had voted Dangote and Goje as the most outstanding personalities in 2010 for their enviable contributions to the private and public sectors respectively. Governor Goje had emerged as first runner-up of The Sun Man of the Year 2009. He was selected as co-winner for 2010 after a careful consideration of his landmark achievements in education, healthcare, provision of water through building of a massive dam over River Gongola, and the construction of a new airport in the state.
Dubbed: 'An Evening of Excellence,' the glamorous red carpet event, which was compeered by Gbenga Adeyinka, was also a night of entertainment, as musicians like Paul Play Dairo and comedians like Mallam Spencer and Seyi Law entertained the audience.
Initiated in 2003, The Sun Man of the Year award is the company's humble way of honouring Nigerian patriots whose public conduct and actions help to inspire hope for a better Nigeria.
Dr. Mike Adenuga Jnr, chairman of Globacom, emerged as the first winner of the award in 2003 for introducing per second billing in the nation's telecoms industry, and thereby putting telephones in the hands of the ordinary Nigerians. In 2004, Prof. Chukwuma Soludo, erstwhile Governor of Central Bank of Nigeria (CBN), won the coveted award for envisioning a new banking order.
Malam Nuhu Ribadu, former Chairman, Economic and Financial Crimes Commission (EFCC) emerged as winner in 2005 for his uncommon courage, determination and leadership demonstrated in the fight against corruption. And in 2006, it was Mrs. Obiageli Ezekwesili, the then Minister of Education, for her pragmatic reforms in the education sector. Mr. Peter Obi, Governor of Anambra State and Governor Rotimi Amaechi of Rivers State, became joint winners of the award in 2007.
Obi and Amaechi were named recipients for their staunch belief in the judiciary and rule of law in challenging the patent injustice foisted on them by those who manipulated due process to shut them out of political offices.
In 2008, Governor Adams Oshiomhole of Edo State emerged the winner, while Governor Babatunde Raji Fashola (SAN) of Lagos State and Mr. Tayo Aderinokun, Managing Director/CEO, GTBank Plc, emerged co-winners in 2009.