PDP FLAG TOO COMPLEX FOR ABIA GOV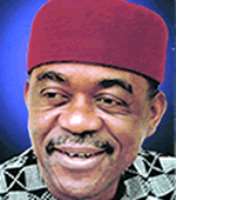 Political opponents of Abia State Governor, Chief Theodore Orji, have said he does not possess what it takes to be the flag bearer of the Peoples Democratic Party (PDP) in the April gubernatorial election in the state.
Making the observation on Sunday, an aide to Orji Uzor Kalu,ex-governor of the state, Mr. Emeka Obasi, described development in the state as stagnant, explaining that the authorities 'see more shadows than reality.'
Said Obasi: 'I think the Peoples Democratic Party (PDP) flag is too complex for the receipient in Abia, that is why the heat is on him. He has a three-point agenda namely 'Mr. president is our in-law, the first lady is our daughter and I am in-charge. 'That is all you will hear. I wonder what his Rivers State colleague feels.'
Continuing, Obasi said he was not surprised, since, in his words, 'Governor Orji never campaigned in 2007,' and blamed it all on Nigerian politics of 'I pass my neighbour.' 'Of course, Ochendo took shelter in detention while others campaigned for him. He rode on the back of Dr. Kalu to become governor. Much later, Chief Emeka Odumegwu-Ojukwu became the attraction, and before one could shout Ikemba, His Excellency had crossed over to President Goodluck Jonathan.This is I-pass-my-neighbour politics.'
On recent criticism of the dropped presidential ambition of Dr. Kalu by the Abia State Government, Obasi advised the governor to leave President Jonathan out of it. 'President Jonathan is not looking for a spokesperson. He should not be painted by Umuahia as the Governor-General of Abia State. He is our President, Commander -in-Chief of the Armed Forces of the Federal Republic of Nigeria. Ochendo is a leaking umbrella.You will agree with me that Abians are standing in the rain. A lazy worker quarells with his tools,' he summed up.