AS BENUE DEP. GOV, I KNOW MY LIMITS - STEVE LAWANI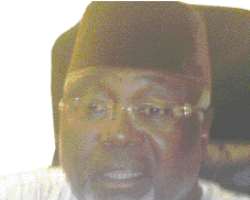 Lawani
Since 1999, many deputy governors have lost their positions and relevance in the political calculus, following the endless bickering between them and their principals. However, few of them have not only enjoyed a good working relationship with their bosses, but have remained active participants in the governance of their states.
Benue State Deputy Governor, Chief Steven Lawani, is one man that has a personal testimony on his relationship with his boss, Governor Gabriel Suswam. The deputy governor told Daily Sun in Abuja: 'I am not the governor. I am a deputy governor and not a co-governor.
If I were a co-governor, then, we would definitely have problems; but I am deputy governor. He chose me as his deputy governor to deputize for him and to assist him in running the administration. So, I have been consulted for that and I know what I am there for. Excerpts:
The just-concluded PDP primaries have caused disaffection amongst party members in Benue state, leading to mass decamping of many big names of the party to ACN, CPC and others. What would you say actually went wrong?
The case in Benue State is not peculiar. It happened everywhere in the country. It is a national thing. Any time there is election and whoever wins it is believed he has outdone the others and whoever loses, feels that he has been outdone by the winner. That is the whole thing. As I said, it is not peculiar to Benue, but it is a national trend.
By and large, I think in Benue, the primaries were freely and fairly conducted. There is no case of re-run in any constituency like it's the case with some state like Kogi, Kwara, Kano and others. It was done very peacefully because a lot of plans were put in place, and of course, one or two people have lost and there is no way they will be happy. But elections were peacefully conducted.
Those who lost at the primaries have dumped PDP to join other political parties, don't you think it's a minus to the party?
I think you should be more explicit on the issue because in my own constituency in the Benue Zone C, there is nothing like that. Nobody has left for another party. Even if anybody left, he or she is free to do so. It is their constitutional right to do so. I know that Senator George Akume, Hon. Orker Jev, Hon. Mzenda Iho and a few others did not take part in the PDP primaries. Yes, Senator Joseph Akaagerger lost in zone A, but they did not constitute significant percentage, the party is still very strong in Benue.
The Suswam administration which you are part of, came in 2007 with a working document captioned: 'Our Benue, Our Future', aimed at speedy execution of projects and other developmental aspects for the state. Can you tell us how far the government has been able to push the implementation of this work plan?
Thank you for that question. I was also part of the drawing up of that document so I think I am in the position to say that we have largely achieved what we set out to achieve. Don't forget also that the work plan is meant to be for a two-term programme. And I think in the four years we have been able to achieve that much.
The emphasis is on infrastructural development, then education, agriculture and virtually all other sectors of development in the state. It is the hope of the government that when we come back into office in the second term, hopefully by the grace of God, we will now go into poverty alleviation through job creation, but I believe strongly that we have achieved we set to achieve.
I ask the question is because, the administration actually started on a sound footing with massive township road, we also understand that it was later spread to rural roads construction but we hear the people of the state complained that the momentum has not been sustained. What is responsible to the sudden slack?
No, I would not want to agree with you that there is a slack or slow space execution of projects in the state. If you could recall, just recently a contract was awarded for the construction of two roads; one in Igede-land and another one from Taraku to Igbor, so it's a continuous thing. I want to also say this to enlighten you as a journalist and other Benue people that from the beginning when we started, there were certainly more funds available but suddenly, the Federal Government's focus changed to the provision of electricity generation.
And states were now made to contribute then in that wise, minimum amount of money was now left for us to spend. I also want to tell you that the situation is not peculiar to Benue alone. So for us in the state, what we are been left with is far less that what we sued to have initially. This is a common phenomenon. Even in your home, the possible higher income determines your spending profile. So if your income is low, you spend less. So that is the situation.
What has the government spent on projects implementation?
I cannot really give you that figure off nowbecause I have to go through the books to be able to give out the actual amount. If I must give you here, I may be given incorrect information.
Some Benue people have criticized the government of non-inclusion in the ideas and plans that would further bring about the common development of the state. How would you react to this allegation?
As much as I know, the government is running an all-inclusive administration except in some few cases of the former government ,Senator George Akume people like General Lawrence Onoja and some few others who are complaining because they feel they could not win the PDP ticket at the primaries, otherwise, who else? One of the achievements of the Suswam administration was to bring all people of Benue from all shades together to offer services to the state and advise government on developmental matters.
When you look through the past four years, other states of the federation are even jealous because of the projection and appointment of many Benue sons and daughters into key offices at the federal level. All these are because of the good working relationship the government has enjoyed between its citizens and the Federal Government. How much more can you expect a governor to do? Government has done its best in the direction that you have just mentioned, by carrying people along especially those who have useful ideas.
Because if you go to the people of zone A, the likes of Paul Unongos, the Jack Gyados, the Barnabas Gemades of this world, you can name them, they are all with us in this government. We also have the Abu King Shuluwa and the rest. Who is out? Just only one or two persons who do not want to come along. But remember, not everybody would come because no one is compelled to join.
What is your relationship with your governor whom you are much older in terms of age and experience?
I don't have any problem with him. Of course, I am very simple. I am not the governor. I am a deputy. If I were a co-governor, then we would have definitely have problems, but I am deputy governor. He chose me to deputize for him and to assist him in running the administration so, I have been consulted for that and I know what I am there for.
It is a trend in the country since democracy where deputy governors are most times regarded as spare parts by their governors, that singular attitude often times pitch them against their bosses, are you suffering the same fate in the hands of your boss, Gov. Suswam?
It is true that in some instances, we are also even referred to as standby vehicles. I know about all these things. Though, the constitution did not help matters, you as a deputy governor supposed to know where you belong. The governor may decide to give more powers like is the case with other states while in some states commissioners are even given more powers than the deputy governors. The basic thing you need to know is what we call trust, you earn it. If you earn it, it is good for you. But in fairness to my governor, he is the governor, I am not the governor but he keeps me informed of the goings on about the state matters and I ask questions and I get answers.
Was there any time you ask to know about any thing any you were ignored?
Well, not everything. Don't forget that it is not everything that one would want to know. You must know your limitations as the deputy governor. There are limitations and you have to know that. But above all, you must understand that you are not going there as the governor and you are not one.
When you mentioned that the constitution did not help matters, what did you mean?
No, no, I only mean that the constitution left the definition afloat open to a lot of interpretation so it left it to different deputies governors to view it in their own way.
It then means it depends on how any deputy governor to interpret?
Well, I think so. I know of so many cases. There is a case of one of my colleague after three days went to see his governor to find out whether something is happening, and when he got there he discovered that his governor had been in Abuja for three days and he did not know that the governor has been away that long without telling, naturally he felt embarrassed. But it is not so in my case anyway.
It means your governor gets in touch with you always?
Definitely yes, he does that. But you don't ask for too much because you are not the governor.
Generally, tell us your experience as the deputy governor, from an independent private person who has enjoyed your private and public life and has attained the stage of a statesman then becoming a deputy governor.
Yes, you are right. Let me tell you. It was in this same room the governor came in when he wanted me to be… don't forget that I ran for governor of Benue state and I lost. He won and right here in this place he came and told me that he wants me to be his running mate. I accepted. And in accepting, I accepted to be deputy governor and not co-governor. So with the experience of life you would know what you are going for. I prayed for it. You don't need to go and start fighting your governor. Even when asking questions, there are limitations. You don't ask too many questions. But when I ask, I get answers and that is all and I am happy with my job.
When you accepted to be deputy to Suswam, many people in the state criticized your decision to accept the position. How did you view their reactions?
Truly, I can remember that very well. But as I said earlier, don't forget that I ran for governorship, my hope was to be governor to serve the people. When I did not get the ticket, the man who won came and said you wanted to serve, come and lets serve together. If I refused, the same people who are criticizing me now will say I had ulterior motive.
They will say may be I had other things in mind that is why I refused to serve as deputy. But I accepted to serve. I am doing my best. I am praying that my time should finish quick so that I come back and face my business.
Would still want to go back to your business or go on with politics?
To go back of course, or wherever God wants me to go, or decides I will not object.
Are you saying you will not be interested to run again when your tenure with your boss ends and he ask you to take over?
Well, the thing is, I like to cross the bridge when I get there. When that time comes first. We have not even finished with this tenure. We are still working towards re-election. If we get re-elected, and in the course of the second term, such a thing can come up, the governor may use his initiative or I may begin to look at my future that after 8 years as deputy I may ask questions, and I may get the answers that I like or the answers I may not like. But at this material time, I would want to face the election a head of me.