FLAWLESS STYLE BERTHS IN IKOYI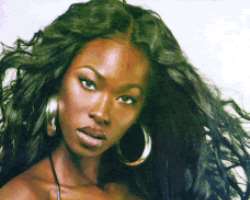 •Laide
'Looking good is good business' goes the adage. That was why women of distinction and celebrities converged recently in Ikoyi, a suburb of Lagos to witness the grand opening of a new beauty parlour that has panache.
Declaring the shop open the proprietress of the saloon, Mrs Laide Sjumarken, said there is beauty everywhere, it's just that you have to enhance it and bring it out for people to see after polishing it. A graduate of Computer Engineering she also worked in the investment banking world before diversifying to the hair and cosmetics business because she likes making people beautiful and happy.
'I started styling because a lot of people from school would ask me, where did you do your hair? Where did you get your things from? They would like to do shopping with me. They were always asking questions relating to my looks and outfit. So, I now thought of turning it into business.'
She actually started styling about 10 years ago in Surrey, England, where footballers' wives come to her to style their hair for functions and she would put together their hair to look good and attractive.
Asked why she's into hair and cosmetics business, she said, 'Your hair, and make-up give a better look with an amazing dress, nice shoes etc but if your hair is not properly done or put together unless you're having a head tie, you don't look a million dollar. So, to put that perfect polish when you're done, you need to do your hair and make sure the make-up is perfect.'
Based on her interaction with the styling and cosmetics business, she knows a lot of shops, and have a lot of relationships all over the world.
This is why she can get things most people cannot get. 'If you want a hand-bag or a nice dress, I can get it. It is through these interactions that I find out where celebrities get their stuff, what they use, their hair extension, body cream, perfumes etc.'
They started doing business in Nigeria last year. She has been away for 30 years. 'I noticed that a lot of customers love the hair products and cosmetics. They are very nice. I also take a scientific approach towards everything because of my background as a Computer Engineer. It's not that this hair looks nice, I know when the hair is remy, virgin or Brazilian hair. So, what Flawless Style has done is to bring the best hair quality all over the world together with the best cosmetics under a roof for customers. It's a one-stop shop,' Laide said.
I also take orders from men to make their wives beautiful. 'A man can come to my shop, buy a gift certificate and tell his wife to come and pick it up. You can also walk in and give information about your wife and I can actually recommend something for her use and she will be transformed.'
She deals in various wigs like mono wigs, lace front, full face, braids, attachment, loose hair and wig in any colour. They can also customise any wig for women of class.
She has a partner in Singapore who covers the Asian market while she covers Africa, Europe and the United States. She also intends to open more outlets in Lagos to cater for her teeming clients. Dignitaries who graced the occasion include Betty Irabor and Abiola Okoya among others.