MC MUMMY: EVEN AMONG TOUTS IN MOTOR PARKS, I SEE COMEDY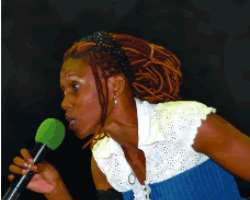 MC Mummy
With charm and a unique sense of humour, Mrs. Mabel Nwayinbuzor Ugboma Onoruvie stands tall in the showbiz world as a comedian, bringing delight to people. MC Small Mum, as she's fondly called, combines intelligence and charisma to make her comedy rich and illustrative. Recently, she unveiled a peculiar project which she hopes to use her comedy to promote. Based on marriage as an institution, the programme has a three fold agenda: making marriages work, mentoring the unmarried, and healing broken unions. She talks about this and her comedy business. Excerpts:
Background
I was born in Lagos. I attended briefly Hope Children School, Ojo Road, Ajegunle, Lagos before my parents relocated to Benin where I continued my education. I had OND in Estate Management and B.Sc in Geography and Regional Planning from University of Benin. Growing up was fun, I can say that everybody in my family is a comedian. Some of the things I say on stage are those jokes we tell each other at home. Many of them are real life experiences.
Starting out
I started in a small way. I moved around and started telling people that I am an MC and comedian. When I started, I did comedy free to people, and anytime I heard people saying that their daughter was getting married, I went and did MC free of charge for them. The whole thing started after my marriage in 2003 when I joined my husband in Church of God Mission, Benin. In 2004, I participated in the church's young women group conference. The chairperson of the group came to my group leader and told her that she wanted young women to anchor the programme because they were more creative. So, my group leader asked anyone that could anchor a programme to signify. Many signified and the conference commenced and ran for up to five days. The person that supposed to anchor on the first day gave excuse that she had examination. As a result, the leader said someone should cover up for her, and everyone gave excuses .But I volunteered to do it, and still handled my own day. In fact, you will not believe that after starting up that evening, the chairperson concluded that I should continue till end of the programme due to the way I performed. Then I was newly married and did not have any job. So, they encouraged me and made me understand that I could earn a living through comedy and anchoring of events. That's how I found myself in comedy, and I became fully involved in it after relocating to Lagos.
From regional planning to entertainment
Some gifts are inborn. As a growing child, your parents wanted a direction for you but you might have something in mind at that point. So, if your parents were not the understanding type, you would not be able to do what you want. From the very beginning, I always told my father that I wanted to be on television. But, the problem was knowing the actual course to study in order to achieve that. So, as I was growing up, I realised that I needed to study Mass Communication, Theater Arts or English in order to be on TV. The first time I wrote my School Certificate examination, I made five distinctions, three credits and a pass in English Language. Then, my father asked why I was unable to have credit in English Language since I knew it very well. As a result, I repeated the examination three times, and at the third time I came to Lagos because my dad thought that I was not concentrating on my books, he asked me to come and stay with my elder sister so that I would have more time to read. Yet, I did not make the paper so, my father was fed up and concluded that I should just go to school. He was tired of seeing me around the house. Fortunately, I applied to the National Polytechnic, Uto, one of the first private polytechnics, and they admitted me. After my OND, my father asked me to go to University to study something related to Estate Management. I wanted to study Mass Communication but he insisted on Estate Management. That was how I enrolled at University of Benin to study Geography and Regional Planning.
Motor park comedy
The greatest inspiration comes from God. I actually started from the church. My first set of comedy lines are from the Bible, happenings in the church and all that. Apart from that, other inspirations came from innovation, I recreate what I see, what I hear people say and give them back for laughter. Someone that is not a comedian can see something and walk away, but I will create something out of it. Do you know that there are jokes from what happens in the motor park or any public place? I create some of my jokes from places like that. In fact, I enjoy being in such places because I create comedy line from what I see there. The basic thing about comic talent is that if you do not have it, you do not have it. So, there are jokes in some of the things that happen in the society.
First day on stage
My first day on a big stage was in 2004 at the church's women conference. The MCs and comedians they had for many years were men. So that day, when I picked the microphone people started shouting, 'ah, so woman fit to do comedy and even do it pass man?'. In fact, I enjoyed my first day on stage, I carried my audience along, and they were happy due to my performance. I gave the audience a lot of jokes that I hardly had time to express at home .When I cracked the jokes on stage, people laughed and fell on the ground. Then, I understood that my ideas had worked, it was really a wonderful experience.
Male-dominated comedy industry
The first day I joined the Stand-up Comedians of Nigeria, we had up to 15 comedians and I was the only female among them. That notwithstanding, I did my best and everybody enjoyed my time. There was a particular month I went and we were two ladies, the first lady did not perform well, so when it was my turn, they called me out and some people started grumbling. The M.C queried why they were grumbling since they have not seen me perform before. Later when I mounted the stage to perform the people were happy. Some commended me, saying I should keep it up. I believe that what one has inside, would always speak for him or her. What I am doing is a talent God gave to me, and I am not intimidated by anyone. Even if we have 60 male comedians and I am the only female among them, I will still do my best. My fans have never regretted having me on stage.
Between career and home
For now, I do not think I have problems in combining my career with housework. The most important thing is that my husband supports me. He supports me in so many ways. For instance, I am not really good at driving at night. If I have a night event, I always wait for him to come back from work to take me to the venue. After taking me there, he would wait till anytime I am through. Also, he takes care of our child whenever I travel out of Lagos for work, and makes sure that she does her school assignment. In fact, my husband gives me all the necessary support I need to do well in my comedy business.
Embarrassing moment
The truth is that there are some conservative men who believe that women should be at home and should not talk. When they see people like us, they think our husbands are stupid for allowing us to do such things. One day, I was doing MC at a wedding, a man who I learnt was an Engineer picked offence at everything I did. At a stage, he wanted to collect the microphone from me, and I told him not to abuse my office. I also told him that I was the one with the microphone and therefore had more opportunity to embarrass him. I warned him to allow me to do my job. However, I thank God for giving me the grace to manage people, and I was able to manage him because he's the type that feels women should not be heard. He was not comfortable seeing me controlling the crowd as a woman
.
Advice for young ladies
The problem an average Nigeria lady has is that she wants to get the best from a man, without putting up the best for themselves. Women need to add value to their lives first, by going to school or learning a trade so that when they get married, they would support their husbands to build their family. It is unfortunate that an average Nigerian lady thinks that a man should provide all the necessary things needed. A lady told me two years ago that she would like to marry someone like my husband who is quite successful in his career. I looked at her and asked whether she knows how we started. I married my husband for who he was. I did not marry for material reasons. In fact, he was only earning N16, 0000 per month when we married seven years ago. But, I discovered that he is a man that could stand on his own due to the potentials I saw in him.
We used our understanding to get to where we are today. But young ladies are waiting to get married to millionaires so that they would not struggle much. Though, it is not an abomination to marry a millionaire if the opportunity comes. Some ladies even pray for their mother in-laws to die before they can come in, which means they too should get ready to die before their own sons would get married, Also, some want to get married but do not want to see any of their husband's siblings around them. I advise that they should learn how to cooperate with everyone that comes around them. They should not live life in isolation. Sometimes, they marry a man and try to isolate him from his family but carrying their own family along. Women should apply wisdom and understanding in every thing they do. Marriage is a beautiful thing created by God. Women should not allow anybody to cause problems in their marriages, or do so by themselves.