PDP, INEC Bicker Over Candidates For Election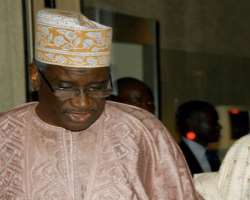 PDP ACTING NATIONAL CHAIRMAN, DR HALIRU BELLO MOHAMMED.
SAN FRANCISCO, Feb 17, (THEWILL) - The Peoples Democratic Party (PDP) has written the Independent National Electoral Commission (INEC) following what it described as the arbitrary changing of its candidate by the electoral commission without consulting the national leadership of the party.
In the letter dated February 14, 2011, written by its National Legal Adviser, Dr. Olusola Oke, and addressed to the INEC Chairman, Professor Attahiru Jega, the party said INEC has no constitutional powers to change its candidates arguing that what it was doing could jeopardise the April general elections.
The PDP particularly frowned at a practice where INEC accepts lists of candidates from the state chapters of the party warning that the national office of the party is that only legitimate source for information on the party's candidates for the election.
The party raised the issue of Anambra State where INEC swapped the lists of candidates it had forwarded for the National Assembly election with another one.
"Permit us to draw your attention to Article 17 (1) of the PDP constitution and paragraphs 50 (f), 51 and 52 of the electoral guidelines for primary elections on the authority of the PDP to conduct primary election and to sponsor candidates pursuant to section 221 of the 1999 Constitution as amended.
"Your attention is further drawn to paragraph 27 (i), (vi) and (vii) of the electoral guidelines vesting in the national executive committee, through electoral panels constituted by it for that purpose, the power to organise, conduct, and ratify results of primary elections.
"Nowhere under the above instruments is a state executive committee empowered to conduct primary elections let alone forwarding the outcome of such illegitimate exercise to your Commission," Oke wrote.
It reminded INEC of a court order granted by Justice P. F. Olayiwola of a Federal High Court, Awka, which ordered the commission to comply with an earlier court order mandating it to accept the candidates it had earlier forwarded to it.