WHY YOUTHS BACK JONATHAN - GROUP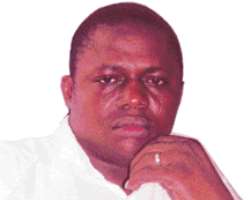 YEL and sensitization of youths
This is not the first time YEL Foundation is involved in sensitizing the public to participate in electoral process especially voters registration. In 2007, the foundation stormed major streets in Lagos and the media gave it a good coverage and this we are doing now as the theme this time is 'credible voters registration, credible election.'
Unfortunately, the exercise was not smooth as expected as the DDC Machines were not functioning to its maximum capacity. One interesting aspect of the voters registration exercise is that the educated and the uneducated were anxious to register because they believe that this time our vote will count. Moreover Prof. Jega's pedigree is another tonic to the whole exercise as Delta State governorship re-run which was properly conducted and affirmed credible by observers is a case study.
Therefore I will say Nigerian Youths have once again expressed confidence in the electoral process, and I am using this medium to call on other well meaning Nigerians especially Youths to come out en-mass and register to vote for the type of leaders we desire. Hence, if they don't register there is no way we can vote credible people into power.
Slow pace of registration
Yes, there were reports of the DDC machines not functioning as it ought to. Sometimes, it was either low batteries because the generator sets refused to start or no capable hands to handle them. In fact, a lot was achieved by the commission and with the extension of one week by the National Assembly; Jega had no excuse to disenfranchise Nigerians in the forthcoming general elections. However, for the fact that we were using it for the first time, such challenges must be expected and Prof. Jega had assured Nigerians that everything is under control.
Faulty DDC machines
In some registration centers, few people were registered due to rejection of some fingers by the machines. Also, the batteries do not last and because there is no constant power supply. INEC workers can not recharge as this contributed to slow pace of the exercise.
Recently, INEC entered into agreement with the Federal Road Safety Commission and some electronic gadgets were provided by the commission for proper monitoring of the registration exercise. I am sure we will have a credible election because with a transparent voters register, free and fair election is realistic in April.
An example of how the Jega-led INEC is prepared towards a credible election was the Delta State governorship re-run. At the end of the exercise, it was transparent as the governor was re-elected and sworn-in. This I believe will be replicated in April.
High turnout
The turnout was overwhelming. For the very first time, youths were trooping out to register so that they can elect their leaders. I will say it is a welcome development and a plus to democracy. A sign of political awakening of youths, having come to terms with the fact that youth participation in the political process starts with voters registration because it is our civic responsibility to register to vote and be voted for.
Party primaries
The party primaries sprang great surprises as 80 senators and 210 House of Representatives members lost their bid to return to the National Assembly and majority of lawmakers that will constitute the sixth National Assembly will be youths. This became possible because, Dr. Goodluck Jonathan represents Nigerian Youths. Therefore, I look forward to the National Assembly that will make laws that will impact on the people positively on 29 May, 2011. It is funny to see ex- governors who served their states for eight years aspiring to go to the senate. Nigeria is not their farm land; they should allow fresh ideals and brains that will move the Nation forward to come on board. For instance at the PDP presidential primaries, a lot of votes were invalid because some politicians and some of our so called leaders and lawmakers because they couldn't write well or how to thumb print cost their votes and these same people are struggling to lead us.
We want professionals to run the system. If you have served as a governor or lawmaker, after your tenure step aside and allow fresh brains to run the affairs of the nation. I hear people say the senate is not meant for small boys but mature minds, not about age but maturity, knowledge and self-development. We need qualified men and women in the National Assembly because today, politicians in Nigeria especially those in the National and State Assemblies have thrown to dogs basic political functions as political decay has set in. Our leaders are seeing fighting over benefits and fixing fat salaries and allowances for themselves and being individualistic in the provision of amenities to the masses.
Come to think of it, the National Assembly constitutionally, is expected to sit for 181 days a year but they sit for less and corner over 25% of the nation's budget.Yet, there is nothing to show for their representation. It is high time we demand for quality and effective representation and the youths are out to offer the people of this country instead of allowing spent brains to hold us incommunicado in the name of governance. What we are asking is change for the better, good governance, through quality and effective representation. We are talking about moving forward and transformation. So how do you expect an old brain to bring transformation in a computer age? In trying to bring transformation they will only bring old ideas. We are looking forward to new ideas that can attract change.
PDP primaries
So far so good. Presidential primaries of PDP where Jonathan emerged the standardbearer of the party in the April election is commendable. Atiku was defeated and everybody saw it on TV. Jonathan is the preferred candidate and he got it. Atiku won in some states and lost in his state Adamawa. Does it mean that Jonathan bribed Adamawa delegates to reject their son? It was a clear indication that Nigerians need a change. What we saw at the PDP presidential primaries is a clear voting system without manipulation. It is all about ideology and that is what made Jonathan to win. He won based on ideology not calumny. However, for Jonathan to have emerged PDP candidate, the youths have confidence in him and will want to participate in the electoral process. This they manifested in the just concluded voters registration exercise. He is educated, vast in knowledge and will provide the platform for youth empowerment and development beginning from the Niger Delta.
Peaceful election
Inspite of parallel primaries that took place in some states across political parties, I foresee a peaceful general election in April.