RANONA OUT WITH NEW MILK, JUICE PRODUCTS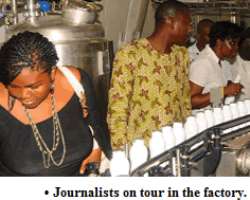 Ranona Nigeria Limited, a food and beverages manufacturing company and franchisee to Candia, a milk products manufacturer in France, has introduced five new products into the Nigerian market. The milk-based and juice products were showcased during a factory visit organised for the media at the hi-tech facility based in Isolo, Lagos.
The new products Candia Twist (milk and fruit in apple, orange and multi-fruit flavour), Cadia Smoozy (yoghurt and juice in strawberry and plain sweet flavour), Candy'Up (milk drink that comes in chocolate and strawberry flavour), Natures Fresh Fruit Juice (five flours, apple, orange, pineapple, pineapple and coconut and multi-fruit flavour) and YoJus (kids fruit juice pack also in five flavours), are all from Ranona's trusted stable which has produced such products as Blue Boat cereal, Blue Boat Milk and Blue Boat oats, amongst others.
Mr. Yassir Gebara, the Managing Director of Ranona Nigeria Limited, said all sections of society from the old to the young are catered for by at least one or more of the products being introduced. 'All the juice and milk-based products are made from all natural products with no artificial colourings, additives, flavourings or preservatives. All the products have a long shelf life of up to nine months despite having no artificial preservatives and are made from real fruit concentrate and the milk products contain wholesome full cream milk know to encourage health bones and teeth', he explained.
Gebara noted that the organisation is very concerned that the customers can feel the natural fruit and milk taste of all their products. 'We aim to offer the best tasting products using the most advanced technology, coupled with the freshest ingredients and that is what we have here. We source our products from Europe and have technical partners that benchmark our quality standard. Our equipment were all brought in from Germany, so what we are trying to build is a facility that can serve Nigerians world-class milk and juice-based drink products,' he stressed.
According to the company's Managing Director, the factory, which represents a N7.5 billion investment covers 20,000sqm of prime land in Isolo was started in 2007 and completed less than three years later following which the first production was run on the 16th of March 2010. He said that the company currently employs 220 staff with a view to future expansions.
Also, the Factory Manager, Mr. Hilario Factoriza, described the products as the healthiest in the market, pointing out that they are manufactured without any preservatives, additives, artificial colouring or flavourings of any kind. Rather, he said, Ranona's products are made from natural flavour, in the most hygienic environment.
Some of the areas inspected by the media include the mixing room, the bottling room, quality control laboratory, quarantine section, among others.