RASCALS IN GOVT: JONATHAN A DRUNK FISHERMAN – TINUBU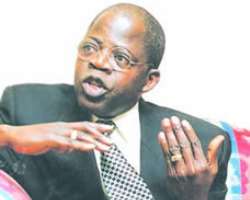 Asiwaju Bola Ahmed Tinubu
Former Lagos State Governor, Asiwaju Bola Ahmed Tinubu has totally denied reports making the rounds that he and the Action Congress of Nigeria (ACN's) presidential flag bearer, Mallam Nuhu Ribadu were on collision course.
He said the reports were from cunningly creative writers who, not only wanted to hatch a conflict between them, but preferred to use speculative means.
Tinubu, while speaking to aviation correspondents Tuesday in Lagos described the story as 'Isi ewu' (goat head pepper soup) reporting with no substance in it.
'It cannot be true. Can you compare the two reporting? I read the papers. I read the one in Tribune and the one in The Sun and they are conflicting; go and digest it. Have you seen a party where there is no discussion, no debate, no rational thinking? Then with the two reporting, they want a conflict but they cannot create a conflict or crisis where one does not exist. It is most unfortunate that today journalism or reporting is taking another tone. It is just the kind of 'Isi ewu' reporting.
I'm no longer surprised about all of them; there are just speculations and imaginations of somebody being very, very cunningly creative. You yourself in your own little groups, you have discussions and you discuss characters, you discuss values, you discuss what sort of benefit a situation can bring to you; if there is any active debate, or even silent debate, and consultations, what are we getting out of this. How will the public react to one person or the other; how can you maximize the value or harvest the knowledge of an individual? Does that create any crisis? You discuss it and the reporting is a lie', the former Lagos Governor explained.
On the recent comments of President Goodluck Jonathan where he called South West political leaders rascals, Tinubu described the President as a drunk fisherman whose boat is about to capsize.
'I think the president is wrong because that is an insult to our parents. It is a speech from a drunk sailor fisherman whose boat is about to capsize. That is an insult to our parents, you don't come to this land, seek our votes and then insult our parents that they raised rascals', he stated.
When asked whether the ACN had plans to merge with other parties to form a stronger opposition to the ruling People's Democratic Party (PDP), the former Lagos Governor said there was no such agenda.
'Who is prescribing that? Everybody is entitled to his or her own thinking. There are so many theories and theoreticians and forecasters and I deal with a political environment where gossip and ordinary speculations work better than deep rooted thinking and the ideological philosophy of a party is not taking into account. You talked about a party that has been in power for twelve years, isn't it? Who says that ACN cannot do the magic? It is some thinking from several quarters. We believe that if we pull together, it will be better and easier. No one will dispute that, but I will never write off my party and I believe Nigerians are tired of PDP and they will speak through their ballot.'
On when the ACN will present the running of Ribadu, he said: 'I am not the candidate. You talk to the candidate.'
I will be contacted and is it not very interesting to you too to keep the general populace in suspense? Is it not part of a good strategy?
However, he did not admit whether the party was rooting for former Finance Minister, Mrs Ngozi Okonjo-Iweala as the running mate to Ribadu.
'She is a very qualified individual and she is an asset; she is an asset to the nation, an asset to Africa and international community, and no doubt about that. But you don't know whether she is even free now. She will be ready to serve her fatherland as a patriotic citizen who is ready to serve her at any capacity and she will be willing; but it doesn't mean that when you chose a running mate to anybody that he will be more valuable.
We have so much to gain from her, intellectually, in her character and professionally and for our reputation all over the world, so it doesn't mean that she will serve the country better as a running mate to anybody. If she is to serve again as she once served as a minister, then she should be ready to serve the country. A patriotic citizen must be ready to sacrifice for his or her nation.'
The CAN Chieftain also expressed optimism that his party will beat the PDP in the April polls.
'We are winning. You cannot win it all but we are winning the majority and we are taking over from PDP, Poverty Development Party.'