SHAGARI TO ACF: STAY AWAY FROM POLITICS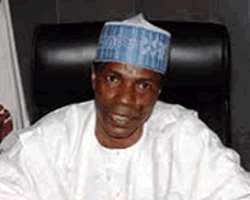 Deputy Governor of Sokoto State, Alhaji Mukhtari Shehu Shagari has called on the leadership of Arewa Consultative Forum (ACF) to stop playing politics and face the challenges of how to ensure peace and security in the North.
Shagari told Daily Sun in Sokoto that the ACF as a socio-cultural organization should be more concerned with the spate of killings in places like Borno and Plateau states with a view to stopping the ugly trend, rather than getting involved in politicking:
'The ACF should leave politics to the politicians and pay more attention to those problems that are peculiar to the northern people like the menace of almajiris. This, I am sure, would earn them more respect from the region.'
Shagari, former Water Resources Minister, said that the ACF with leaders consisting of people of high integrity from different fields of human endeavors, should have the effrontry to approach the President for solutions to the problems militating against the progress of the northern people so as to move the region forward.
Shagari said he believed that if this is done, the President would be very glad with them and would be ready to offer his assistance towards meeting their expectations.
The deputy governor who maintained that he has the highest respect for the forum, warned that it should guide against reducing itself to a political party and face the objectives for which it was set up.
He explained that if there was anything unusual about the primaries conducted by a particular political party, the court is there to adjudicate on the matter: 'It is certainly not the job for the ACF.'
Speaking on the sermons by some Islamic scholars encouraging Muslims to vote for a Muslim presidential candidate, Shagari said such sermons were not necessary because, according to him, what the nation needs was a God-fearing and committed leader and that person can be a Muslim or Christian.
The deputy governor remarked that President Goodluck Jonathan was not the president for the Christians alone, while Vice President Nnamadi Sambo was not the Vice President for the Muslims alone: 'The two of them are in the service of the entire Nigerians, irrespective of their religious, tribal or cultural backgrounds.'
While expressing happiness that such sermon is gradually dying down in the state, Shagari enjoined all religious leaders to pray for the progress and unity of the country as well as the successful conduct of the forthcoming general elections.
Speaking on the Buhari/Bakare ticket, Shagari said that even though he has a great respect for the personality of Gen. Muhammad Buhari, he did not see his union with Pastor Tunde Bakare as a threat to the presidential ambition of Jonathan.
He maintained that the Peoples Democratic Party (PDP), remains the party to beat any day, any time, adding that the wide acceptability of the party by the generality of Nigerians was never in doubt.
According to him, Jonathan would not have any difficulty wining, considering his popularity throughout the length and breadth of this nation: 'He is the man of the moment and no amount of campaign of calumny would work against him. He would be elected president come April, by the Grace of God.'