I STILL LOVE MY RUNAWAY HUSBAND - FUNMI IDOWU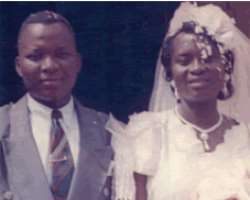 Her story is akin to what we watch in home videos. Her husband, Seye Idowu, left for the United States of America 14 years ago. The plan was for her to join him three months after. That never materialised. She was hoping, praying and fasting with her children that one day her beloved husband would come back home and meet her, since she couldn't secure a visa to the U.S. Surprisingly, she got information that her husband was intending to marry a 48-year-old social worker in Baltimore.
Her name was Toyin Bosede Adetunji. She almost ran mad. It was more shocking and embarrassing when the wedding photographs were posted on the Internet and the pictorial of their wedding published in a Lagos soft-sell newspaper. Since then, she has never been the same happy and bubbling woman. She is still crying over her ordeal and never wanted to talk to Sunday Sun, but because another soft-sell published the story last December, she felt she had to tell her own side of the story the way it is.
How did you meet your husband?
I was working in The Guardian in the early 90's as a graphic artist. He just walked up to my office and asked for my name. I guess he got information about me from a friend of his that was once a staff of the newspaper, John Olubo. He met John in London and told him he knew a lady who had no boyfriend and was homely.
When he told me about John, I was excited, and after sometime, he said I should start planning to spend the rest of my life with him. It was so funny to me, I shouted in the arts studio and told my colleagues, come and see my designer husband. But he didn't give up. He started coming regularly and I told him I was not in search of a boyfriend, I told him I was ripe for marriage. He reminded me that he told me the first day that we would spend the rest of our lives together. That was how we became friends.
Our wedding
After sometime, he took me to his parents and I took him to mine. They asked us to choose a date for our wedding and we got married on December 4, 1993.
Journey to America
After the birth of our first son, he crossed over to ThisDay newspaper. While he was there he became the deputy editor and was sent abroad to cover a story in conjunction with Time magazine. He left Nigeria on September 26, 1997. Then, I was expecting our second baby. I was about three months pregnant. He left for the U.S. and did not come back ever since.
Were you communicating?
Yes, for a while, after sometime he stopped communicating with me. For about five years his mum was staying with me, I had peace because his mum was staying with me. After sometime mama left to nurse her grandchildren, but she comes once in a while to visit us. Precisely about two or three years ago, he called to say he was sorry that we should forgive him.
My daughter was even telling him that daddy, we have forgiven you already; we have been praying for you, please come back home. Anytime we ask him to come back home he gets angry. He'd ask us where we want him to start his life. I would tell him that all the people he left here are doing very well in Nigeria.
Was he sending money; how do you cope with the two children?
It's been so rough; I had to go back to The Guardian after sometime, because I resigned after our marriage. I went back to The Guardian to work for another five years. While I was there, I couldn't cope with the salary and I had to make ends meet. I sold yogurt, chin chin, I make them myself, I wake up at 3 a.m. to prepare these things.
I gave up because I didn't have NAFDAC number, which was during Dora Akuyili's regime. When I left the newspaper, I started making ready-made African fabrics, I stringed beads and trained people. When he called us to say he was sorry, he promised sending money for his children's school fees. He doesn't even know the details of the children's school fees, he just sends whatever he likes and I appreciate that because the time he was not sending money there was nothing I could do. I heard he was doing well in the U.S. He really made us to suffer. When it's time to pay the children's school fees things become tougher, even to feed at times would be difficult, and the house rent is there, too. It has really been rough.
Any plan to join him?
I have applied for visa about three times, but I was denied, not knowing that this man divorced me without my consent on December 28, 2008. I heard he was getting married, I got information about the website of their wedding and I saw they were getting married in Mountain of Fire and Miracles (MFM), Baltimore, I had to go to Onike/ Iwaya, the church headquarters, to see the General Overseer. Dr. D.K. Olukoyi. I saw Pastor Ojuri that fateful day, he collected our wedding certificates, saw the children, collected their photographs and sent it to the GO.
They minited it to Akintade, Akintade was the pastor in Baltimore. I think they investigated the case; my husband now faxed a divorce letter to MFM to tell them that we had been divorced. There was no divorce, no quarrel, no fight; he was calling, and I was embarrassed. That day, I couldn't drive home, I cried like mad. Pastor Ojuri now told me that MFM don't support divorce, that they can't join them together in MFM church, that the wedding will not take place in their church. They had to hold the wedding in Freemason House and a judge joined them together. I got most of the photographs of the wedding.
I called my husband when I saw the photographs, he didn't pick my call, I sent series of messages to him, he still didn't acknowledge them. Until recently, this year, he started asking for his children. He said, where are my children? And I told him 'I don't know if you have children with me'. I wasn't even at the place the children were. Later that day I told the children to call him. He told my son that he had gotten him admission, adding that he (my son) would be coming to the U.S. I snatched the phone from my son and told him he should not deceive them.
'I am bringing up my children in the way of the Lord; there is no way you can deceive them to do what is not of God. Anything you are doing is not of God. Ask for forgiveness from God, that is when you can win the heart of these children.'
When my son got admission into Crawford University he said he could not afford to train any child in Nigeria; that I should send my son to him. How can I send my son to a strange woman? It's not possible! Then he said I should be ready to sponsor him in Nigeria. I told him that God would help him.
When he was leaving for U.S. did he say he was not coming back?
He told me he might not come back immediately if he got a job there. And he promised that if he gets a job he would not spend up to three months before I joined him. So, I had been optimistic that one day Seye will come home.
In 2002, he sent me a university form, which I filled, when I got to the embassy they told me clearly that they could not give me visa because I could not travel to go and study with my children. The second time, one of my cousins was getting married, I applied and I was refused. The third time was the year before last. My set in secondary school was to have a reunion meeting in the U.S. I decided to join my mates, but it was only two among us that were denied visa out of the whole lot. I didn't know that I was not married to my husband, not knowing that Seye had changed his status.
He called me on September 1, I had just finished a church programme entitled 'month of joy and rejoicing'. He said, 'Funmi, I am remarrying.'
'To whom?' I asked.
'To an Ibadan lady,' he said.
'What is the meaning of this? Are we divorced,' I asked.
'I don't know,' he said.
'What will happen to me?' I asked him.
He said he doesn't know and that if I want to remarry I should go ahead. He said he was moving on with his life. I had cried and done series of things, but crying cannot solve my problem.
How about his family members?
His senior brother said he was not in support of the wedding. He said I should just allow God to take control of everything. When I called his mum, she pretended as if she was not aware of the wedding. But when my call became persistent she now said it had happened and had happened, I should surrender everything to God; I should leave his son to move on with his life. I should take care of my children, after all, I have given birth to two children, a boy and a girl, what else do I want. I was deeply hurt. Up till now, mama removed her SIM card so I cannot speak with her again.
Advice to the couple
Let her marry my husband, she will not prevail in that place and she will not succeed. I have told my husband too what he will experience in life if he did not ask for forgiveness from God, from the children and from me. As for me, I have not released you because there is a covenant between us, which cannot be broken. We are married legally and we have two children. I told him the journey he was embarking on will fail, that was what I told him.
He left 14 years ago; have you had any relationship?
No, I did not date anybody. I have been trusting in God. Marriage is a covenant. I cannot break the covenant, except you don't know Christ. That's when you will be married to somebody, and when he is not died, even if the person is sick, you had made a vow, and it is that vow that has been keeping me. I trusted him, I love him, and I still love him even as I am talking to you. My family said I am mad, that I am crazy to still be in love with somebody that has left me all these days.
Would you still take him back if he comes to apologise?
Of course, yes, why won't I take him back? He is my husband and I still love him.
I don't see myself getting married to another person, for what reason?