WHY I'M GUNNING FOR HOUSE OF ASSEMBLY SEAT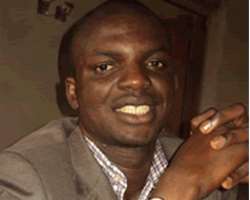 For Hon. Aaron Mike Odeh, politics is not just a game reserved for the rich and influential in the society but a serious business of intelligent, selfless people. After some years of sojourn in the corridors of the murky waters of politics, the Ajegbe-Aone born youth is now seeking to represent his people at the Benue State House of Assembly as member representing Ohimini State Constituency in the forthcoming elections. This dream, Odeh hopes to realise on the platform of the Congress for Progressive Change (CPC).
He spoke on his aspiration and other issues in this interview.
 
Can we meet you?
 I am Aaron Mike Odeh. I come from a very small village in Ohimini Local Government Area of Benue State called Ajegbe-Aone. My mother is from Ochobo, in the same local government area. She is a disciplinarian and an instructor. I lost my dad at a very tender age. I have no brother or sister. I am an only surviving child of my mother. God has been so wonderful to me. I attended a village primary and secondary schools before I gained admission to study at the university level. I hold a Diploma in Mass Communication and a Bachelor of Arts degree in Languages and Linguistics. I am undergoing a master's degree in public administration.
Why do you want to be a member of the state House of Assembly?
There is no human being on the surface of this  earth that does not have a vision. Even the mad men, who walk on the streets have vision. The fact that they are unable to reason well with us does not mean that they don't have vision. What actually is making me to venture into this race is the challenge that people in the society are facing and because of my background. Just as I told you, in all my life, I have lived in the village. When I was growing up in the village, we faced a lot of challenges. So, my going into politics in the capacity of a legislator is to make sure I go there and represent my people very well. I also intend to sponsor some bills to the benefit of my people.
What bills do you intend to sponsor when you get there?
By the special grace of God Almighty, if I get there I intend to sponsor a welfare package for bill for the elderly in the state. The bill will focus on those elderly people who do not have people to cater for them from the age of 55 and above. We are going to take the statistics of the old people in Benue State, who do not have people to cater for them, then the government will provide them with a welfare package. Secondly, by the special grace of God, if elected, I am going to sponsor a bill to stop child hawking because if the universal basic education is working; there is no need for our children to be hawking sachet water when they should be in school with other children learning. It is all about enlightening both the children and their parents. Therefore, I am going to sponsor a bill to say that if you are a citizen of Benue State or if you are living in Benue and between the ages of six and 14 and you are caught hawking during school hours, you will be prosecuted.
But why CPC and not other parties?
Politics is a thing of interest. It is where your interest lies that you go. Barack Obama, who is the president of the most powerful country (United State of America) is a democrat and his opponent then was in the major party but because of the kind of vision he had, he was able to market his ideologies to the Americans and they elected him as the president. My joining CPC is not because there are no other formidable political parties around but because of the kind of interest I have. Politics is about interest and the fact that I am in CPC does not mean that others who are in PDP are not as important. They are still my friends and we do things together; but the only difference is our ideologies. Also, if you look at the ideologies of the CPC at the party level, it is being headed by people of integrity. Buhari is hardworking and sincere. Even the national chairman of the party, Chief Tony Momoh, and others are people whose names ring a bell in the hearts of people because of their sincerity and integrity. So that is why I have decided to join CPC.
How then will you realise your dream with your friends in the PDP and you in CPC?
My relationship with people in the PDP, like Minister of State for Niger Delta, Hon. Sam Ode, is more than a relationship of friendship. He has been so kind to me, even before he was made the special adviser to the governor of Benue State before God promoted him to become a minister of the federal republic. He is somebody that I have known for a long time. Everybody thinks that I am his younger brother because we are both tall and have the same surname. His name is Sam Ode and I am Aaron Ode. The minister is in PDP and just like I said earlier, politics is about interest. Look at the way the Yoruba do their own politics; you see a family where the father and mother are in different parties, yet at the end, they still come together as one family. The fact that I am in CPC does not mean that Sam Ode and I will not relate well. Our relationship is in very good terms and it will not stop me from going to his house anytime if I am privileged to see him.
How would you assess the 2011 general election?
2011 is a year that God is going to wipe away the tears of Nigerians. Although, I may be young from what we have heard and we are seeing, what is taking place in the country, in terms of governance, has ended the era of dictatorship. God is about to liberate us from the hands of the wicked ones. I am calling on all Nigerians to come out and exercise their civic right by voting for people of their choice.