ABIA GUBER: COURT STOPS PDP, INEC FROM RECOGNIZING GOV ORJI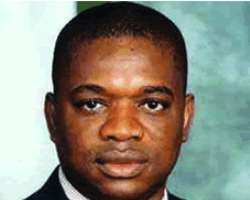 Kalu
The second term ambition of Governor Theodore Orji of Abia State suffered a major setback yesterday with an order of a Federal High Court stopping the Independent National Electoral Commission [INEC] from accepting or recognizing his name as a candidate of the Peoples Democratic Party [PDP] for the April governorship elections pending the determination of a suit brought by Chief Ikechi Emenike.
The court also restrained the PDP and its acting National Chairman, Dr. Bello Haliru Mohammed or their agents and privies from submitting to the electoral body the name of any person other than that of the plaintiff and his nominated running mate, Dr. Chukwuemeka C. Okwuonu as candidate of the party for the office of governor and deputy governor of Abia State respectively at the 2011 general election pending the hearing and determination of the motion on notice.
Justice Gabriel Kolawole who issued the preservative order further granted an interim mandatory injunction compelling the INEC to keep open and extant the slot of the PDP as one of the political parties entitled to contest and have their names and logo [symbol] on the ballot paper for use in the general elections for the office of the governor of Abia State pending the hearing and determination of the suit.
In addition, the court restrained the PDP and INEC, their agents or privies from accepting or giving any recognition to any other candidates apart from plaintiff/applicant and his nominated running mate.
The action of the court followed a motion exparte moved by counsel to the plaintiff, Chief Niyi Akintola [SAN] who was with Chief Emeka Ngige [SAN].
However, it was the inability of the respondents to obey an order of court directing them to come before it within 72 hours and show cause why the reliefs sought by the applicant would not be granted that led to the decision of the court more than anything else. The court had on February 1, 2011 turned down the request of the applicant for an exparte order, but rather gave the PDP and INEC to come before it within 72 hours and show cause why the reliefs sought by Emenike would not be granted against them.
Rather than comply with the order, the respondents shuned the court only to appear with a preliminary objections challenging the jurisdiction of the court to entertain the matter. Counsel to PDP, Chief Olushola Oke who is also the legal adviser to the party as well as counsel to Governor Orji, Professor Livi Uzoukwu [SAN] made spirited efforts to frustrate the motion but Akintola insisted that until they purged themselves of their contemptuous actions, they cannot challenge the jurisdiction of the court.
In his submissions, however, counsel to INEC, T.M Inuwa said his client was a neutral body who would not want to join issues in the case, but would comply with any decision reached by the court.
In his ruling, Justice Kolawole granted the reliefs adding, 'PDP and INEC overlooked an elementary principle thaat a court must assume jurisdiction first before going into the determination of issues before it.'
According to him, 'section 6 [6] [a] and of the 1999 constitution empower the court to do justice and I hereby grant reliefs 5,6 and 7 to vindicate my subsisting ruling made on February 1, 2011. These reliefs are granted as preservative so that none of the parties may have an upper hand against the other.'