WE WON'T RIG APRIL ELECTIONS - ORTOM, PDP NATIONAL AUDITOR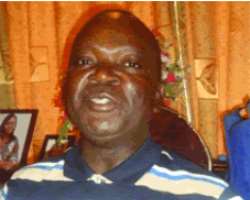 National Auditor, Peoples Democratic Party (PDP), Chief Samuel Ortom, has said that the party would not rig the April elections. He spoke with Daily Sun, in Makurdi, Benue State. Excerpts:
PDP congresses and primaries
The present National Working Committee (NWC), came on board on March 8, 2008. What we inherited from our predecessors was dictatorship in the polity and militarization of the system we were operating. The first thing we did was to dust the Dr. Alex Ekwueme committee's report which was set up to reconcile members of the PDP. And we decided to set up a committee to bring out a white paper from the report to implement it so that we bring our people together. This has culminated into a successful entrenchment of internal democracy into the PDP to a large extent.
This is the first time we were conducting primaries to produce candidates for our party towards general elections. We are insisting that for one to become a candidate of our party, you must pass through the system and you must be democratically elected by the people themselves through a properly constituted congress. We also put up guidelines in place and the procedure was made known to the aspirants and our teeming supporters, and we are ensuring that these guidelines were strictly followed. We had cause to nullify primaries results where there were evidences that the rules, guidelines and the constitution of our party were breached. Look at what even happened in Benue State and all the processes that culminated into the national convention of our party. People were nominated democratically.
Were the congresses and primaries in Benue State compromised?
We have a conflict resolution mechanism in the PDP that resolves matters of conflicts arising from the primaries. For every aspect of the primaries, there was an appeal panel. We set up machinery that would take care of all these. Right from the screening when people were aggrieved, there was a provision for them to make appeals. The primaries, at every stage there were appeal panels. I am aware of some people who were screened out in some states and they had to go to appeal panels. The decisions of the appeal panels were upheld and they headed for the national secretariat and the NWC reversed the decision of the appeal panels.
I am aware of the defection to other parties. There must be casualties especially for a system that we have entrenched in the polity that there must be transparency and that everyone must be democratically elected. But the truth of the matter is that the PDP is still very much intact. We are still making appeals and we have also set up a machinery to ensure that even those who have defected are brought back into the fold. The umbrella is still very large to accommodate people of different shades of opinions. The PDP remains the only party and only hope to salvage Benue State and the entire nation. Benue State cannot afford to be in the minority class in this country. We are working hard to see that all those who have left the fold are brought back into the party. In the event that they do not, PDP has the machinery and capacity to overwhelm all other political parties.
Allegations that delegates were intimidated and induced to work for President Jonathan. What is your reaction?
We expected that from our detractors. We spent a lot of money to ensure that there was full coverage of the convention. I was in charge of venue and we ensured that there was effective live coverage of the entire proceedings of the convention. It was to ensure that everyone who was not privileged to be at the venue both within and outside Nigeria watched the proceedings. We deliberately designed that every state had a box to vote and it was done in the open by secret ballot and it was transparent and everybody saw it.
I am not aware of people being induced. The delegates were there for people to lobby. Whatever they did is not important what is important is that is how voting was done. Everyone was given the ballot to cast his vote as an individual. You had the option to write yourself or if an illiterate you had an option to invite someone with his or her consent to write on his behalf. It was open and everyone was free to write and cast nobody was compelled, it was not pre-written before coming to the venue. All ballots were blank and all the agents were there. I did not witness where people were compelled to vote for Jonathan.
What informed the idea of each state having its own box?
We wanted things to be done transparently. What actually informed that decision was that if there were problems or complaints in a particular state we could tackle the issue easily. We didn't want a situation where you put all the ballot papers in one box and at the end you have a complaint and that will culminate into nullifying the whole results. But if you have a problem in state A, you look at that and resolve to cancel the result of that state it will not even effect the entire result of the convention.
Will Jonathan win the April election?
I have been in this game for over 30 years and I am a grassroots man. I am constantly in touch with my constituents, there is nothing strange with people defecting to other parties. We have also had a lot of defections from other parties to our own party. Even now that people are moving others are coming into PDP. Power belongs to God and He gives it to whosoever He wills. Since I'm not God and cannot say PDP will win in the 36 states and Abuja. That too will not give us the beauty of democracy. PDP is the only political party that has structures at the Federal to the ward levels in the 774 local government areas in this country. In fact, we have structures in all the polling units in this country.
Our party has done very well in the last 12 years. We have been able to bring democracy dividends to the people. Rome was not built in a day and the country is moving forward. We have told our people to ensure that every vote countss. We are not going to rig any elections. We have told our members that we are not interested because we will win without rigging because we are on the ground our people are there. The PDP remains the only political party that can make us win and take this country to the next level.
Petitions against Governor Suswam's candidature
It is laughable because I have been reading about these allegations. I have been a friend to Gabriel Suswam before he became governor and I know when he graduated as a lawyer. I know when they are talking about the alleged forged certificate. That is what baffles me. Why do you need to forge a certificate when you have already graduated as a lawyer?
What do you need a school certificate for when you are already a lawyer? These are just cheap blackmail issues aimed at distracting someone from the challenge before him. I don't advise Suswam to even look at that. In any case, I have not seen any petition. As a member of the NWC constituting of just 12 members of the party and a major stakeholder in Benue State, and an indigene of the state I believe that if any petition emanates here it will definitely get to me.
Jonathan and the North
This is politics. I am a northerner. Suswam is a northerner, Shema is a northerner. Governors of Kebbi and Bauchi states are all northerners. These are key stakeholders of this country. They are chief executives of their states and leaders in their own right within their own societies in their states. Most governors, ministers and House of Representatives members from the North are also supporting Jonathan from day one, I am aware of that. So, you cannot say the whole North was against Jonathan.
The whole North was not against Jonathan. Now that Jonathan has become a candidate of my party, I am also supporting him and I am a northerner. I am supporting him and I would work for him and by the Grace of God, he is going to win. So when people talk about the entire North not supporting Jonathan, I disagree with them and I say this is politics. Jonathan is doing very well.
I believe that those of us who have the fear of God should respect Jonathan and should respect the will of God because the emergence of Jonathan was not his making. It was by God's making. On our own in this country we have tried to make things work through our efforts, but it has been impossible and today God has spoken. Let us once respect what God wants.